With parks like Fleming Loop in Fuquay-Varina and Parish Womble in Holly Springs, you never need to leave town for an afternoon of fun and fresh air. But one of the benefits of Triangle living is that you can when you want.
Buckle the kids in the car and head to these amazing parks and playgrounds in Wake County for a special outdoor adventure.
Knightdale Station Park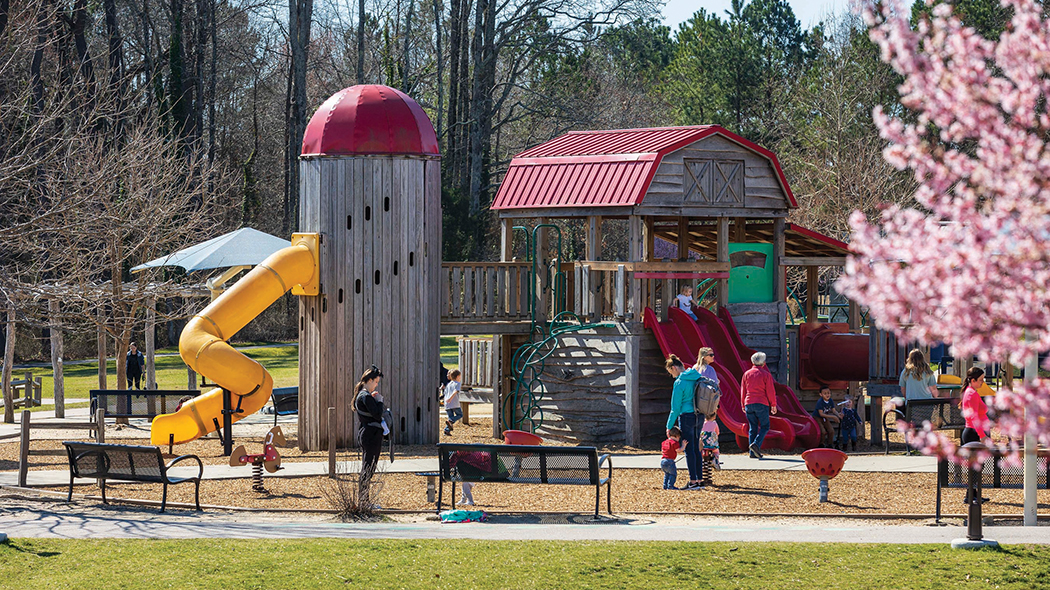 As you stroll up to the play structures at Knightdale Station Park, don't be confused by the grain silo and barn situated atop the grassy meadow. is unique agricultural-themed playground was inspired by the farm and nursery that previously occupied the land, and offers a fun, unexpected setting for pretend play.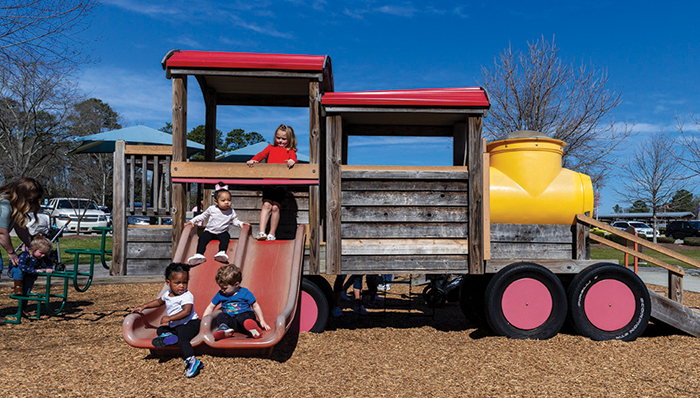 In addition to the unique play area, Knightdale Station Park has a large picnic shelter, walking trails, sports fields, dog park and splash pad that is free to the public (during the spring and summer months).
An amphitheater hosts concerts, community festivals and outdoor movies.
810 N. First Ave., Knightdale
knightdalenc.gov
---
Pullen Park
North Carolina's first public park continues to draw visitors to its unique amusements, including a historic carousel, train and kiddie boats.
A train car to explore, a variety of play structures, and a sand and water play area suit toddlers through school-age children.
Refuel at the on-site Pullen Place Cafe, which offers sandwiches, pizza, park snacks and treats.
520 Ashe Ave., Raleigh
raleighnc.gov
---
John Chavis Memorial Park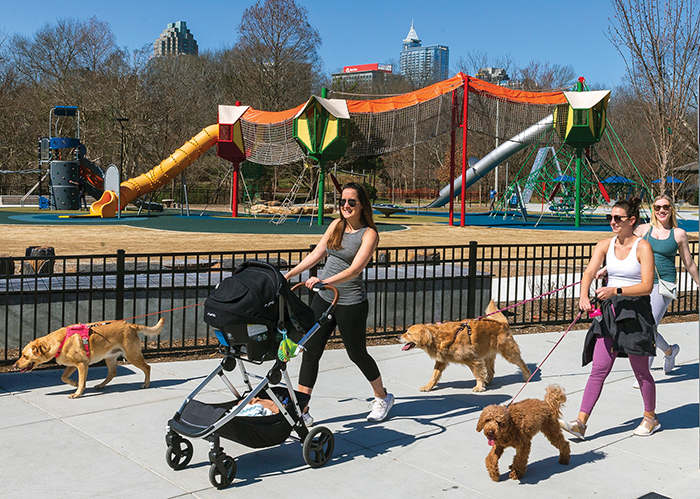 Recently completed renovations turned this park into a Raleigh must-see, melding history, innovation and fun. The park is home to the historic Allan Herschell Carousel, purchased in 1937, and the John Chavis Memorial Park: Past to Present outdoor exhibit, which showcases community stories about the park's evolution.
The playground's design includes features that may even entice teenagers and adults to join in, including exercise equipment, a skywalk climbing feature, nature play elements and an interactive water element.
Glass collage artwork by David Wilson, called "Chavis Reclaimed," accents the community center, which boasts an outdoor balcony with views of the downtown Raleigh skyline and a youth lounge with gaming stations.
505 Martin Luther King Jr. Blvd., Raleigh
raleighnc.gov
---
Jack Smith Park
Just outside of Holly Springs in southern Cary, Jack Smith Park's impressive climbing boulder and sprayground add an extra level of fun to an already interesting playground.
Works of public art also add to the park's appeal. Three whirligigs, made from scrap machine parts and farm equipment by Lucama, NC artist Vollis Simpson, mark the playground area. Pittsboro artist William Moore created a flock of nine Suffolk sheep sculptures in a nearby open play field. The Jack Smith Park occupies land formerly used as farmland, on which Suffolk sheep were raised, and these public art installations honor that heritage.
9725 Penny Road, Cary
townofcary.org
The park also includes an off-leash dog park, but Town of Cary passes are required for use. A non-resident day pass is $10.

---
Historic Yates Mill County Park
Step back in time with Wake County's last operable water-powered gristmill, illustrating the evolution of milling technology and early industries in Piedmont North Carolina.
Guided tours by costumed interpreters and corn-grinding demonstrations, though currently on hold due to Covid-19, bring the past to life. (Check the park's website for tour updates.)
Nature enthusiasts enjoy fishing, hiking trails and exploring the park's educational gardens. The 1-mile Millpond Trail passes through an old miller's residence and pond boardwalk. Check out the Piedmont Prairie Garden, which preserves a native NC ecosystem that has become endangered due to development.
EcoExplore, a program developed by the North Carolina Arboretum, has a hotspot in Yates Mill Park. The initiative offers incentive-based science challenges for children in grades K-8.
4620 Lake Wheeler Rd, Raleigh
wakegov.com
---
White Deer Park
Designed to enhance the natural areas and wildlife habitats adjacent to Lake Benson, White Deer Park was built with a strong focus on education. The park's nature center, a 2,500-square-foot LEED Gold Certified facility, contains live and preserved animal exhibits and hosts many hands-on programs. Visitors to the center can meet Poppy the corn snake or Naveen the tree frog, as well as explore the mounted specimen and skull collection.
Outside, 2 miles of paved trails, playgrounds, an arboretum and picnic shelters offer opportunities for recreation and exploration.
2400 Aversboro Road, Garner
garnernc.gov
Enjoy White Deer Park's Storybook Trail, near the nature center. The trail features 10 panels depicting pages from a children's book about nature.

---
Kids Together Playground at Marla Dorrel Park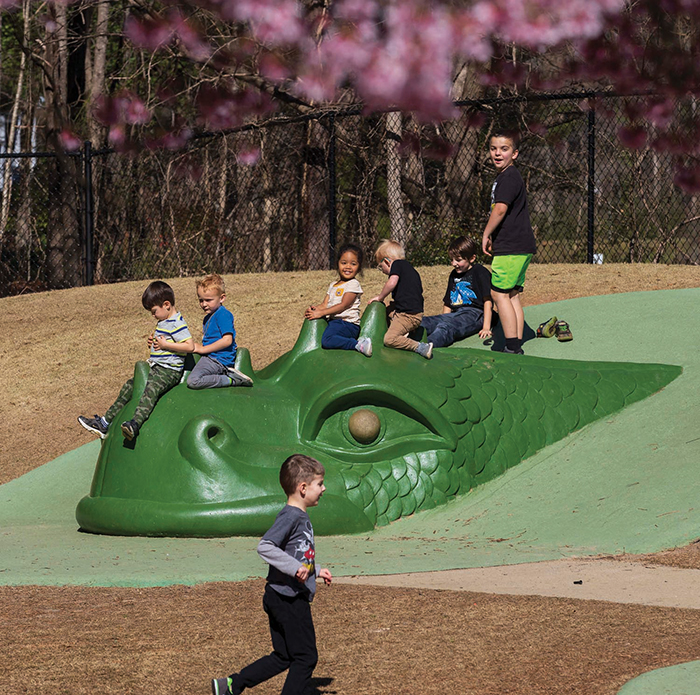 Founded on the idea that no one should be excluded from play, the Kids Together Playground utilizes the principles of universal design to make equipment and facilities accessible for all ability levels. Think winding paths and ramps to accommodate wheelchairs, and chair swings and traditional-style swings paired together.
Art is incorporated into the playground through unique statues and sculptures that children can climb on and interact with. A perennial favorite is the dragon sculpture built into a grassy knoll.
111 Thurston Drive, Cary
kidstogethercary.org
---
Sassafras All Children's Playground at Laurel Hills Park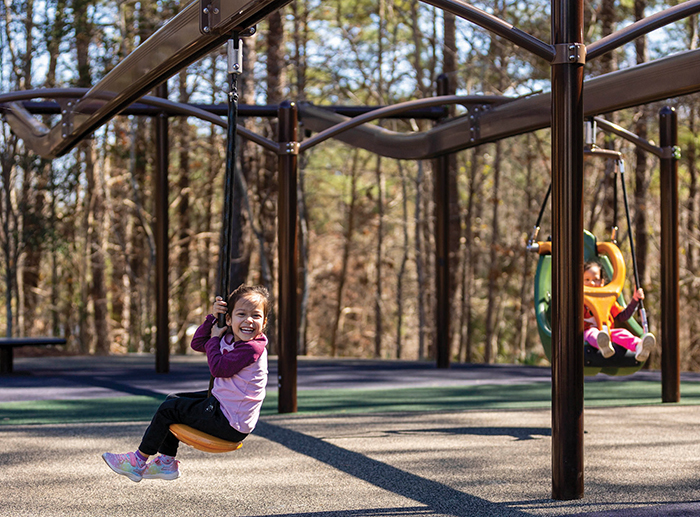 The beautifully renovated All Children's Playground reopened in 2016, replacing the original wooden structure that formed Raleigh's first accessible playground in the early 1990s. The structures at the 3.5-acre site welcomes children of all abilities. You'll find swings, slides, climbing equipment with a woodland theme, a basketball court with adjustable hoop height, accessible elevated decking and a pair of 50-foot-long ziplines.
The surrounding Laurel Hills Park also features sports fields, walking trails and open play space.
3808 Edwards Mill Road, Raleigh
raleighnc.gov
---
Elevate Fitness Course at Apex Community Park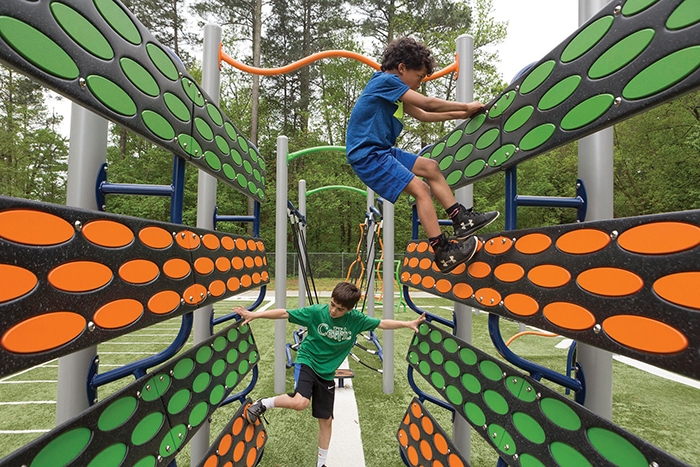 Inspired by obstacle course fitness, popularized by television shows like "American Ninja Warrior," the Elevate Fitness Course challenges balance, strength and agility for kids of all ages.
The course, situated in the back of Apex Community Park, offers many unique climbing obstacles and is designed as a race course, in which climbers can race against the clock or against each other.
Apex Community Park encompasses 160 acres and offers a multitude of additional recreation options: tennis, sand volleyball and basketball courts, more than 3 miles of walking trails, classic playgrounds and a lake where fishing and non-motorized watercraft are allowed.
2200 Laura Duncan Road, Apex
apexnc.org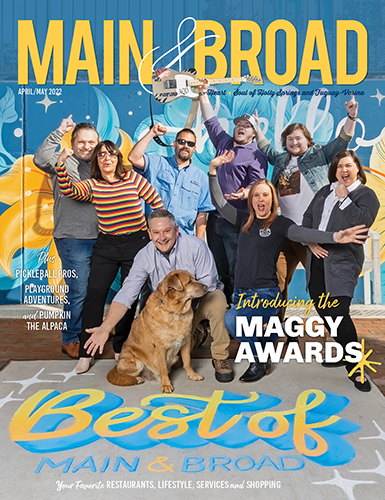 There & Back: Favorite Parks & Playgrounds in Wake County