Hunt for Easter Eggs
April 9, 10 A.M.
Fleming Loop Park
The Easter Bunny will be on site to kick off the egg hunt with Mayor Blake Massengill. Don't forget your baskets and cameras for pictures. The hunt starts promptly at 10 a.m. for ages 10 and under. Afterwards head to the Downtown Candy Hop.
---
Hop Around for Candy
April 9, 11 A.M.
Fuquay and Varina Downtown Districts
Hop from shop to shop and fill your Easter baskets with candy from downtown merchants at the annual Downtown Candy Hop sponsored by the Fuquay-Varina Downtown Association. Grab lunch or visit a new business while you're at it.
---
Enjoy Beets & Jams at the Holly Springs Farmer's Market
April 30, 9 A.M. – Noon
Holly Springs Cultural Center
Kick off the market's summer season with special activities all morning long. The Beets & Jams Music Series presents live music beginning at 9:30 a.m. Little Sprouts Activity Center will host lessons and crafts for kids. The local Farm-to-Table Chef Series presents tasty bites prepared using fresh items from the market.
---
Join the Egg-cellent Park Adventure
April 1 – 14
Entries due April 14, 4 P.M.
Throughout Fuquay-Varina
Join a town-wide scavenger hunt for 10 wooden eggs hidden throughout Fuquay-Varina parks and facilities.
Each egg has a unique pattern and number designed by the Fuquay-Varina Arts Center. Participate by completing a four- or 10-egg worksheet, drawing the pattern or labeling the number of each egg you find.
Download the worksheet at fuquay-varina.org/easter and submit it to the FV Community Center (820 S. Main St.) by Thursday, April 14 at 4 p.m. to receive a prize and enter a drawing for a large Easter basket filled with goodies.
Parks Include:
Mineral Spring Park
South Park
Falcon Park
FV Arts Center
Honeycutt Road Park
Library Park
Carroll Howard Johnson
Environmental Park
James A. Campbell Park
Fleming Loop Park
Hilltop Needmore Town
Park & Preserve
---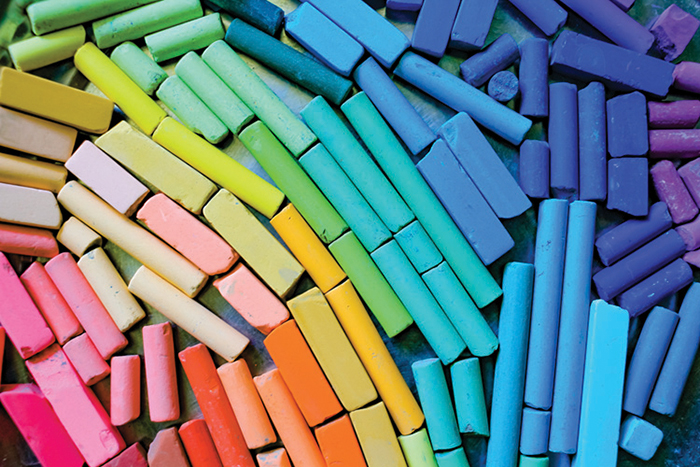 Chalk the Walk
April 24, 10 A.M. – 4 P.M.
Holly Springs Cultural Center
Show off your artistic talents for the whole town to witness. Artists ages 6 and up can reserve a space in front of the Holly Springs Cultural Center to transform with chalk. Photographs of completed artwork will be posted on Facebook for a public vote. Winners will be selected in three age groups: 6-12, 13-17 and 18 and over.
---
Listen to Live Music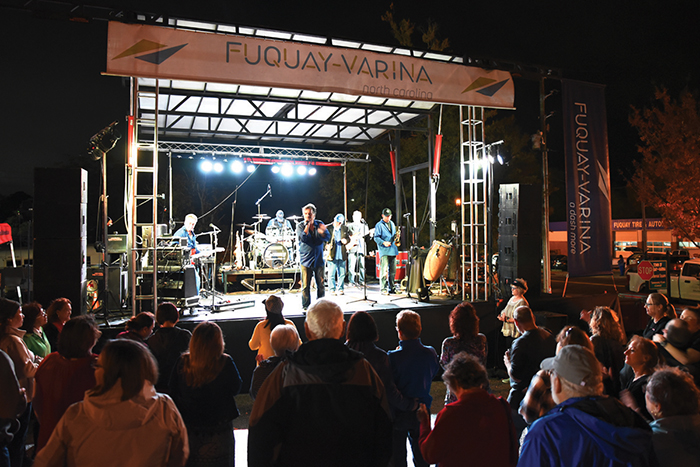 Follow Me to Fuquay-Varina Concerts
April 7 & 21, May 12, 6:30 – 9:30 P.M.
Centennial Square, Downtown Fuquay
The popular Follow Me to Fuquay-Varina concert series returns for the spring session. Gather lawn chairs, friends and neighbors and head to downtown Fuquay district. No pets or coolers allowed, but there are plenty of local restaurants, breweries and food trucks nearby.
Upcoming Concerts:
April 7 Chairmen of the Board
April 21 The Embers
May 12 Liquid Pleasure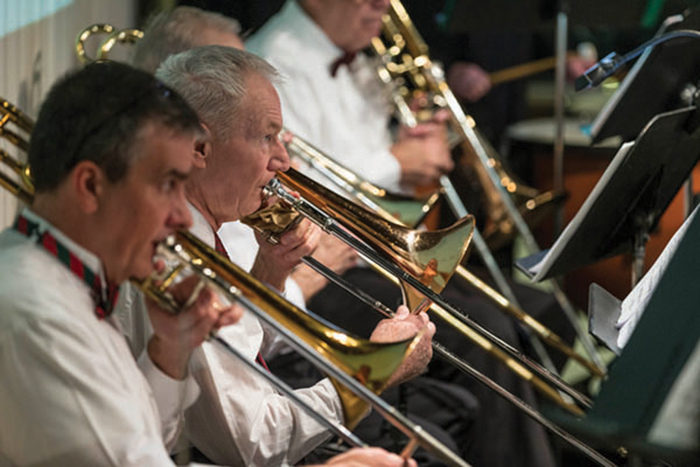 Holly Springs Community Band Concert
April 9, 7:30. – 9 P.M.
Holly Springs Cultural Center
An all-volunteer group of musicians whose performances showcase concert band music of many genres, including classical, Broadway musicals, movie soundtracks, pop, rock and marches.
---
Hike to the Chainsaw Art
William B. Umstead State Park
Open Daily
In 2017, North Carolina-based artists Jerry Redi and Randy Boni transformed a fallen red oak tree in Umstead Park with chainsaws, carving an incredible woodland scene into both sides of the 25-foot-long trunk.
The tree lies along the Graylyn Trail, making it a unique spot for a water break and photo op while exploring Umstead's many trails.
The shortest route to the chainsaw art begins at the Crabtree Creek park entrance. Park at the Sycamore Road parking lot, then proceed to the Graylyn multi-use trail and continue to the right. The fallen tree lies on the left of the trail, a little more than half a mile from the parking lot.
For a more challenging route, begin at the Reedy Creek entrance off N. Harrison Ave. in Cary. Connect to the Graylyn Trail via Reedy Creek Lake Trail and Reedy Creek Trail, totaling 3.2 miles one way to reach the sculpture.
---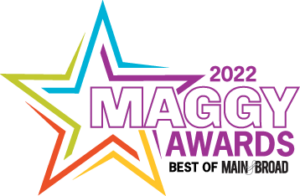 Celebrate with the Maggy Award Winners
April 28, 4:30–8 P.M.
The Fenton, Cary
Join Main & Broad, and our sister publication Cary Magazine, to celebrate our first-ever reader's choice award winners at the 2022 Maggy Party. Mix, mingle, eat and drink with the people and businesses named the Best of Main & Broad and the Best of Cary Magazine.
Bring the whole family to enjoy tasty sips and bites from local restaurants, games, photo ops and more. Plus, get a glimpse into Cary's brand-new mixed-use development, the Fenton.
---
Attend a Food Festival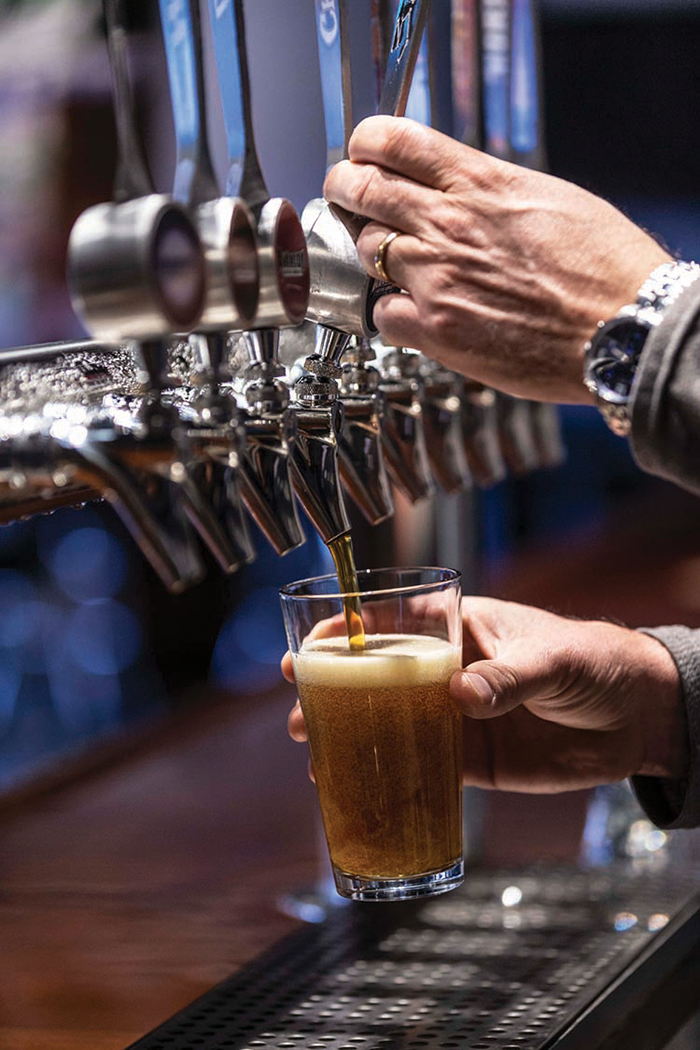 Brewgaloo
April 22, 6 – 10 P.M.
April 23, 2 – 10 P.M.
Downtown Raleigh
Explore the thriving NC craft beer scene during the two-day Brewgaloo festival in Raleigh. Friday night features a ticketed tasting event with unlimited 3-ounce pours. Saturday admission is free, and beer can be purchased in samples or pints. A hundred breweries, 50 food trucks, dozens of local vendors and live music span the length of Fayetteville Street.
Holly Springs International Food Festival
May 6, 5 – 9 P.M.
Holly Springs Cultural Center
Bring blankets and chairs for lawn seating outside the Cultural Center to watch family-friendly and entertaining cultural performances and sample cuisine from local restaurants and food trucks representing more than 12 countries. Presented by the Town of Holly Springs in partnership with the HS Chamber of Commerce and the HS Interfaith Alliance.
Smithfield Ham & Yam Festival
May 7, 9 A.M. – 9 P.M.
Neuse River Amphitheatre, Smithfield
Ham biscuits and sweet potatoes may star in this show, but there are many supporting characters: food and craft vendors, multi-stage entertainment, a rubber duck race, inflatables and not-to-be-missed pig races.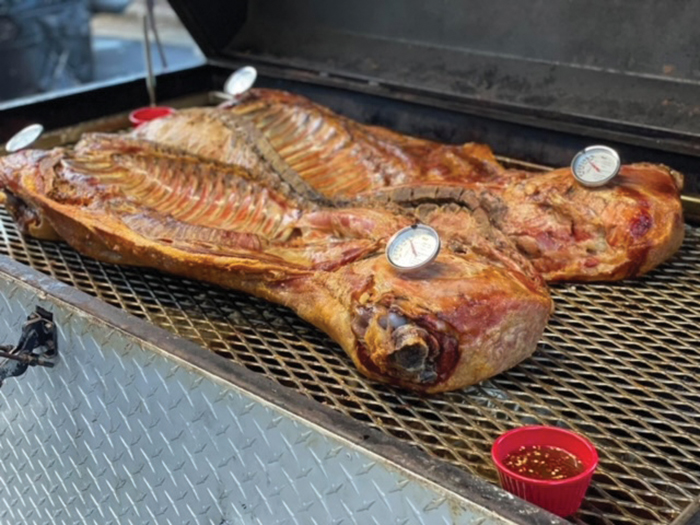 BBQ Fest on the Neuse
May 6, 5 – 10 P.M.
May 7, 10 A.M. – 5 P.M.
Downtown Kinston
This whole hog cook-off in Kinston has barbecue in abundance, plus live music, vendor booths, a classic car show and fun for the whole family, encompassing several streets around downtown Kinston, between Pearson Park and Queen Street.
New this year, guests can purchase a Best of the Best BBQ Wristband to sample the winning teams' cooked pork. Multiple winners are awarded in Professional and Backyard classes.
Barbecue plates can also be purchased, as well as food from local restaurants and vendors.
---
Take a Sunny Photo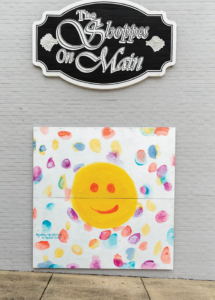 Smile at the Shoppes on Main
For about two years, Fuquay-resident and artist Rachel Cornett has been installing seasonal murals on the Shoppes on Main building in downtown Fuquay-Varina. A project she began to "give people some happy."
The first mural went up in 2020, to honor high school graduates that had most of their graduation festivities canceled. Along with her teenage daughter and friend, Cornett painted a mortarboard and multi-colored tassel, so graduates from all schools could stop for celebratory photos.
Since then, the mural has changed a handful of times, rotating through a bold rainbow, snowy wonderland and, currently, a cheery smiley face. Look for the graduation mural to return mid-April for the newest glass of graduates to enjoy.
Visit the Sunflower Field at Dorothea Dix Park
Starting in July, a sea of sunflowers blooms at Dorothea Dix Park. A popular spot for nature and family photography, this summertime flower show is well on its way to becoming a Raleigh tradition. The field is located off Hunt Drive near the former soccer fields and the historic cemetery. Parking is available in gravel lots nearby.
---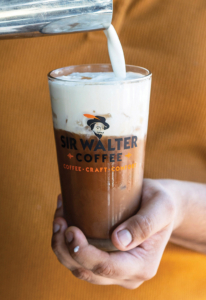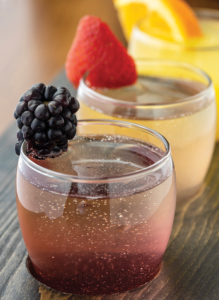 Treat Mom to Brunch
Instead of breakfast in bed on Mother's Day (May 8), venture out to Southern Wake's cafes and eateries for a gourmet brunch with zero cleanup. Consider Sir Walter Coffee & Kitchen — their decadent brunch menu includes Fruity French Toast (brioche dipped in Fruity Pebbles batter and stuff ed with an apple chutney cream cheese), mimosa flights and their signature Vietnamese Iced Coffee.
Other unique offerings include popovers at Ashley's Harvest Moon Bakery-Cafe and Sunday Sundaes at Pimiento Tea Room.
Reservations are essential on this busy brunch day. But we'd venture to say that most moms appreciate a brunch invitation on any of the other 51 weekends of the year, too.
---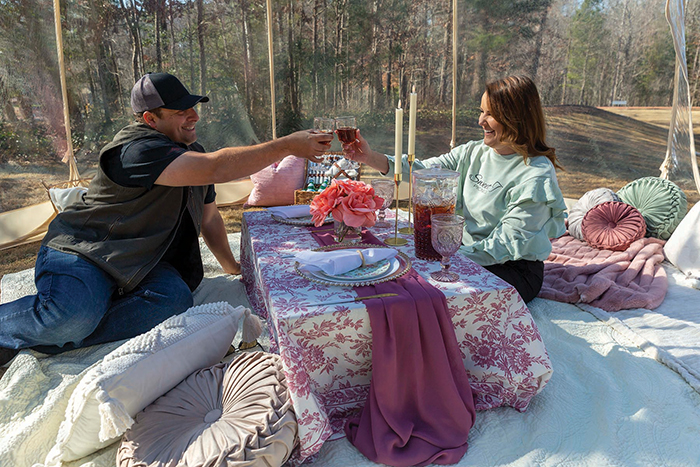 Have a Pinterest-worthy Picnic
Dates & Locations are Flexible
Book Early for Best Availability
For all the luxury, but none of the eff ort required to set up a glamorous picnic soiree, look to Sweet T Picnics, owned by Marcie Trivette. Trivette finds locations all over the greater Raleigh area and works with local artisans to provide delicious food and decor, such as Slice Pie Company and Something Blue Custom Charcuterie.
The turn-key experience is complete with blankets and pillows, a picnic basket, a decorated and set table, plus her signature sweet tea.
"I believe the year 2020 taught everyone a lot, myself included. Time is so precious, and you can't get it back," Trivette says. "I wanted to create a space where sweet memories could be made with smiles, laughter and togetherness. It's not just about having a picnic. It's about having an incredible experience with those you cherish."
Unpredictable weather isn't a problem inside of Sweet T's clear igloo tents.
---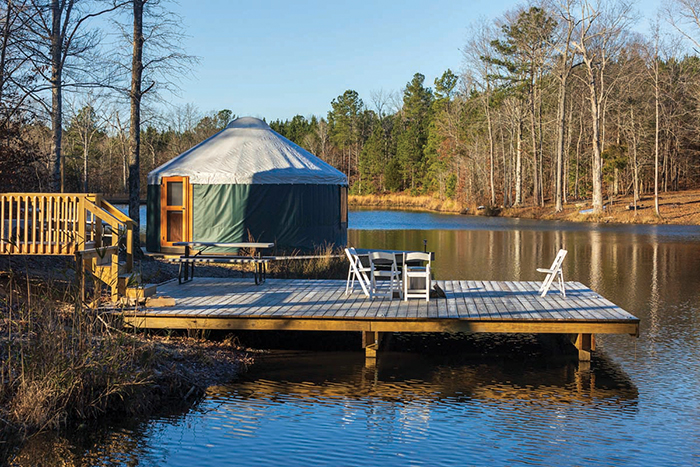 Spend a Night in a Yurt
Lakeside Retreats
4521 Mial Plantation Road, Raleigh
About 30 miles from Holly Springs and Fuquay-Varina, outdoor enthusiasts can enjoy a picturesque lake, trails, a gazebo, sauna and a comfortably appointed private yurt for a peaceful spring or summer escape.
Yurts are equipped with heating and air conditioning, a mini kitchenette, a fire pit, a picnic table, a charcoal grill and sleeping arrangements for at least two people.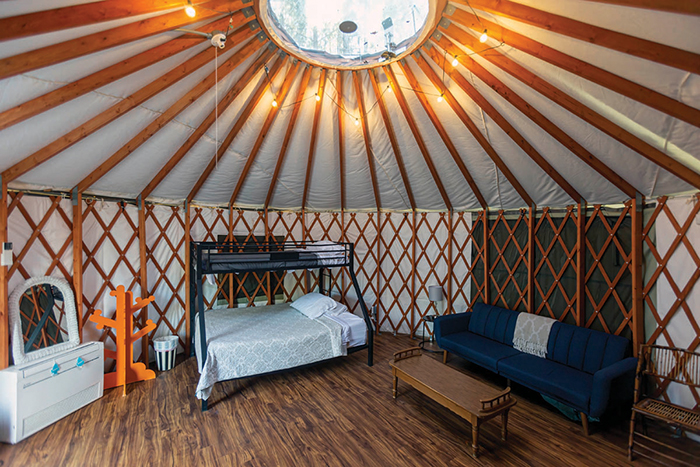 "We were starting to get more and more families, so we started to give families more options," says owner Tom Williamson. "With the exception of the 24-foot yurt, which has a king-sized bed, all the other 20-foot yurts have queen-sized beds, and some of them have bunk beds. If the kids want to camp in a tent, they can just pop up a tent right next to the yurt at no extra cost."
---
Strike Up Friendly Competition
Live Trivia at Hickory Tavern
Wednesdays, 7 – 9 P.M.
401 Village Walk Drive, Holly Springs
Invite your favorite know-it-all neighbor to share delicious pretzel bites, BBQ chicken nachos or Pow Pow Shrimp and put that wealth of knowledge to good use.
Music Bingo at The Mason Jar Lager Company
Thursdays, 7 – 9 P.M.
341 E. Broad St., Fuquay-Varina
Sip Mason Jar seasonal releases, nosh bites from local food trucks and test your musical knowledge.
Karaoke Friday at Brus on Main
Fridays, 7 – 9 P.M.
135 S. Main St., Fuquay-Varina
Familiar community faces host pitch-perfect karaoke in downtown Fuquay, enlivened by Brus on Main's signature boozy specialty drinks.