In 1965, pickleball was played for the first time, invented among friends in a backyard outside of Seattle. After 55 years, only 1.4 percent of the US population has ever tried the niche sport that combines elements of badminton and table tennis.
Yet, Holly Springs includes among its residents two of the sport's top-ranked players — Corrine Carr and Adam Stone.
In fact, if you've visited the courts and fields at Ting Park, you may have even seen Carr and Stone training for the national tournament circuit of a sport they both describe as "addicting."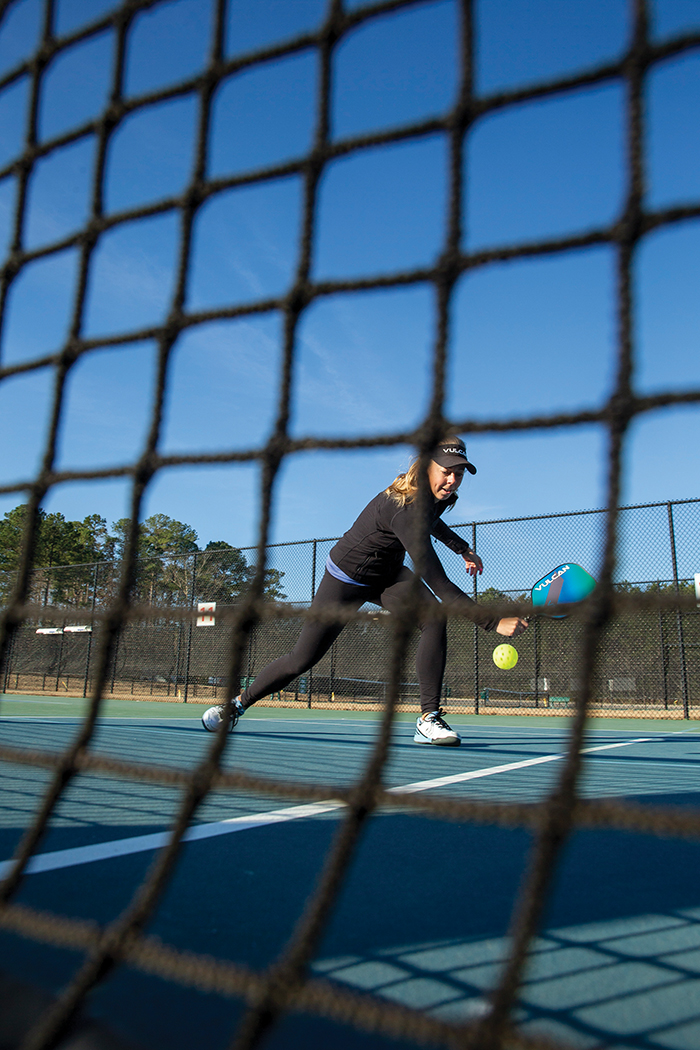 Think of pickleball as a mashup of tennis and ping pong — played with a paddle, on a court similar to tennis, but smaller, and with different boundary lines. The ball is perforated and made of hard plastic (similar to a Wiffle ball). The sport can be played in single or doubles configurations, but doubles is most common.
The rules of gameplay take a few minutes to learn; most people can pick it up in one afternoon.
"In pickleball, you can jump out there and have some real rallies and some real fun right off the bat," says Stone. "It's an easy-to-learn, hard-to-master game, and I think that's what makes it so addicting."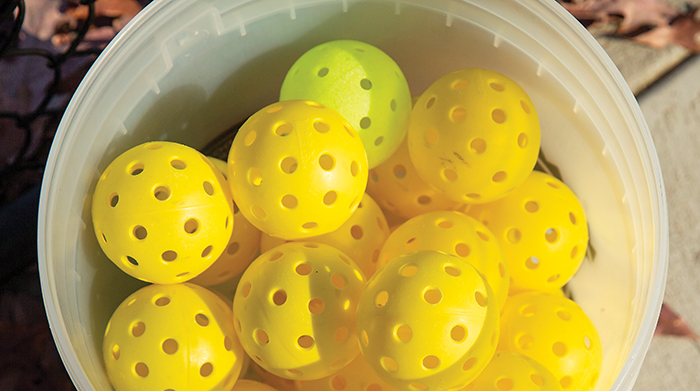 Stone, no stranger to racquet sports, played collegiate tennis at the University of Texas at Tyler. His transition to professional pickleball began at a community center, just like thousands of players in the country.
"My mom's friends had started playing pickleball, and we went and checked it out at the rec center. It was pretty fun," Stone says.
Stone continued to play, improving consistently, winning matches, then tournaments, until he entered the top tier of pickleball athletes, currently ranked sixth in the World Pickleball Rankings for men's doubles.
In 2021, Stone played in 25 tournaments, capping off the year winning one of, if not the biggest pro tournament of the year, the PPA Championships, with his doubles partner Dekel Bar.
Carr recently debuted a signature shoe collaboration with Acacia Pickleball.

Think of it like winning the US Open, but for pickleball.
"I have good footwork and quick hands. The main strength for me is defense — making a lot of shots, getting the aggressive, hard shots of the opponent and getting those back in play is where I stand out," Stone says.
Even as one of the sport's top athletes, Stone enjoys pickleball for its ease of entry and social aspects as well.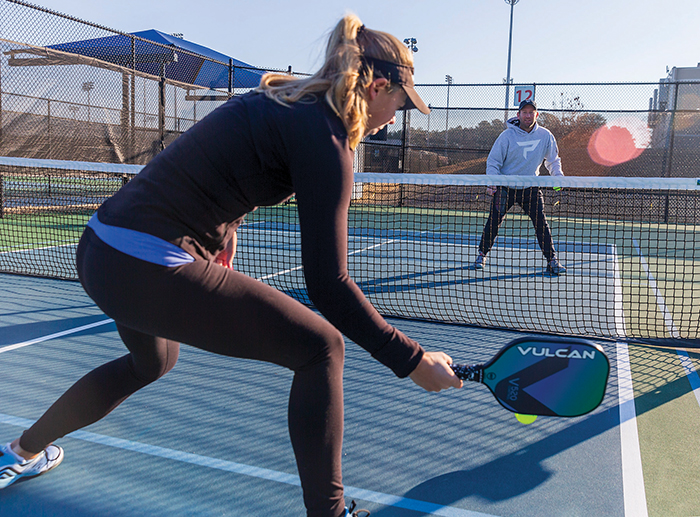 "You can go get your exercise, have a good time and play for two or three hours, and it seems like a snap of your fingers. … It will make you come back and do it more often."
"I think everybody should try it," says Corrine Carr. "It's so much fun. It's so social. For a lot of people, it becomes a healthy addiction."
Carr first tried pickleball during graduate school in Michigan. "I joined an athletic club to get back into tennis (a sport she played in her youth), and somebody asked me if I had ever heard of pickleball. … I decided to try it and got hooked."
Carr, also a former college athlete (she played golf for the University of South Carolina), learned the new sport quickly and thrived.
"I really got hooked at the first tournament I went to. I'm thinking, 'This is the greatest thing ever,'" she says. "I went away from that on a total high. I had not competed in so long; everybody was so friendly. I just loved the whole experience."
By the Numbers
1965 – Year pickleball was invented
9,524 pickleball courts in the US at the end of 2021
Up 789 locations from the previous year
4.2 million players in the US in 2020
21.3% increase from 2019
Among those, 1.4 million play 8 or more times a year
41 – Average player age
Largest areas of growth from 2019-2020
Players 6 to 17 years old — up 50%
Players 35 to 44 years old — up 31%
Source: Sports & Fitness Industry Association 2021 Topline Participation Report

Carr and her top-ranked doubles partner, Simone Jardim, won many major pickleball tournaments during Carr's early career, from that first tournament in 2015 through 2021.
Currently ranked 14 in the World Pickleball Rankings for women's doubles, Carr plans to play in about 20 tournaments this year, an impressive feat considering she is also a professor of finance at Campbell University.
The appeal of the game isn't found only in tournament winnings and sponsorships, but in the way that pickleball was designed to serve as an "equalizer" for players of all skill levels, says Carr.
"You can get boys and girls playing together and it's a fair and fun game. You can have grandparents and kids out there.
"For a lot of people, they grew up playing sports and then phased out. Sports are hard on your body. Pickleball is a smaller court, mostly doubles. Even with injuries, you can enjoy it."
For a professional athlete, Carr is petite — only 5'6," — but in pickleball, her size isn't a hindrance.
"It's an interesting sport, because so much of it is about strategy, rather than being the fastest or the strongest. It's more about where you hit the ball, rather than how hard you hit it. It's reasonable for me to compete with somebody who is 6 feet tall and weighs 20 pounds more than I do," Carr says.
"I've never seen people get obsessed with a sport like this."
Pickleball has consistently been the most popular among adults and seniors, but interest in the sport is increasing across all age groups.
Kristen Denton, Hunt Center manager for the town of Holly Springs, witnessed the pickleball regulars in Holly Springs shift from a group of seniors to include 20-somethings and up.
"It really took off during Covid. People were drawn to the sport because they couldn't do anything else, and it stuck," Denton says.
Southern Wake Court Locations:
Womble Park
Ting Park
12 Oaks
W.E. Hunt Community Center
Fuquay-Varina Community Center
Want to find a court?
USA Pickleball maintains places2play.org with a database of courts searchable by city or zip code.

Holly Springs has courts lined on the gym at the Hunt Center, and outdoor courts at Ting and Womble parks. There are also courts inside of the Fuquay-Varina Community Center.
Holly Springs Parks and Rec does offer group pickleball instruction, led by tennis instructor Brian Rosenthal, but open play tends to draw the biggest crowd.
To create a welcoming experience for its regular players, the town of Holly Springs installed signage and stairs on the pickleball courts at Ting, says Denton, in an effort to encourage continued open play.
Denton says Holly Springs will likely grow its pickleball facilities and programs as the sport grows, including two pickleball courts which are slated for the future Cass Holt Road Park. Plans for the park are currently under review by the town council.
"The pickleball community is extremely friendly and welcoming. If it's something that someone is considering, they should just show up to the courts one day. People are normally excited to share the sport," says Carr.