As Fuquay Memes, I receive quite a lot of random things in my inbox — from pictures of missing teeth in the Jimmy John's parking lot to pearl-clutching vanity license plates — but I was not fully prepared for what I showed up in my inbox on February 10.
An alpaca. On a leash. In Mason Jar. We couldn't immediately ID the owner, but the minute I posted it on Facebook my comment section lit up like Blockbuster on a Friday night in 1995 (RIP, Blockbuster).
Over 2,000 "likes" later, people were demanding to know more. Who was this small brown alpaca strolling the town in a red bandana like he owned the place? Did he have his own Facebook page? The world around us was burning down faster than a dog turd getting reported in Holly Springs, so an adorable alpacalypse was just what the doctor ordered.
Everyone wanted to know where he'd show up next, but we all know that the Chuck Norris of Alpacas never reveals his next move. I reached out to the owner, only to fi nd out that his name is Pumpkin — not Alpacino, like I had hoped.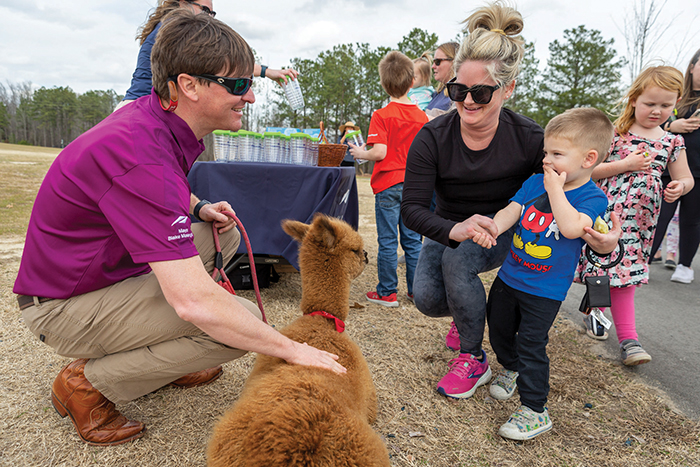 Regardless, he was already a local celebrity and within a matter of hours had already "booked" his first public appearance and created a fan page on Facebook.
The always-quirky Town of Fuquay-Varina (shout out to my girl, Susan Weis) never looks a gift horse in the mouth — an official meet-and-greet with Pumpkin the alpaca and Mayor Blake Massengill was scheduled for Feb. 17 at Fleming Loop Park.
Shameless.
I went, of course. So did half of the town, by the looks of it. Residents were practically selling their souls for a chance to throw their kids in front of a fluffy local celebrity for the 'gram. I asked Mayor Massengill, who lives right around the corner from Pumpkin, what a public meet-and-greet with a farm animal says about his leadership style.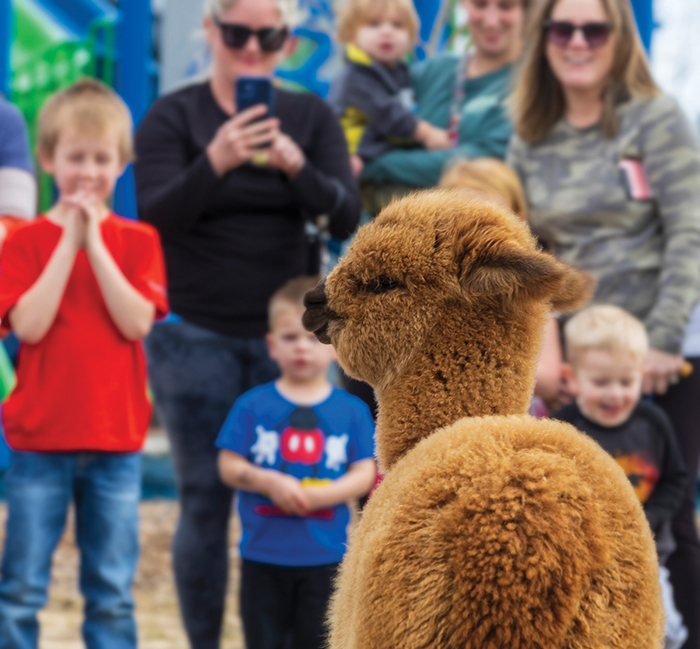 "I think it says that I have a fun, approachable leadership style and I want to be out in our community. I want the community to know that they can communicate with me and talk with me at any time. I'm just as friendly as an alpaca," said Massengill.
Since the Town of Fuquay Varina's meet-and-greet, Pumpkin has been climbing the fame ladder all the way to the top and making all of us look bad. He's made appearances at local elementary schools, nursing homes and churches, visited the Holly Springs Police Department and Farmers Market (how dare the dump town capitalize on our alpaca), had a radio interview with 94.7 QDR, made the news on WRAL, and is currently slated to show up at the opening of the Fuquay-Varina Growers' Market on April 16.
In celebration of our own version of Lil' Sebastian, à la "Parks and Rec," we caught up with Pumpkin's owner, Sue, to learn a bit more about the Fuquay's fashionable fluffalump (because none of us are rocking a Ph.D. in alpacology). Enjoy!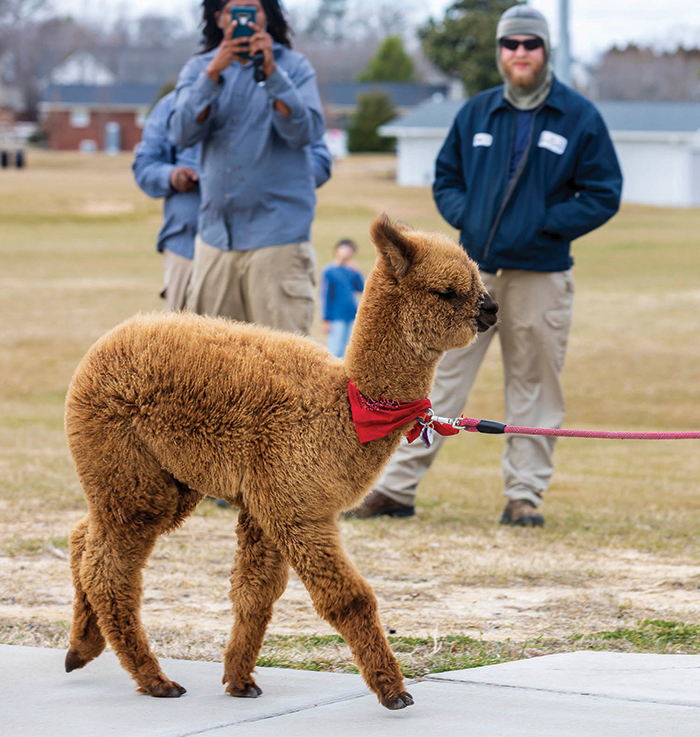 OMG HOW DO I GET ONE WHERE DID YOU GET PUMPKIN?
I got Pumpkin in Charlotte, and he was the first alpaca I had ever seen in person. I planned to get an all-female herd, but Pumpkin was irresistibly cute.
TELL ME MORE ABOUT THIS LEGEND — HOW OLD IS HE?
Almost 6 months old now. I got two older boys to keep him company, and I'm getting the fourth boy soon. They are herd animals, so they like to be in a group.
WHAT IS PUMPKIN'S FAVORITE PLACE IN FUQUAY?
He really doesn't care where we are going as long as he is with his human. So far he hasn't had any bad experiences with people, which is interesting since it's difficult to earn an alpaca's trust. Unlike dogs, who hunger for touch and love, alpacas are prey animals and generally don't like to be touched or petted. If they decide they like you, they will walk up to you, give you a nose kiss and walk away.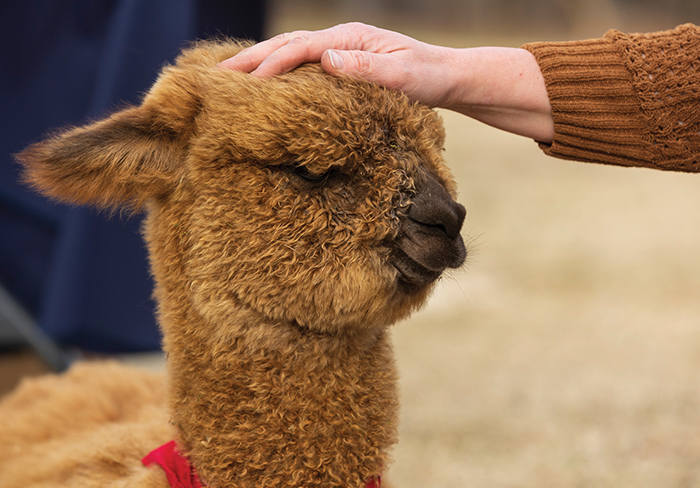 WHAT IS PUMPKIN'S FAVORITE FOOD SO I CAN LURE HIM TO MY HOUSE?
Grass and milk at the moment. Alpacas are supposed to like apples, broccoli stalks and carrots, but the other two alpacas don't show any interest. In springtime, he likes young and tender leaves.
DOES PUMPKIN EVER HAVE ACCIDENTS IN PUBLIC?
So far, no. We always plan to go inside a store between restroom breaks, and usually only in stores that allow pets. Pumpkin frequently visits the landscaped area in parking lots to do his business. Unlike other alpacas on the farm, Pumpkin will alert his human when he needs to "go potty," even if he is inside the car or a building. He will either make a special noise or the tail starts to go up a little bit — a tell-tale sign he needs a restroom break.
Sue's Alpaca Fun Facts:
In Peru, alpacas are raised for fur just like sheep, and their fleece is twice as warm as sheep's wool.
Alpaca waste is one of the best natural fertilizers and can be used directly in the garden.
Because they have pads on their feet, they are very gentle on landscaping.
Alpacas are very gentle, curious, alert, quiet, graceful and clean animals.

TELL ME ABOUT PUMPKIN'S HOME LIFE!
Pumpkin sleeps outside with his other two alpaca buddies. As soon as we open the door in the morning, he will run and rush the door to ask for breakfast.
Pumpkin spent his first few days inside the house before the other two alpacas arrived, but now he rarely comes inside the house. As far as animals goes, he is by far the best housemate — even better than our house-trained dogs, by a very large margin!
Pumpkin is a very quiet fellow, very chill. The two super-high-energy dogs don't seem to bother him a bit. Our two emus like to check on Pumpkin a lot. Somehow the alpacas and emus form a group; they hang out together. The swan will sometimes chase Pumpkin, because swans like to chase/bully everyone on the farm anyway.
HOW DOES PUMPKIN FEEL ABOUT BEING FUQUAY FAMOUS?
I will have to ask him if he wishes to share his thoughts! I try not to book too many events for him, and we let him be with his alpaca buddies on the farm most of the time.
WHY DO YOU THINK PEOPLE LOVE PUMPKIN?
I think he looks cute and sweet and he's an unusual pet to see in public. With so much darkness in the last two years, a little fluffy, friendly Pumpkin instantly puts a smile on your face. We all need a dose of happiness and love from a living, breathing creature like Pumpkin.
It's heartwarming to know there is an animal in Fuquay who brings smiles and joy to people. I feel blessed to be able to care for this precious animal named Pumpkin.