Fall is, of course, the prime time to plant bulbs of spring-bloomers such as tulips, daffodils and crocuses, but, while these pretties can add flash to the early growing season, they do tend to take on a sameness from year to year. That's why it is fun to occasionally try out bulbs that are completely different in dazzling looks. Need an example? One of my favorites is the crown imperial fritillaria (Fritillaria imperialis).
With the tag "crown imperial," this fritillaria has to deliver the visual goods, and it does. For starters, it is a dilly of a frilly bloomer that stands out as a tower of flowers in the spring garden on singular, strong stalks stretching upwards to almost four feet tall. Topping these impressive stems are large clusters of dangling, bell-shaped blossoms crowned with tufts of green leaves, leading to its alternate name "pineapple lily."
The fancy blooms of this fritillaria come in equally flashy colors, including the rich yellow of the cultivar 'Lutea Maxima' and simmering reddish-orange of 'Rubra Maxima.' These two tend to be the easiest found in local garden centers at this time of year, and online shoppers can order them from regional e-shops such as Brent and Becky's Bulbs (brentandbeckysbulbs.com) in Gloucester, Va.
Timely Tip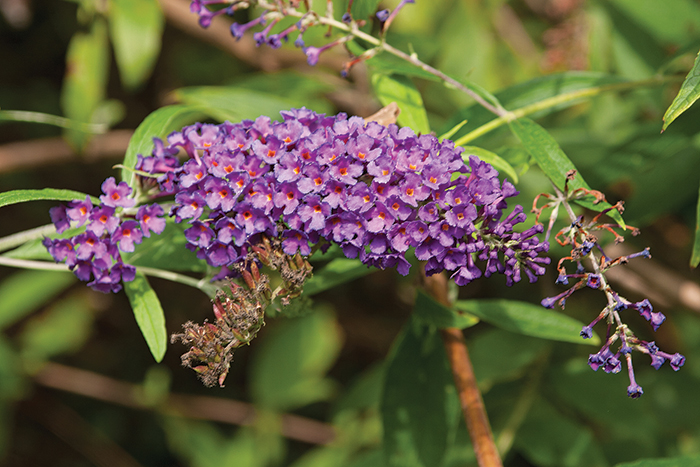 Butterfly bushes (Buddleia davidii) are popular landscape pretties, but if there is one knock against them, it is that they (older cultivars, in particular) can be seedy, on the verge of weedy. To prevent butterfly bushes from scattering their progeny hither and yon in your landscape, now is the time to cut off and dispose of spent flower clusters before their seed heads begin to open, which usually happens around November. However, don't get too crazy with the clippers. Now is not the time for a full-blown pruning — wait until late winter to cut back any overgrown branches.

Like most fall-planted bulbs, crown imperials perform better in sunny sites that receive at least some filtered shade from the afternoon sun. After buying, don't wait to plant — these bulbs (which can be rather large) prefer to settle in sooner rather than later in the autumn garden. The growing ground should be well worked and heavily amended with fully decomposed compost or commercial soil conditioner for superior drainage, because these bulbs will rot in heavy soils. Bulb fertilizer can be added, but to prevent chemical root burn, spread such nutrient nuggets over the ground rather than in the planting holes.
Speaking of rot — I know, lovely subject — a nifty trick to further prevent this unproductive yuck is to plant the bulbs sideways, because they have single stem ports on their tops that can turn into collection points for water.
While it does look fancy in full bloom, crown imperial fritillaria has one offsetting characteristic: It stinks. There is a skunky-ness to the bulbs, stems and foliage, with the flowers being slightly less so. It is not overpowering, however, and does serve a positive purpose. Rabbits, squirrels and deer will also notice the odor and leave these beauties alone, which greatly increases their chances to add a special glory to your spring garden.
In October
If you are thinking about expanding the veggie patch or flower bed next year, roll up those sleeves, and get to work now. Dig up or rototill the areas, and leave them rough through the winter to allow rains and freezing temperatures to help break up the soil.
---
While falling autumn leaves can be pretty sights, they can also be pretty suffocating on a lawn if such spent foliage isn't raked up every few days. This is especially true for newly established lawns.
---
Speaking of falling foliage, an easy way to keep such autumn debris out of the water garden is to stretch a fine mesh net or wire screen over the pond to catch any wayward leaves.
---
During this Halloween season, haunt your favorite local garden shops for great end-of-the-growing-season sales on perennials, shrubs and trees.
In November
Did you fertilize your Kentucky bluegrass or fescue lawn this September? Good gardener! Now, follow it up with another round this month at the same rate of one pound of nitrogen per 1000 square feet of lawn.
---
The beginning of November is a good time to force paperwhite narcissus bulbs by planting them indoors in pots, so they will be ready as pretty flowering presents in time for Christmas.