We are going to talk about money.
Wait, don't skip this story — you are going to want to read about this determined Holly Springs native who is working passionately to make the subject of money less intimidating and more fun.
Meet Jasmine Brown.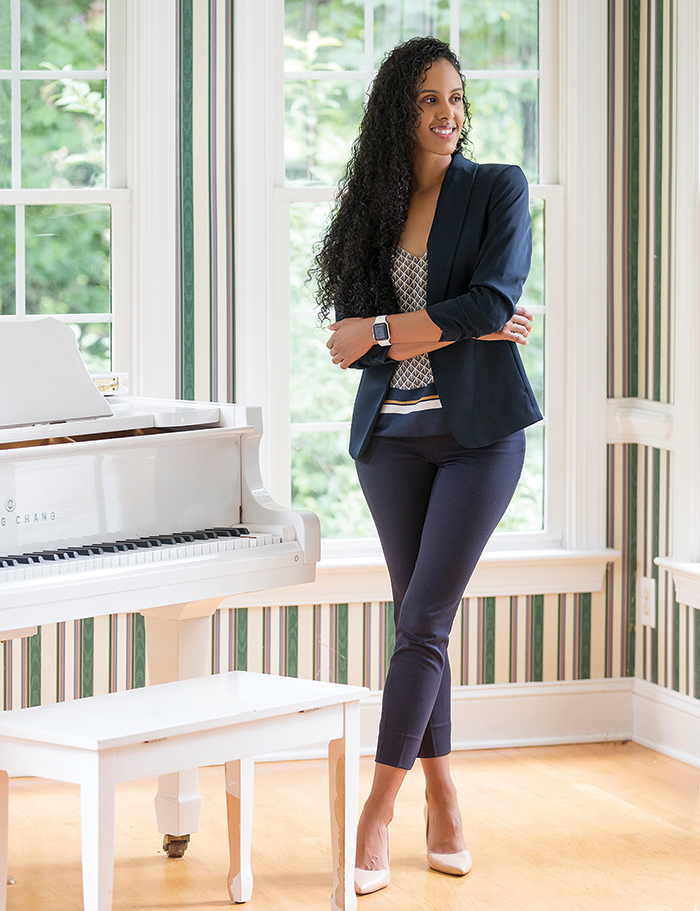 She's the oldest of five siblings, graduate of Holly Springs High School (HSHS) and N.C. State University, and current award-winning coach of the men's and women's swim teams at her alma mater, HSHS.
She's also the founder of FACTS for Youth, a nonprofit committed to increasing financial literacy in teenagers, a passion she has spent her twenty-something odd years developing.
Brown grew up in a household where the subjects of money and economics were commonly discussed thanks to her father's career as a financial adviser.
"I've always been around … the topic of money," Brown says. "(My dad) used to quiz me on stock symbols when I was younger. I could tell you what the market being bearish or bullish meant."
Once Brown entered NC State, to eventually earn her degree in business administration (finance concentration, accounting minor), she started to understand that familiarity with financial concepts wasn't so commonplace after all.
"My first year of college was when I realized that I had a different upbringing than some people when it comes to those topics. My first roommate didn't know much about credit. I started teaching people, 'No, don't get free credit cards in the brickyard,'" says Brown.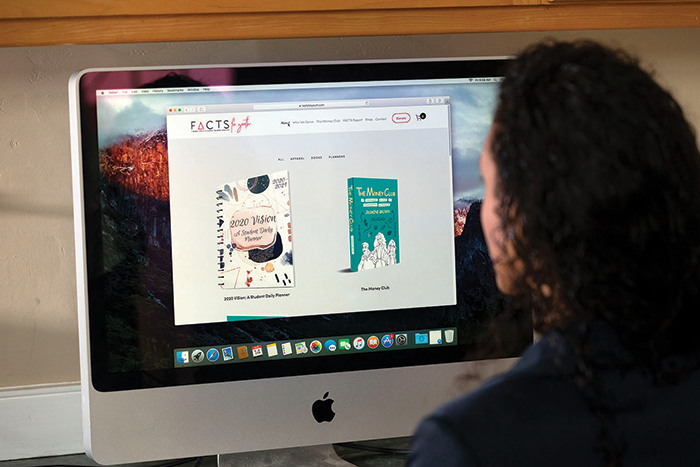 Several years later, working as a swim coach, Brown's enthusiasm for financial literacy became something more.
"One of my swimmers didn't know how to fill out a check," Brown recalls. "He had both parents in the home. He was a white student. I knew (personal finance) wasn't often discussed in minority communities, but I always assumed that it was in other homes.
"And that one thing kind of snowballed into everything I'm doing now," she said.
In the fall of 2018, Brown founded FACTS for Youth, (which stands for Finance Athletic Career Training Services), aimed at teaching financial literacy concepts to teens and helping them prepare for post-high school life.
"Initially I just wanted to focus on student athletes. The athletes that I was targeting were predominantly black, from underserved communities. They looked at athletics as a way out of their situations. I was trying to explain that you might not be the one in your community that makes it out, so you have to start talking about other things."
It didn't take long for Brown to realize that lack of financial education was a much larger problem.
"There were students that wanted to be lawyers, engineers, doctors; so that's when I realized this is a problem for everyone," she says.
Brown developed a presentation called "Show Me the Money," and began delivering it in schools in communities in North Carolina with high unemployment and low household income.
"Show Me the Money" was a hit — the students were interested and receptive, she says, thanks in part to Brown's penchant for teaching through games.
"Every time I go into a presentation, I try to bring at least one or two games. Even if a kid doesn't remember a word-for-word definition, they are going to understand a concept, because of the game we played," she says.
"I do a budgeting game with Skittles — you'd be surprised how much teenagers love Skittles.
"When you think of personal finance at that age, you think of an old white man talking completely over your head. My idea is to bring it down to their level, so the students understand it and enjoy learning about it. After all, it's money, and kids love money."
Topics covered during the presentation include investing, budgeting, credit and — of course — how to write a check.
"These kids are only hearing from me for an hour and a half. They might go home and find that the conversation — and knowledge — just stops," Brown says.
Her solution was to write "The Money Club," a book about a high-school teacher who witnesses a student's explosive outburst and becomes inspired to change the way financial education is taught.
"The idea with "The Money Club" was to take the conversation home and be able to talk about it at the dinner table or ask questions and read and learn together. Now … we are breaking the generational curse by educating the parents as well," Brown says.
"The Money Club" workbook and a 2020-2021 student planner followed, piggybacking on the concepts in the novel, but designed to be hands-on, with spaces to practice writing checks, tracking expenses and setting budgets and goals.
"There are a lot of different types of learners. For some people it's better to learn if you are actually doing it," says Brown.
In-person presentations abruptly ended in March at the onset of the pandemic, so Brown transitioned her teaching online, holding Zoom sessions and Instagram Live Q&A's.
"I feel like I'm actually reaching more people. I can have up to 100 kids on a Zoom call, versus going into a classroom that only has 30 people," she says.
There have been challenges, especially in reformatting her hands-on games to work virtually. (Sadly, no Skittles in a Zoom meeting.) However, many schools have been quick to promote Brown's no-cost presentation.
"Because it is virtual, (schools) are jumping more at the opportunity versus having a guest come in. It helps me a little bit more to do it this way."
In the future, look for an annual fundraising gala and a youth jobs conference to join the FACTS lineup of programs.
"Our biggest need is funding, because ("The Money Club") is $17.95, the workbook is $8.99 and the planner is $24.99. I want to get to a point where I can give away these books and not have kids buy them," Brown says.
She also hopes to grow FACTS by expanding her board of directors with "members of the community that will back me and are as passionate as I am for this project," she says.
"We're after healthy relationships with money from a young age. Talking about it now can change the scope of someone's life."
FACTS for Youth
Factsforyouth.com
@factsforyouthnc
Purchase "The Money Club", workbook and student planner at factsforyouth.com, Amazon or Barnes & Noble.
Passion Projects
"It's in my nature to be on and keep up with a very hectic schedule," says FACTS founder Jasmine Brown. "There's always something that can be done for the betterment of everyone else."
Swim Coach at Holly Springs High School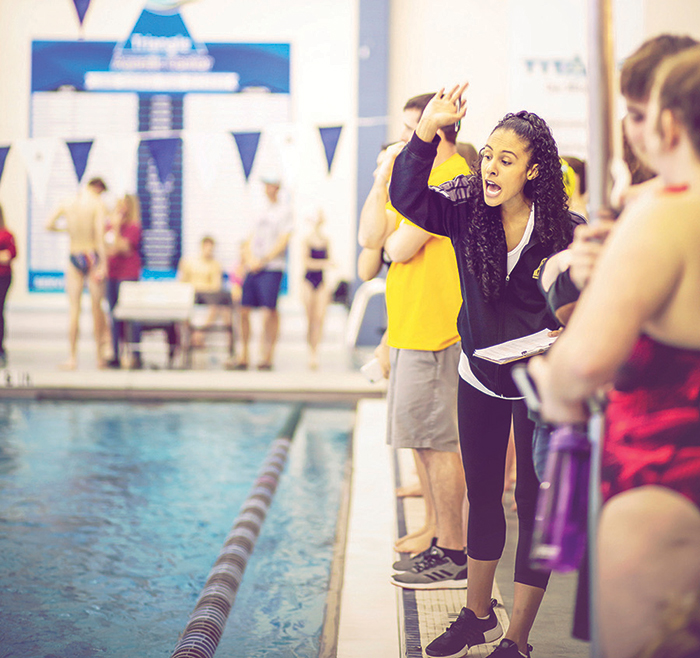 As a high schooler, Brown swam on the women's swim team at Holly Springs High. Now, as the men's and women's team coach, she's the first alumna to return to the school as a head coach.
Approaching her fourth season with HSHS, Brown has already made a mark, earning Coach of the Year for men's and women's swimming in 2018, then repeating for men's swimming in 2019. Brown also received the Homer Thompson's Memorial 8 Who Make A Difference Award for the 2019-2020 year.
"It's been so much fun. Coaching has been one thing that I've completely thrived at," Brown says.
She describes her coaching style as "disciplinarian."
"The kids know when they come to practice, we're going to get it in. … They know that they are getting better, and they can see their times dropping. But also, I'm not that old — I'm relatable. I talk to them; I still have siblings that are their age."
Model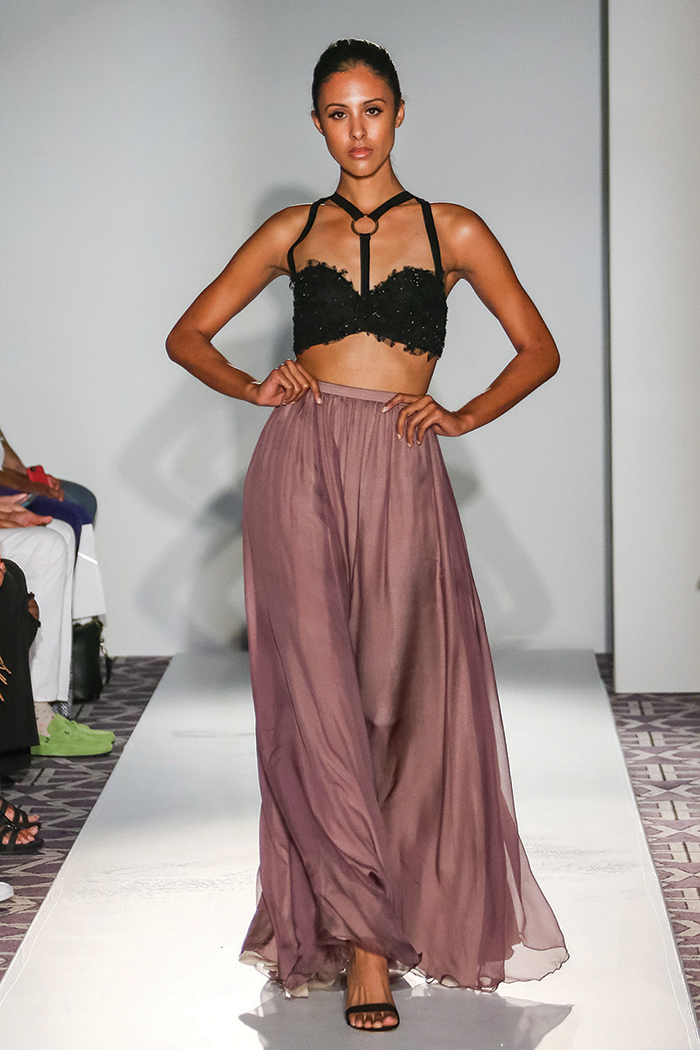 Jasmine Brown started modeling in her early twenties, an age considered "old" in the fashion industry. Still, her love of walking the runway led her three times to New York Fashion Week.
"Latin American designers love me because of the hair and the hips," she says with a laugh.
"It's fun, but it's an industry that is tough," Brown says.
Brown learned grace and fluidity as a dancer growing up, which made her a natural for the purposeful, confident walk showcased on a runway.
"It's a vibe, and I love it," she says.
Brown has modeled in beauty, fashion and bridal campaigns locally and across the country.
Author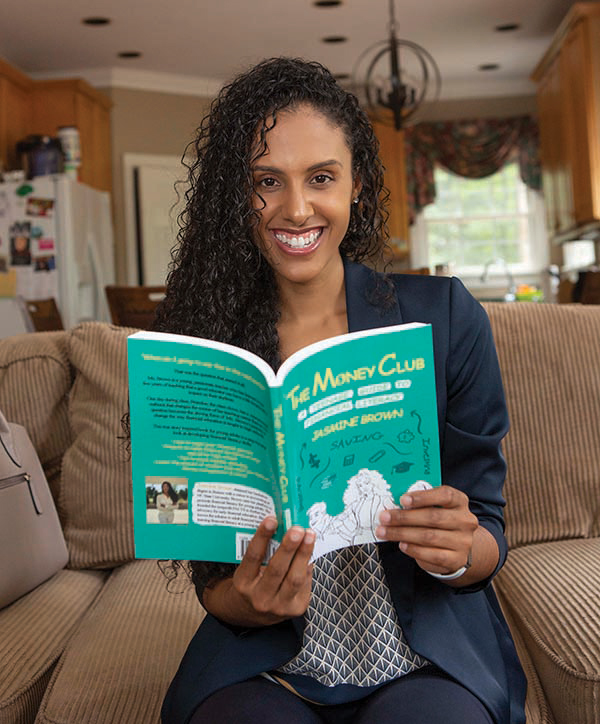 Confession time.
"I hated writing the book. … I'm a finance person. I like numbers; I don't like words," says Jasmine Brown, author of "The Money Club."
Understanding the importance of "The Money Club" as a tool for teaching financial literacy helped Brown persevere.
"I set a goal, and it seemed like a small goal," she says. "I had to write down 25 words every day. Some days that was very easy, and I would write 100 or 150. Other days it was really, really hard."
Surprisingly, a family health emergency propelled Brown to complete the book.
"I had to put my energy somewhere, or I would have lost it," she says.
Now, thankfully, the family and "The Money Club" are well and thriving.