Daddy D's BBQ
"We're a smokehouse. Everything here is about the meat," says Ed Disena, owner of Daddy D's BBQ in Fuquay-Varina.
The 'cue joint's smoked turkey legs, chopped barbecue and Texas-style brisket — while impressive — are just the beginning. Classic side dishes like baked beans, Brunswick stew, collard greens and green beans get a flavor punch from savory, meaty additions like bacon and ham hocks.
Disena got his start as a "backyard pitmaster," first cooking for friends, then serving larger groups, like the Fuquay-Varina Fire Department with his church.
When he and his wife, Rachel, were both ready for career changes, Daddy D's BBQ was born.
North Carolina tends to be a barbecue battleground, but Disena crafted the menu to have broad appeal, since 90% of his customers are not native North Carolinians, he says.
"I pulled recipes from all over the country and modified them," he says. "Everyone, no matter where you are from, will find something they are going to like."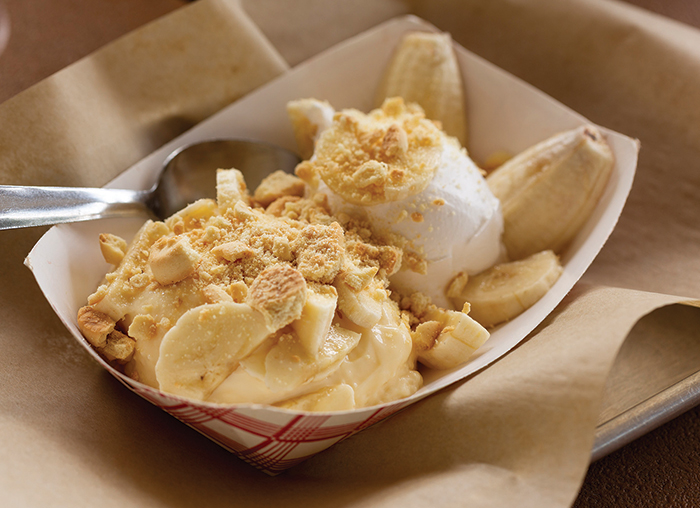 This includes sauces made from scratch and a one-of-a-kind deconstructed banana pudding.
"When Covid-19 hit, we got twice as busy," Disena says. "Support from the community has been a big boost."
Online ordering, family dinner packs and a convenient drive-thru window make ordering take out a breeze.
Doing Good
Daddy D's offers discounts up to 25% to military service members, veterans and uniformed first responders.
"The simple fact that they put their lives … on the line on a daily basis to help protect us … is pretty awesome. Offering a discount or buying their meals is a drop in the bucket compared to what they are constantly doing for us," says owner Ed Disena.
Give Back and Spirit nights are also hosted regularly to support local groups and schools.

Daddy D's BBQ
1526 Broad St., Fuquay-Varina
(919) 552-6464
Daddydsbbqnc.com
Dine in and outdoor seating are available.
MediTerra Grill
MediTerra Grill may have been the first Mediterranean restaurant in Holly Springs, but it wasn't the first eatery for owner Aaziz Eljarjoum.
Previously the owner of Baba Ganoush in Cary, Eljarjoum sold that location to join the Holly Springs community in 2016 at the bustling Holly Springs Towne Center.
MediTerra Grill's menu combines the flavors of Greece and Lebanon in fresh, scratch-made kabobs, salads, dips and gyros.
Healthful choices abound, along with abundant options for vegetarian, vegan and gluten-free diners.
Feeding a family? Try the Sultan Kabob Dinner, which combines the traditional Mediterranean favorites: pita, hummus, fattoush (marinated tomato, cucumber and bell pepper salad), falafel, cucumber sauce and rice, with your choice of four protein skewers.
Restaurant closures hit MediTerra Grill hard, Eljarjoum says, though business has started to come back in large part due to online and pick-up orders.
MediTerra launched a new online ordering platform that is easy to use (and offers 10% off online orders) and has a dedicated table for quick order pick up inside.
MediTerra Grill
108 Grand Hill Place, Holly Springs
Additional location in Durham
(919) 762-7851
Mediterranc.com
Dine-in and patio seating is available.
J&S New York Pizza
When it comes to take out, there's no doubt pizza is a crowd-pleaser. At Fuquay's J&S New York Pizza, there's so much more, including a full menu of house-made favorites, tried and true recipes direct from Sicily and a multi-generational family of owners dedicated to serving Italian favorites to Triangle residents.
Open since 2007, the downtown Varina eatery is the second of three J&S locations in the western part of Wake county. Siblings Phil Cammarata, Lori Shaver and Ven Cammarata, children of founder Silvio Cammarata, now manage the operations.
"We use the same recipes that our father used for 45 years," says Phil. "Everything is made fresh per order."
Lasagna, garlic knots, chicken wings and, of course pizza are among the most popular to-go orders. Mouth-watering pasta entrees, sub sandwiches, salads and seafood dishes make great choices, too.
"The pizza is dad's secret recipe: crispy thin crust, melty cheese. It took forever to make it taste the same as in New York, because of the different minerals in the water," says Ven.
Take-out orders have been a staple for J&S, even before the pandemic shutdown.
"We have a good following. The town and residents have been very supportive," says Ven.
J&S New York Pizza will deliver within six miles of the restaurant, and sometimes even a little farther for their regular customers who are homebound.
J&S New York Pizza
500 Broad St, Fuquay-Varina
Additional locations in Apex and Cary
(919) 557-6921
Jandsnypizza.com
Dine-in and patio seating are available.