If you're familiar with the North Carolina town of Lexington, you probably know it for the signature style of barbecue, revered statewide in the ongoing Eastern- versus Western-style showdown.
And for good reason — a dozen barbecue restaurants dot the town of 20,000 residents. The smell of hickory smoke practically infuses the air on Main Street.
DRIVE TIME
From Holly Springs: 1 hour 40 minutes
From Fuquay-Varina: 1 hour 50 minutes

Barbecue culture runs so deep that historic smoking pits were discovered in the walls of city hall during a recent building renovation.
"Lexington was originally a town of furniture mills and factories. When furniture left, folks turned to barbecue. Barbecue is now the main industry," says Morgan Brinkle, executive director of the Lexington Tourism Authority & Visitor Center.
"There are a dozen barbecue restaurants in the area. Each has its own nuances, but the style remains mostly the same," Brinkle says.
Pork shoulders are seasoned simply, then hand turned over hickory coals and chopped — "There's no pulled pork here."
Each restaurant serves a signature "dip" — a sauce made from vinegar, ketchup, sugar, and spices — on the side.
"There's a couple of extra i's in 'dip,'" notes Brinkle with a smile, elongating the vowel sound in a characteristic Southern drawl.
Barbecue may form the town's backbone and draw countless visitors each year, but Lexington's small-town charm goes far beyond a delicious sandwich and hushpuppies on the side.
Follow our path through Lexington for a weekend getaway full of food and fun.
EAT
BAR-B-Q CENTER
One of Lexington's best-known barbecue joints began as an ice cream shop, and their massive 4-pound banana split continues that heritage, commemorating special occasions townwide.
Bar-B-Q Center's pork shoulders are cooked up to 10 hours over hickory coals and served sliced, chopped, or coarse chopped in 1-inch chunks, showcasing traditional Lexington style.
"With electric or gas cooking, you don't get that hickory flavor," says Owner Michael Conrad.
Must-try sides include red coleslaw (sauced with dip instead of mayonnaise), fried okra, and housemade hushpuppies.
"There's a legacy involved in the barbecue business, something to be proud of," says Conrad, whose family has owned the restaurant for more than 50 years. barbecuecenter.net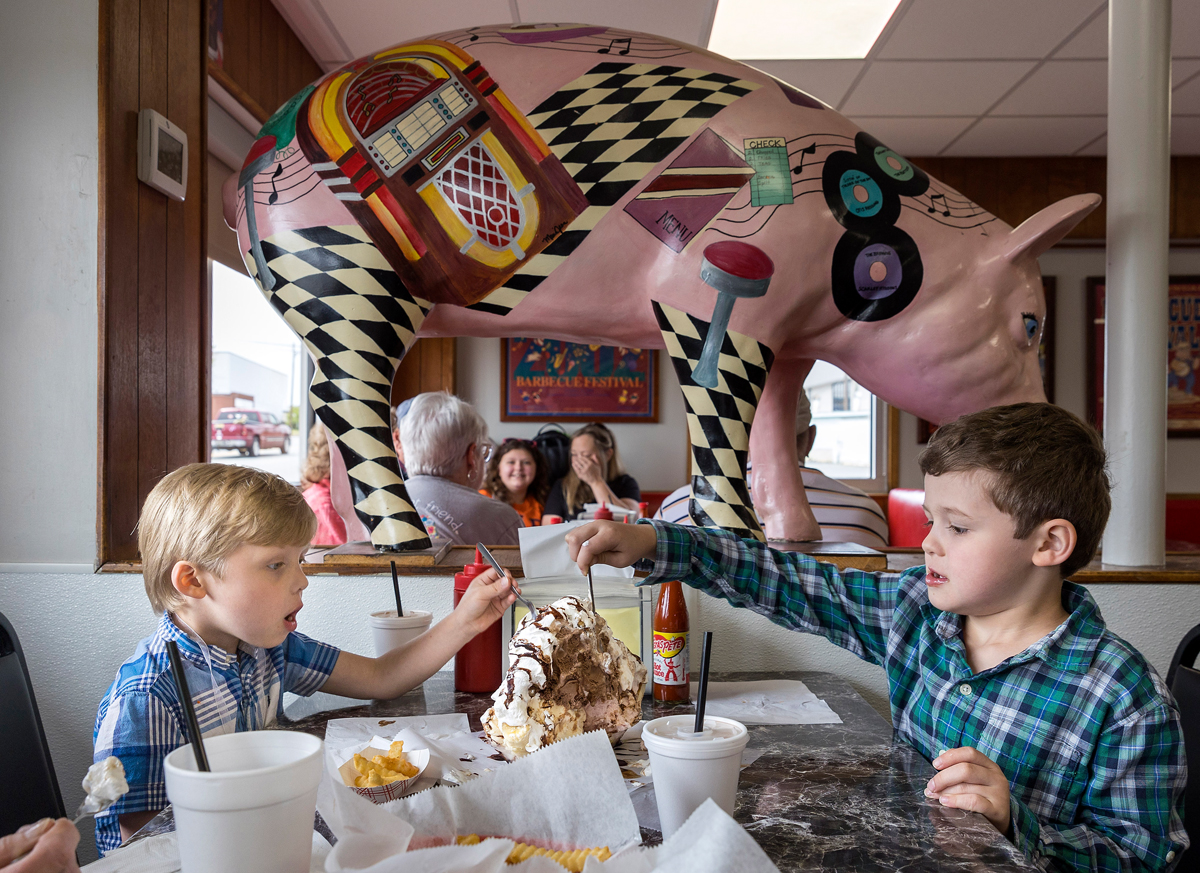 LEXINGTON BARBECUE
A full parking lot in a barbecue-lovin' town is a good sign, and at 12:30 p.m. on a Wednesday at Lexington Barbecue, it's as packed as it gets.
In a typical week, the third-generation family-owned restaurant smokes 10,000 pounds of pork shoulder.
Regulars favor "coarse chopped with brown," or tender chunks of pork with the golden brown outside bits that get crisp over the coals.
Other specialties include crispy pork skins and the best smoked turkey sandwich you can find. lexbbq.com
SOPHIE'S CORK AND ALE
Warm twinkle lights, shelves of books, eclectic furniture, and a welcoming bar create a cozy ambiance at this chef-owned restaurant and bar.
Focused on locally sourced seasonal ingredients, Chef John Wilson rotates the menu frequently, crafting sophisticated small plates and daily specials, including a hummus of the day. sophiescorkandale.com
POUR FOLK PROVISIONS CO.
Located inside Goose and the Monkey, Lexington's only craft brewery, Pour Folk Provisions Co., locally known as PoFoProCo, evolved from a beloved food truck to a permanent location serving signature woodfired pizzas, shareable apps, bowls, and salads. pourfolkprovisions.com
PERFECT BLEND
Before a day of exploring Main Street, pop into the centrally located Perfect Blend coffee roastery and cafe, which offers locally roasted coffee and wholesome breakfast and lunch items, such as avocado toast, a yogurt and fruit bowl, and salads.
Seating may be limited as groups of patrons "as regular as these chairs" gather to visit, work, and relax in the uptown setting. perfectblendbistro.com
SHOP
CONRAD & HINKLE
A Lexington fixture for more than 100 years, this specialty foods and grocery market in the heart of Lexington offers local produce, a full-service meat department, and their famous homemade pimento cheese.
"It's my grandmother's recipe," says Owner Lee Hinkle, grandson of one of the shop's founders.
Conrad & Hinkle makes up to 3,000 pounds of the creamy spread per week, sold in-house and at other small businesses around the state, hand delivered by Lee himself. conrad-hinkle.com
THE CANDY FACTORY
At one of Main Street's sweetest spots, it's hard to have a bad day.
"The worst day at The Candy Factory is still a good day," says Owner Annette Conrad.
Annette and her husband, Wynn, own the decades-old shop, offering fudge (homemade by Wynn), artisan chocolates, and vintage candy by the bucket full.
Take a moment to check out the collection of antique candy boxes and decor adorning the walls. lexingtoncandyfactory.com
MISSIONS POTTERY
The beautiful mugs, vessels, and dishware available at Missions Pottery are all handmade in the studio directly above the Main Street gallery. Potter Tommy Davis and his team can produce up to 200 of their bestselling coffee mugs in one day.
The studio donates a portion of their earnings to Christian mission projects locally and nationally. missionspotteryandmore.com
PLAY
BULL CITY CIDERWORKS
Within Lexington's historic Depot District, Bull City Ciderworks welcomes guests to their family-friendly outdoor lawn complete with fire pits and picnic tables, and inside their spacious tasting room and production facility, recently relocated from Durham.
Each of Bull City's unique cider flavors (strawberry and habanero, tart cherry, blueberry and lemon, and ginger and tahini, to name a few) starts with the same base cider recipe, free from artificial flavors and colors, sweetened naturally by apples.
"You can mix any flavors together because the base is all the same," says Manager Tish Smith, who recommends combining Sweet Carolina (infused with local honey) and Cardinal Cin (infused with cinnamon), when available, to create a Snickerdoodle cookie-esque flavor.
"We have our own honeybees and make our own honey for flavoring," says Smith. Weekly events such as karaoke, live music, and food trucks draw frequent crowds. bullcityciderworks.com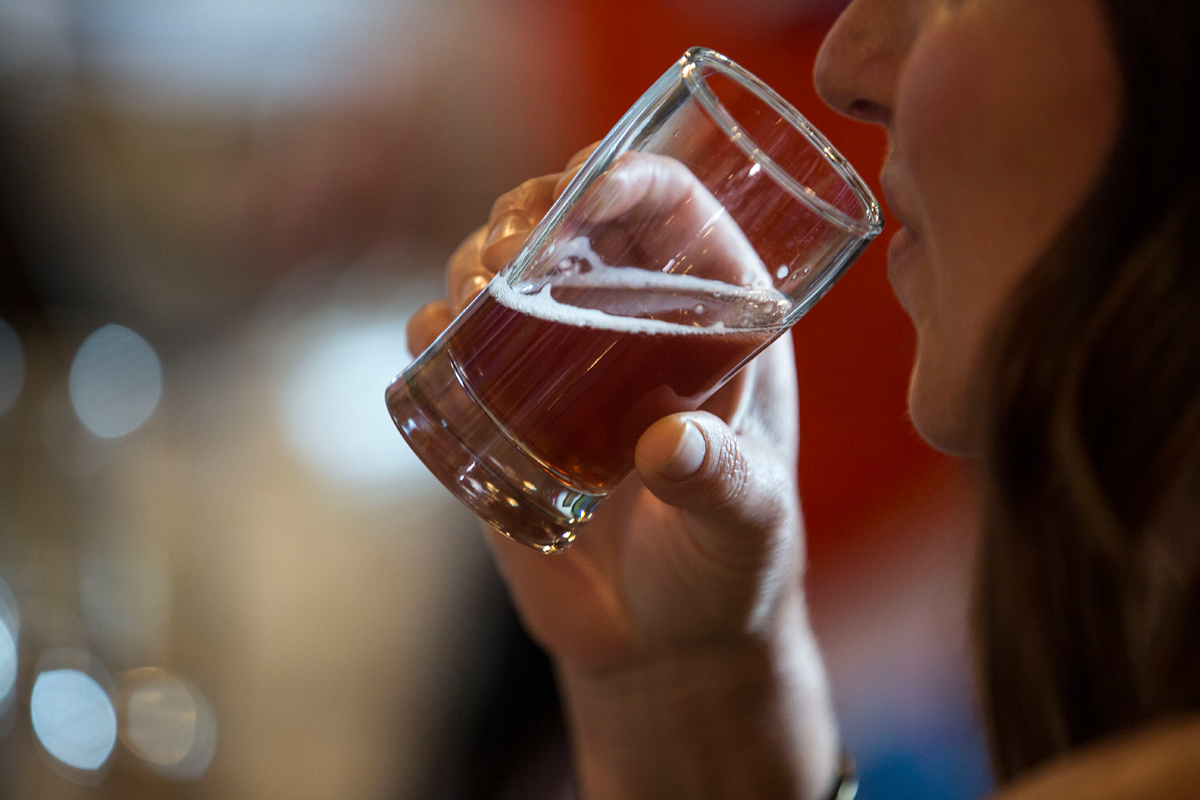 GOOSE AND THE MONKEY BREWHOUSE
Take a short stroll from Bull City Ciderworks to another popular Depot District destination, Goose and the Monkey Brewhouse, which offers a 3-for-1 punch on local collaborations — serving Perfect Blend Cafe coffee, roasted in-house, brick oven fired pizzas from Pour Folk Provision Co., local wines, and their own inventive craft beer (Cheerwine Lime Lager, anyone?). gooseandthemonkeybrewhouse.com
CHILDRESS VINEYARDS
For an expected taste of Italy, visit the Tuscan-style buildings and grounds at Childress Vineyards, framed by gorgeous rolling hills lined with grape vines.
Owned by Richard Childress of NASCAR's Richard Childress Racing, Childress Vineyards focuses primarily on European grapes and produces 80,000 cases of wine per year, which is likely to increase with the opening of a new production facility this fall.
Enjoy the on-site restaurant, a wine flight, and frequent live music under the gazebo.
"It's everybody's happy place," says Chelsea Manring, communications manager.
Experience the best that Childress has to offer through the Signature Wine & Food Tasting Experience, which pairs six courses of sophisticated small plates with the winery's elite wines. childressvineyards.com
Can't Miss Event: THE BARBECUE FESTIVAL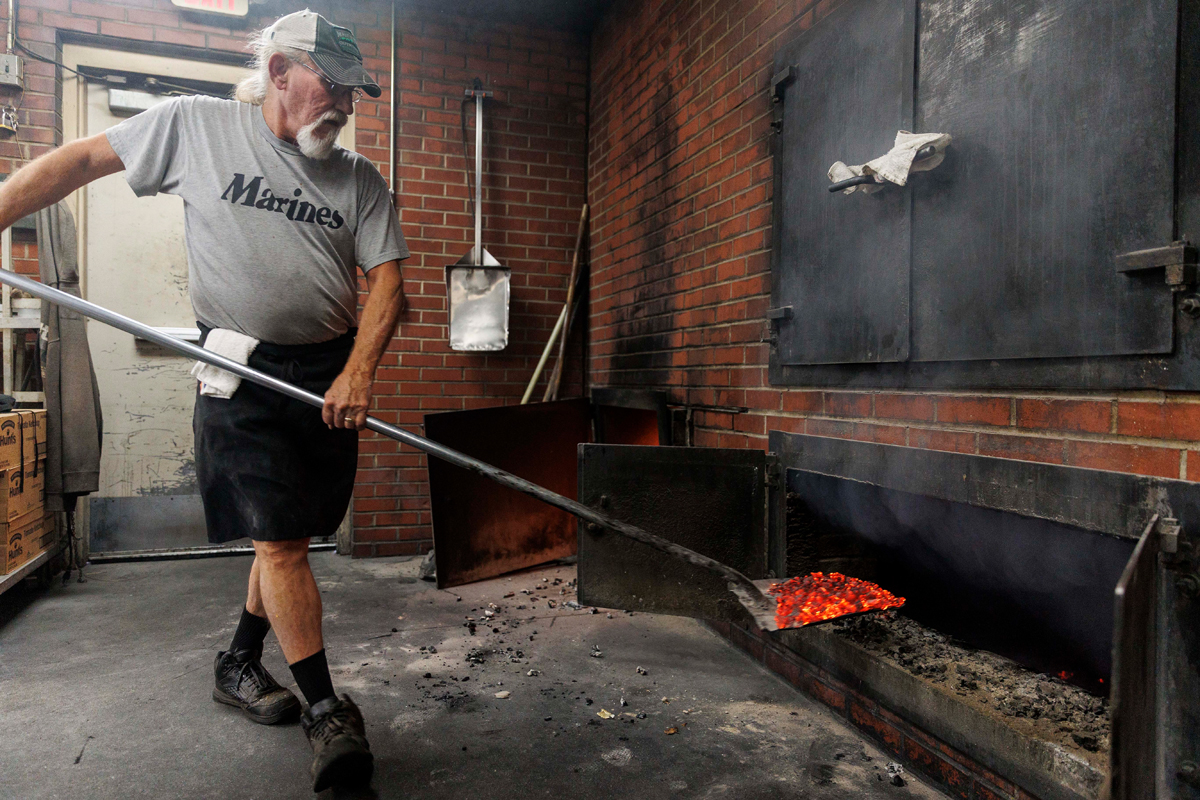 Celebrate Lexington-style barbecue with an annual street festival welcoming 150,000 participants to uptown Lexington. Enjoy live music, vendors, sand sculptures, an antique car cruise-in, and many more attractions throughout the day, not to mention three barbecue tents showcasing world-famous Lexington-style 'cue.
Thirsty? Sip Childress Vineyards' Fine Swine Wine, specially crafted to pair with pork and served at the festival.
On festival day only, Amtrak makes a special stop in Lexington, providing easy transportation from the Triangle.
Follow @barbecuefestival for details.

ELEVATED WAKE PARK
"It's a great way to get into the sport (of wakeboarding)," says Clark Davis, instructor and jack-of-all-trades at Elevated Wake Park. "And easier than a boat."
A suspended cable pulls up to seven riders at a time through a circular course, which Davis describes as a floating skate park, on a small lake — the only one of its kind in North Carolina.
Ramps, rails, flips, and spins await experienced boarders, but beginners can cruise the lake attempting only the obstacles they choose, or none at all.
"Every time you go around, you get better at it and have more fun," says Davis.
There's also an inflatable Aqua Park with climbing and balance obstacles — a floating playground fit for ages 5 and up.
Elevated Wake Park encourages guests to stay and chill on the family- and dog-friendly grounds, enjoying the fun and relaxed atmosphere with frequent bonfires, movie premieres, and special events.
There's even a cabin on the grounds available for overnight rentals.
"Show up with a bathing suit, and you are good to go," Davis says — lifejackets, helmets, and basic instruction are provided. elevatedwakepark.com