As the summer growing season slowly fades, enjoy the bounty of sun-ripened stone fruits and gleaming red tomatoes in these produce-forward recipes, developed by the team at Needmore Farms.
Heirloom Tomato Galette with Garlic-Infused Honey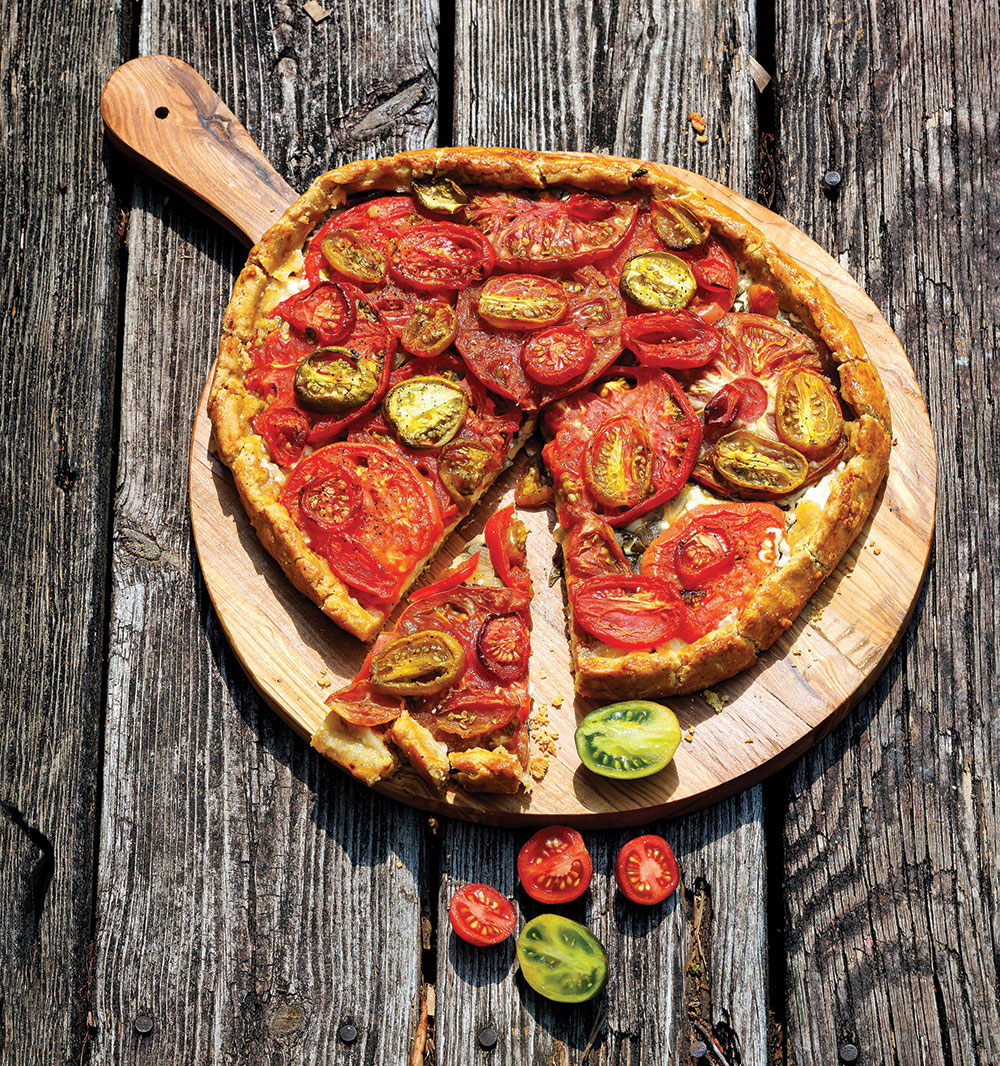 The cornmeal crust is delicious and prevents the galette from having a soggy bottom. Infused honeys are available at Needmore Farms market.
CORNMEAL CRUST:
10 tablespoons butter, frozen
1 cup all-purpose flour
1/2 cup cornmeal
1/2 teaspoon salt
1 teaspoon black pepper
1 egg
TOPPINGS:
3 heirloom tomatoes
1/2 cup heirloom cherry tomatoes
1 medium sweet onion, sliced
1 cup feta cheese
8 ounces goat cheese
Garlic-Infused Honey and olive oil to drizzle
fresh basil, chopped
1 egg
INSTRUCTIONS:
Grate frozen butter with handheld cheese grater. Return to freezer.
In a large mixing bowl, combine flour, corn meal, salt, and pepper. After mixing, cut in frozen butter to the dry mixture, until it becomes a dry crumble.
Add beaten egg to crumble.
When dough is fully mixed, shape into a ball. With the palm of your hand, flatten to a disc shape. Cover with plastic wrap and place in refrigerator for 45 minutes.
While dough chills, sauté onion and slice tomatoes in 1/4-inchthick slices.
Grab your dough from the refrigerator and place on a lightly floured surface. Roll your dough out to 1/8-inch thick and move to a parchment-lined baking sheet. Preheat oven to 375.
Leaving a 2-inch perimeter, add the goat cheese and feta cheese to crust.
Drizzle cheese with Garlic-Infused Honey and sprinkle with freshly chopped basil.
Top cheese with onions and tomato slices. Drizzle with olive oil and honey, and sprinkle with salt and pepper.
Fold over the 2-inch edge to create a crust. Whisk together an egg and 1 tablespoon of water, and brush crust with egg wash.
Chill galette for 15 minutes in refrigerator. Bake for 45–60 minutes.
Serves 6
Harvest Sangria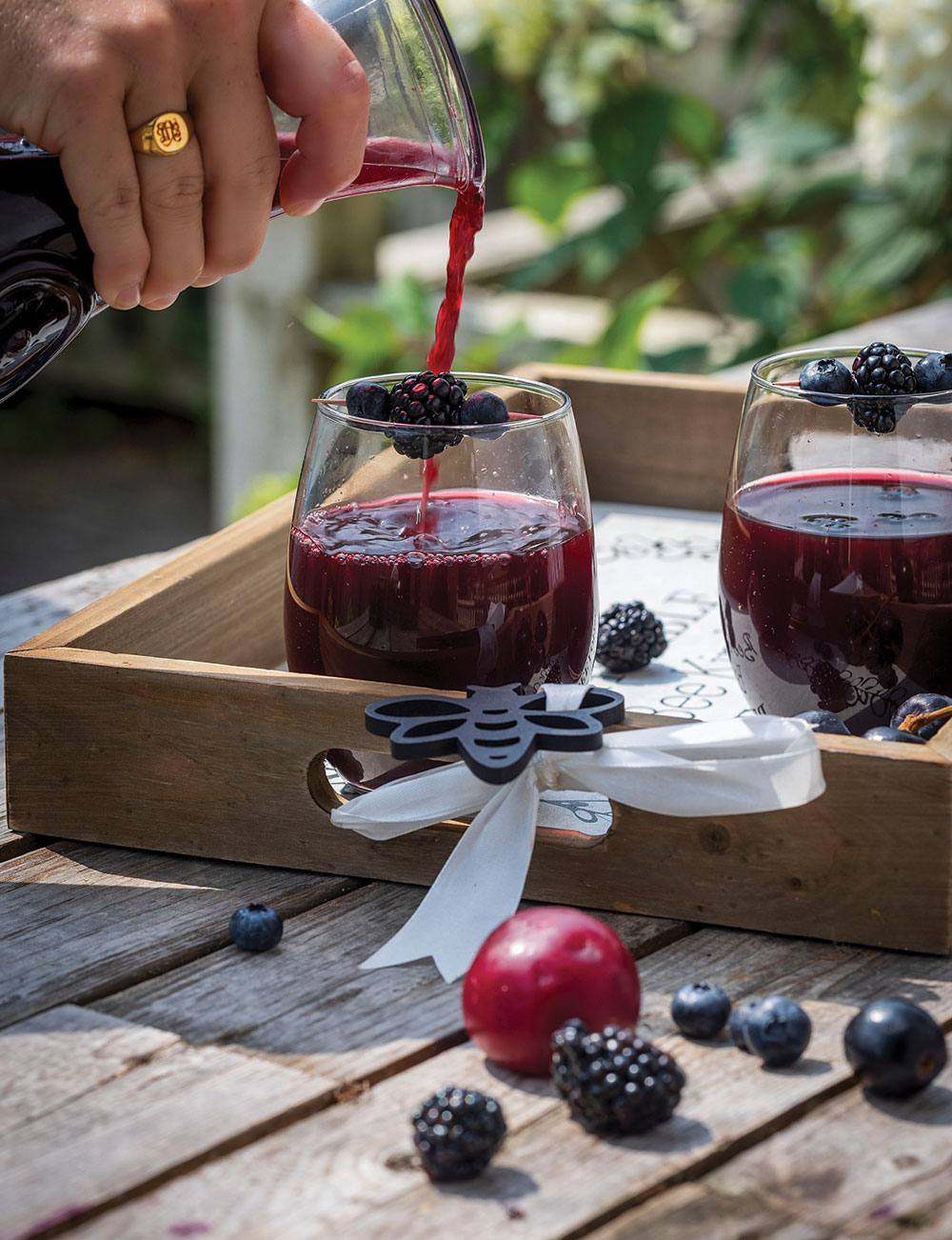 INGREDIENTS:
1 cup blackberries
1 cup muscadine grapes with seeds removed, sliced
2 medium black or red plums, sliced into wedges
2 cups pomegranate blueberry juice
1/4 cup brandy
1/3 cup raspberry liqueur
1 bottle red Zinfandel wine
INSTRUCTIONS:
In a medium pitcher, add blackberries, sliced muscadines, and sliced plums.
Pour all liquids over fruit.
Chill for two hours before serving.
Serves 6
Plum Good Cake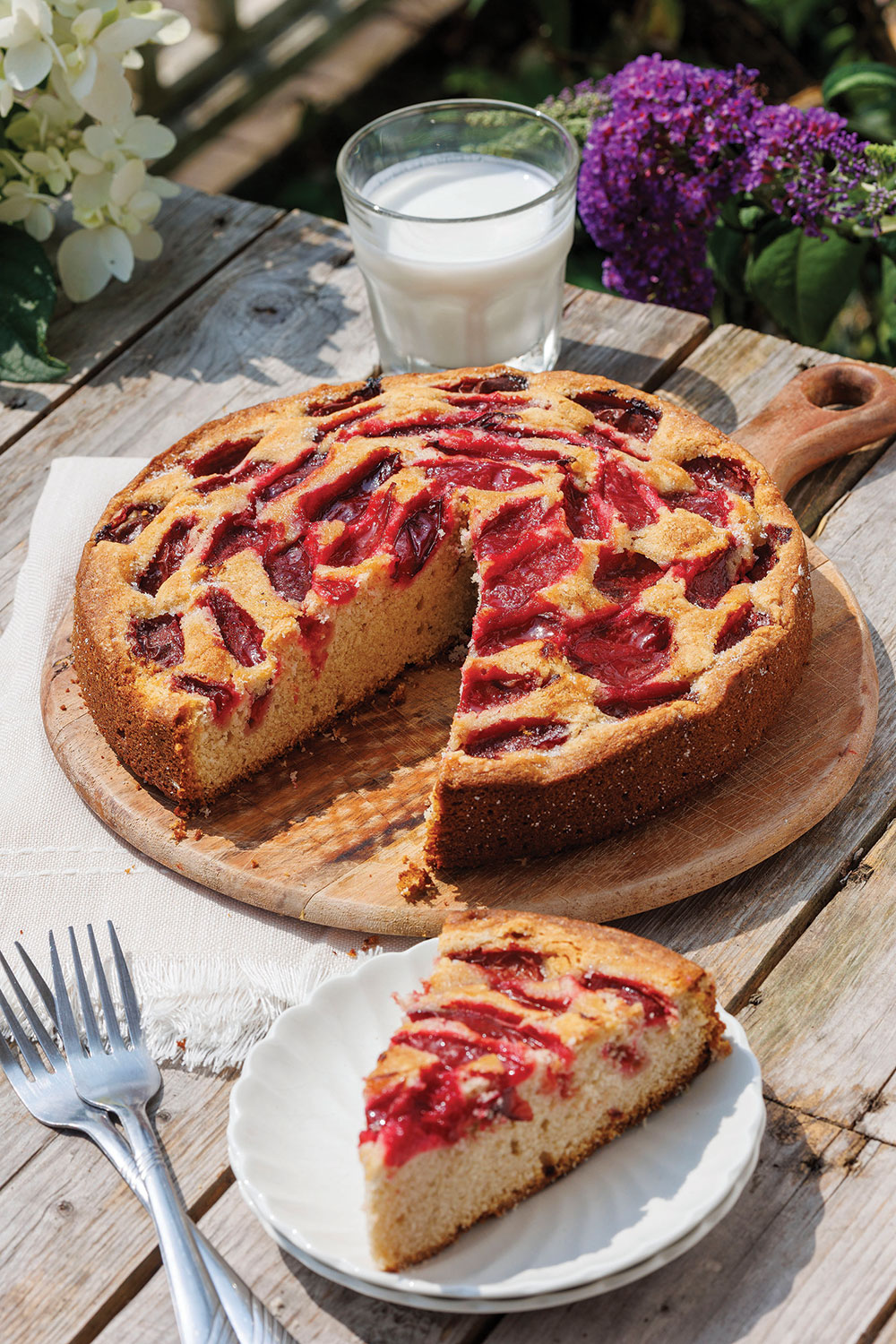 INGREDIENTS:
1 1/2 cups all-purpose flour
1 1/2 teaspoons baking powder
1 teaspoon cinnamon
1/4 teaspoon nutmeg
1/8 teaspoon cardamom
1/2 teaspoon salt
1/2 cup unsalted butter
1 cup plus 2 teaspoons sugar, divided
1 large egg
1 teaspoon vanilla extract
1/2 cup milk
1 pound red plums, pitted and quartered
INSTRUCTIONS:
Preheat oven to 350 and place oven rack in center of oven.
Grease a 9-inch cake pan and set aside.
In a large bowl, whisk together flour, baking powder, cinnamon, nutmeg, cardamom, and salt.
In a mixing bowl fitted with a paddle, cream butter and sugar until fluffy. Add eggs and vanilla and mix in until thoroughly combined.
Gradually add the flour mixture to butter and sugar, alternating with milk.
Place batter in prepared pan and smooth the top.
Place plums on the top of the batter in circular pattern with skins facing up.
Sprinkle remaining sugar on top and bake for 60–70 minutes. Cool in pan.
Once cooled, remove from pan and serve with vanilla ice cream.
Serves 8–10
Grilled Peach & Proscuitto Baguettes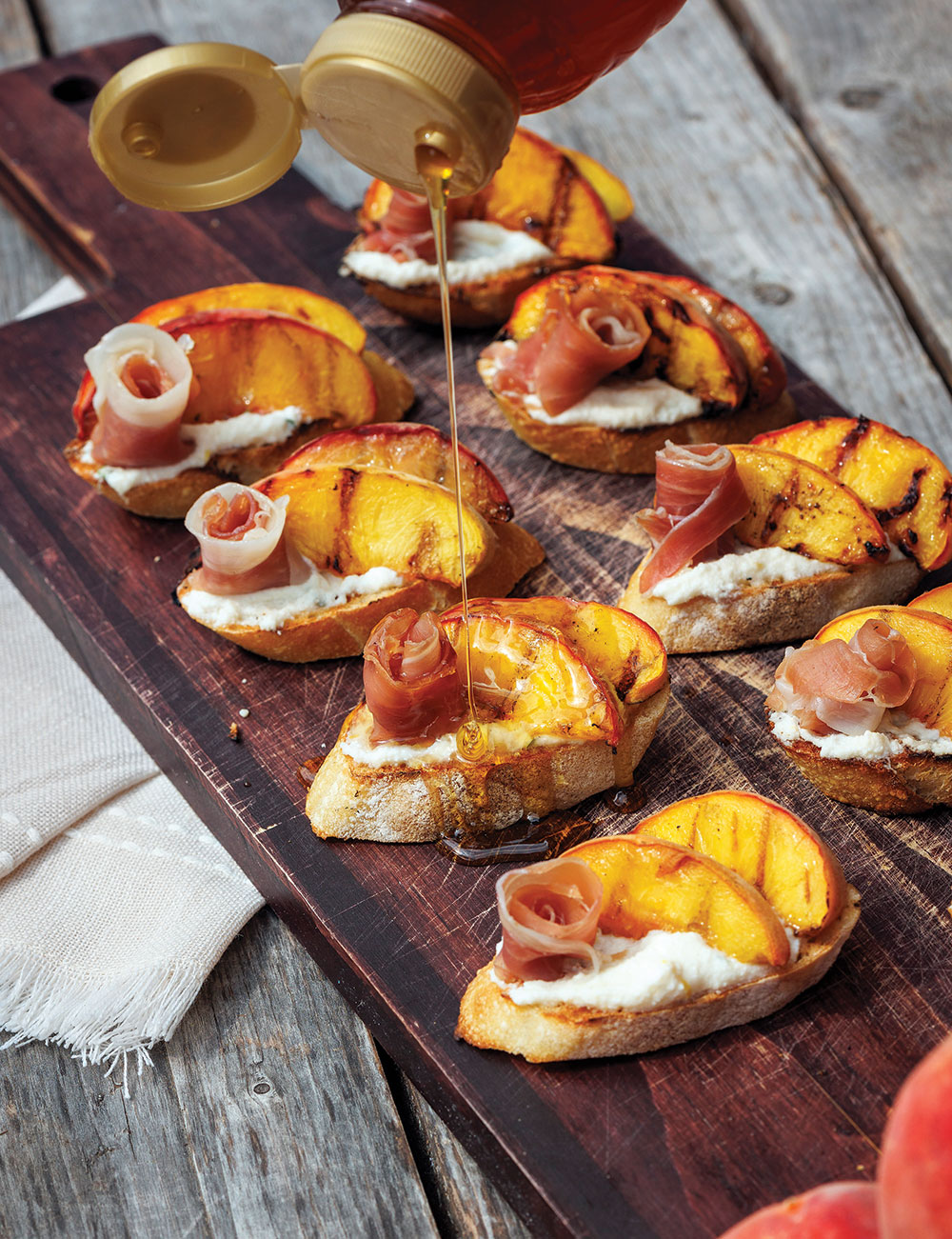 INGREDIENTS:
1 baguette loaf
6 ounces prosciutto
3 fresh peaches
1 teaspoon Lemon-Infused Honey
1 cup whole milk ricotta
1 teaspoon lemon zest
1 teaspoon heavy cream
1 teaspoon fresh thyme
pinch of salt
INSTRUCTIONS:
Combine in a mixing bowl: ricotta, lemon zest, heavy cream, thyme, lemon-infused honey, and salt. Whisk until combined.
Slice baguette into 1/2-inch slices. Toast on grill.
Slice peaches into eight pieces and grill over a medium heat for about 3 minutes.
Spread ricotta mixture on baguette slices. Top with two peach slices and a prosciutto rosette. Drizzle with Lemon-Infused Honey.
Serves 8–10
About Needmore Farms
Late summer is a busy time at Needmore Farms market in Fuquay-Varina. Final crops of tomatoes, summer squash, and stone fruits are pouring in for customers eager to enjoy the waning tastes of summer. Behind the scenes, preparations are ongoing to transform the produce market into an autumn landscape with 100 varieties of pumpkins and themed photo opportunities for families (stop by after Labor Day to witness these displays).
Visit the market
At the corner of Bass Lake and Sunset Lake Roads
6502 Sunset Lake Road, Fuquay-Varina
needmorefarms.online

Owned by mother-daughter pair Shannon King and Shelby Steele, Needmore Farms grew from a roadside watermelon stand to a thriving marketplace by nurturing the talents of all eight of King's children, including Zach, who grows the plants, Kyleigh, who manages deliveries, and Mattie, who stars in the social media posts.
Now the business offers produce deliveries in addition to the locally grown fruits and vegetables, plants, decor, and artisan food products on sale at the market.
Needmore Farms also maintains a fun and informative social media presence, recording cooking and gardening how-to videos.
"Mom and I would tell customers how to care for plants and what to cook with the produce, but we got busier, and we couldn't be out there all the time. We started the videos as a resource for the community," says Steele.
Mattie, the cook of the family, brainstormed with Shannon to create these late-summer recipes based on the family's favorite flavors.
"The tomato pie is something we always make for dinner. The flavors go so well together," says Mattie.
"If you make any of it, make the cake," says Shelby. It uses fresh plums paired with traditional fall spices (cinnamon, nutmeg, cardamom) and is a delicious way to transition the seasons. Plus it's just "so good." – Emily Uhland