Expected to open before the end of the year, Nightingale Rooftop Restaurant and Bar will bring a highly anticipated and welcome dining experience to the heart of Holly Springs, filling the rooftop space at The Block on Main.
Led by Executive Chef Christy Griffith and General Manager Matt Griffith of Pimiento Tea Room, and Chris Harol, co-founder of The Block on Main, Nightingale is poised to become a chic destination for date nights, special occasions, and after-hours drinks.
CHRIS: The space lends itself to an upscale type of restaurant where you can picture guests hanging out and sipping cocktails on the patio late into the night. Similar to … Pimiento Tea Room, we wanted the personality of the owners to shine through in both the food and decor.
We want it to be whimsical and unique, … classy, yet fun, and a little weird.
CHRISTY: The restaurant will feature a menu of seasonally rotating small plates, perfect for sharing. Some dishes sure to debut on the menu include crab cakes, grits croquettes, and olive oil cornmeal cake. There will be exciting options for both vegan and gluten-free guests, as well. Everything offered on the menu is designed to pair well with not only our cocktails, but our wine, beer, and zero-proof offerings as well.
CHRIS: We have six unique seating areas, so even if you've come a few times, you still really haven't truly experienced it all. We'll also have a large indoor/outdoor bar. I'm really looking forward to long summer nights when the weather is perfect, the restaurant is full, and live music is playing — being able to create incredible experiences for people.
We don't want people to feel rushed or hurried, but to just be able to relax, enjoy the experience, and hopefully make a new friend or two.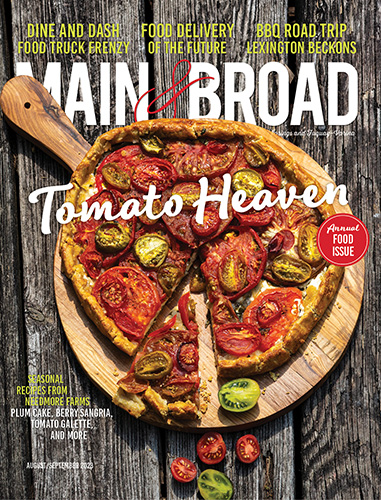 Dig In & Drink Up: Nightingale Rooftop Restaurant & Bar