Community-minded food truck chefs break out of the kitchen and deliver food straight to the people, fueling brewery trivia nights, town festivals, and neighborhood pool parties.
Catch these reader-favorite trucks, offering specialty regional and international cuisines, before they sell out for the day.
Mr. Puebla Tacos
"American-Mexican mashup" — that's how Jessica Cather describes Mr. Puebla Tacos cuisine.
"There's a little bit of a twist to set us apart from other area taco trucks," says Cather, who works alongside her business partner and the truck's chef, Carlos Montalvo.
Creatively combining American classics with traditional Mexican preparations results in customer favorites such as the Brisket Poppers, open-face jalapenos filled with beef brisket, queso, and pico de gallo; Philly Tacos; or BBQ Nachos — yes, please.
Everything is prepared from scratch — marinades, sauces, salsas, queso — and even the corn chips are fried in-house.
After working in restaurant kitchens for more than 20 years, Montalvo loves cooking on the road and interacting with the community.
"When customers come back, I can't always remember their name, but I'll remember their order," he says.
FIND ME:
@mrpueblatacos
Chicago J Hot Dogs
Fuquay-Varina resident Jason Rewerts grew up near Chicago, surrounded by the varied cuisine and cultures that a large city affords. When he moved to Fuquay-Varina, Rewerts struggled to find his favorite foods, including Chicago-style hot dogs. Enter Chicago J Hot Dog cart, serving a quick and easy lunch (or dinner), and a flavorful reminder of home.
Also known as Depression dogs, Chicago-style hot dogs feature an all-beef hot dog on a poppy seed bun, topped with a whole pickle spear, slice of tomato, Chicago "electric" green relish, chopped onions, sport peppers, and celery salt.
"It has it all," Rewerts says. "Crunch from the pickle, salt from celery salt, sweet and heat — the brain goes, 'What just happened here?'"
Rewerts also embraced North Carolina's hot dog traditions, serving red hot dogs "all the way," (mustard, chili, and onions), along with bratwurst, sausages, and 20 free toppings.
"The nostalgia of a hot dog cart and the ability to move around creates such a sense of community," says Rewerts.
FIND ME:
chicagojhotdogs.com
@chicagojhotdogs
Permanent location at Holland
Farms Produce Thursdays and Saturdays
Serving lunch and dinner Wednesday through Friday weekly
Mr. A's Beignets
Arlton Cangelosi, also known as Mr. A, has been making beignets, often up to 135 orders an hour, in his sunny yellow food truck for more than seven years.
"I love making people smile, kids and adults. I want to watch them take that first bite," says the New Orleans native.
Just 3 or 4 minutes in the frier transforms his delicate choux pastry dough into pillowy doughnuts with tender insides and crisp golden brown exteriors.
A typical order consists of three generously sized fried pastries topped with a "snowstorm" of powdered sugar. Insiders know to ask for cinnamon along with the sugar for a twist on the classic New Orleans treat. Add a steaming cup of chicory coffee to complete the Louisiana tradition.
Cangelosi purchased the property at 312 S. Mason Street in Apex, where you'll regularly find Mr. A's Beignets, to create a permanent home for food trucks.
"I was tired of renting spots. I wanted a place for myself and other trucks," Cangelosi says.
FIND ME:
squaredoughnuts.com
@squaredoughnuts
Permanent location at 312 S. Mason Street
Wednesday through Saturday
Barone Italian Grille
For 10 years Stephen Dewey ran Barone Meatball Company, dishing up traditional and off-the-wall varieties of meatballs, earning appearances on The Cooking Channel and in Southern Living magazine.
Dewey opened the truck with an intentional niche focus.
"I can make anything I want, just make it into a meatball. I still get to be creative, in the form of a meatball," Dewey says.
Loyal customers frequently returned for their favorites, such as Mom's Italian meatballs, buffalo chicken meatballs, zucchini-smoked gouda vegetarian balls, or bacon cheeseburger meatballs.
Earlier this summer, Dewey debuted a rebranded truck — Barone Italian Grille — featuring the well-loved meatballs and additional Italian specialties.
"It's been fun to expand to other types of Italian food after doing just meatballs for so long," he says.
The rich and tender Italian brisket is the new standout special, slow cooked in a red wine and tomato sauce, served with marinated peppers and parmesan.
"It's completely different than a meatball," Dewey says.
FIND ME:
baronemeatball.com
@baronemeatball
The Portable Portugy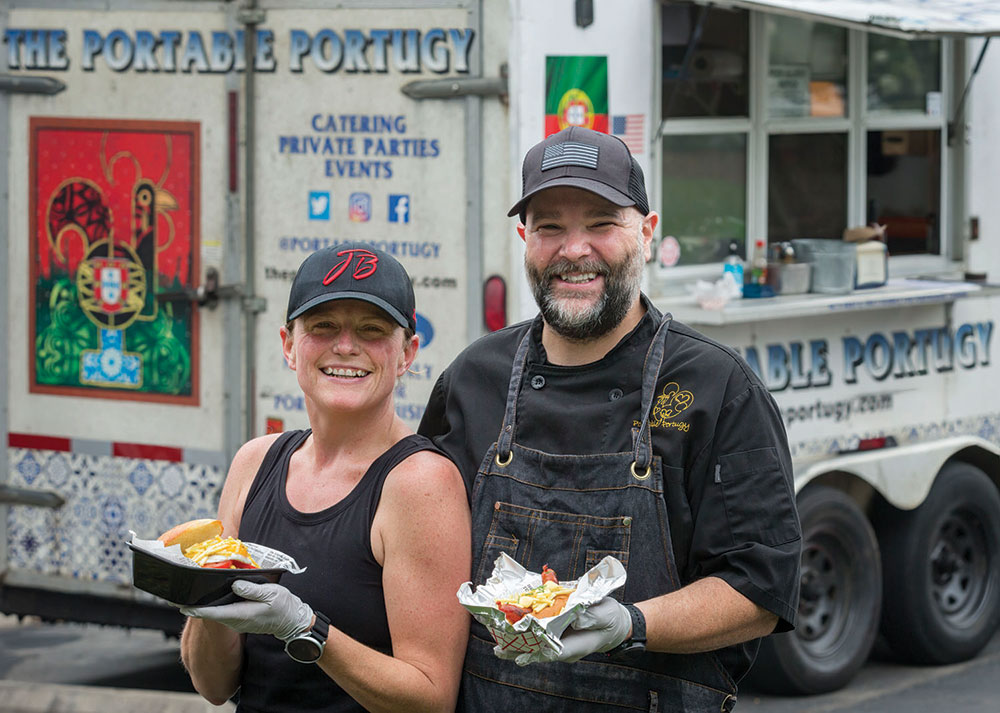 Chef Shawn Dagnall and Samantha Williford, the duo behind The Portable Portugy food truck, are on a mission to supply Wake County (and beyond) with classic Portuguese food. The truck can be found at events from Durham to Benson, Fuquay-Varina to Knightdale, and almost everywhere in between.
A two-time Maggy Award winner, The Portable Portugy draws on Dagnall's family heritage from the Azores, a group of islands off the coast of Portugal.
"We make all varieties of Portuguese dishes, including mainland Portugal, the Azores, Brazil, Cape Verde, African, Hawaiian, and Asian — wherever people speak Portuguese, we explore their use of the cuisine," says Dagnall.
The menu changes daily, and the truck frequently sells out of specialties like Portuguese custard tarts, or pasteis de nata, Piri Piri chicken sandwiches, Lingucia dogs, and Bifana.
"Whether I create street food sandwiches influenced by the fast-paced life of Lisbon, or slow-cooked specialties of the Caldeiras of Furnas, each one gives all due consideration to its origins, while nodding to my own personal experiences."
FIND ME:
@portableportugy