Holly Springs receives frequent quality of life accolades: Best Place to Live and Raise a Family, Safest City, and Best Place for Affordable Housing, to name a few.
Welcome to the newest designation on the roster: unofficial drone capital of the US.
"Holly Springs gets the most drone deliveries of any other town or city in the country, so I think it's a pretty fair thing to say," says Mike Ciampa, regional operations manager for Flytrex, the drone food delivery company that began operations in Holly Springs nearly two years ago.
Indeed, what seems like the plot of a science fiction novel is a commonplace occurrence for some residents of Southern Wake.
"It's like we live in the future here in Holly Springs," says Lauren Mobley. "We've used (Flytrex) a couple times, but we have neighbors who use it once a week."
Mobley lives in the neighborhood of Arbor Creek, near Ting Stadium, with her husband and two elementary-aged children.
"It's fun to do with the kids," she says, describing drone delivery as "a party trick" that impresses neighbors and guests.
"Fighting Holly Springs traffic can make it worth it," Mobley says, adding that delivery can take up to 45 minutes, so account for that if you are ordering for kids.
Julia Zaitz, a resident of Holly Glen neighborhood, received a Flytrex delivery as a Mother's Day gift from her son.
"He ordered ice cream from Target," Zaitz says. "He called and said, 'Mom, be in the driveway in 40 minutes. Sure enough, a yellow bag lowered onto the front lawn. It was the coolest thing."
The ice cream was still frozen upon arrival — in case you are wondering.
"It was a hit on the block, and the Mother's Day delivery made it extra special," says Zaitz.
Zaitz and Mobley are among the 10,000 eligible households within the Flytrex delivery zone — 2 nautical miles from the company's brick-and-mortar hub at Holly Springs Towne Center, a distance dictated by the Federal Aviation Administration.
"We're the only company really doing this at all," says Ciampa. "The FAA is learning a lot from us, and it's kind of baby steps while they're making sure the whole process is going smoothly."
SO HOW DOES FLYTREX DRONE DELIVERY WORK?
Customers download the free app and input their delivery location, either a home or business address, or one of the public delivery points at Ting Park or Carolina Brewing Company.
Next, place an order from one of the participating restaurants, including First Watch, It's Just Wings, Mi Cancun, or Marco's Pizza. Estimated delivery times are quoted and typically range from 35–50 minutes.
A Flytrex runner will pick up the food at the restaurant and transfer it to the Flytrex pilots, who load the drones and send them out for delivery.
"The drones are all autonomous," says Ciampa, noting that pilots aren't steering the drones, rather maintaining a sight line — another regulation of the FAA — to monitor the airspace and make sure the delivery zone is clear of obstructions, like a trampoline or a pool.
A cable descends from the drone, placing the delivery directly into the customer's yard and — voilà — dinner is served.
For the residents who live outside of the 2-mile radius, the public points offer a great opportunity to use the service.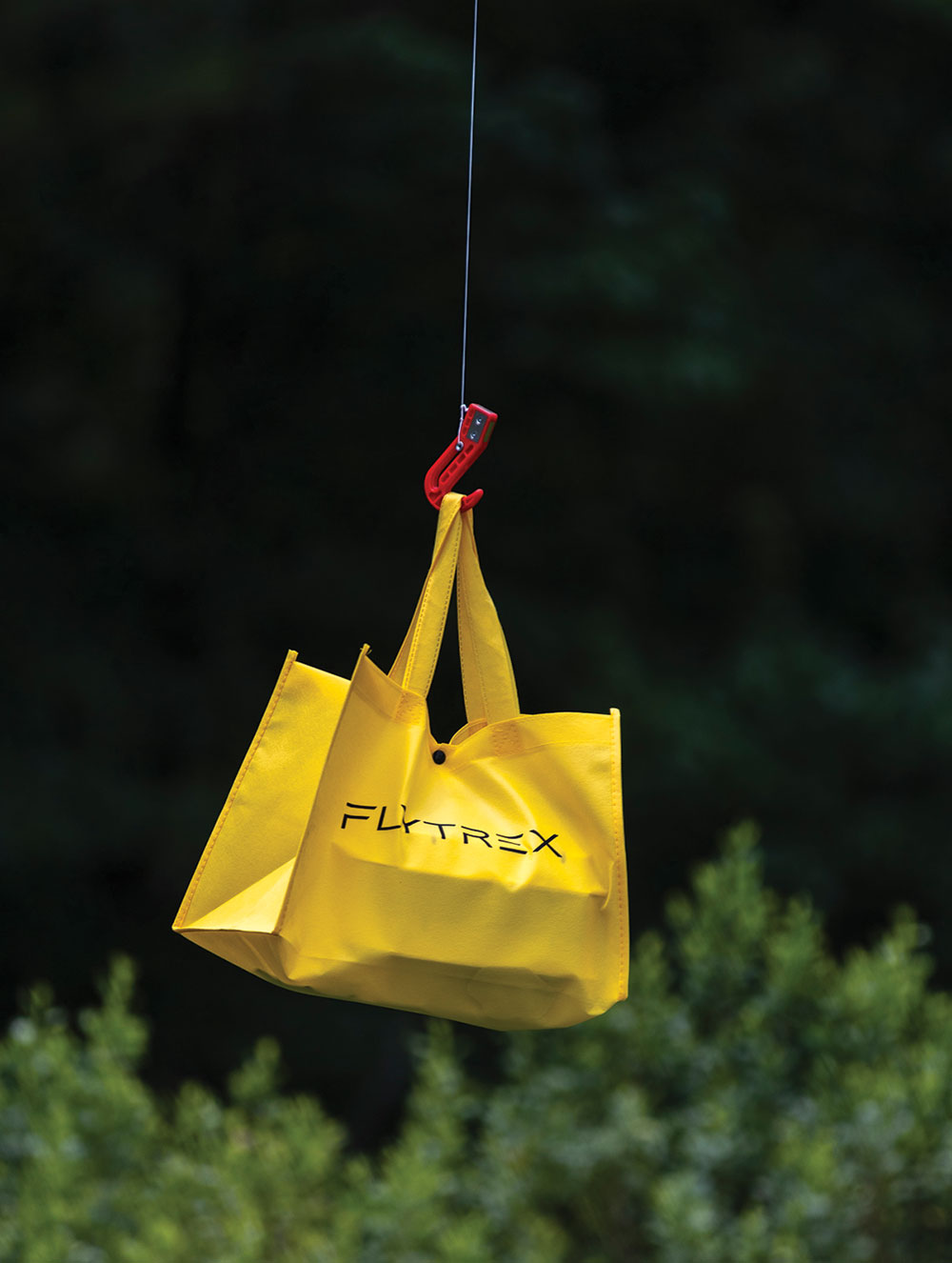 "We're trying to target places where people naturally congregate so you can have food delivered there. I was at Ting Park one time, and there were some kids who just finished soccer practice and had Jersey Mike's flown over while waiting for their parents to come pick them up," Ciampa says. "Or if you are at a soccer game and you want Starbucks, you can just have it flown in. Or if you wanted to get food for after the game, instead of driving, you can have it brought over while your kid is playing and not have to miss anything. It just makes it a lot more convenient."
Drone orders are limited by size and weight, about 5.5 pounds. So if you plan to order pizza for a party, for example, Flytrex will deliver a portion via drone and the rest via driver.
Initially, Flytrex looked for towns with a certain density of homes, lots of restaurants nearby, and a large population of families.
"Holly Springs really hit all those checkboxes," says Ciampa. "Plus the town has been really great to work with. They have been very supportive."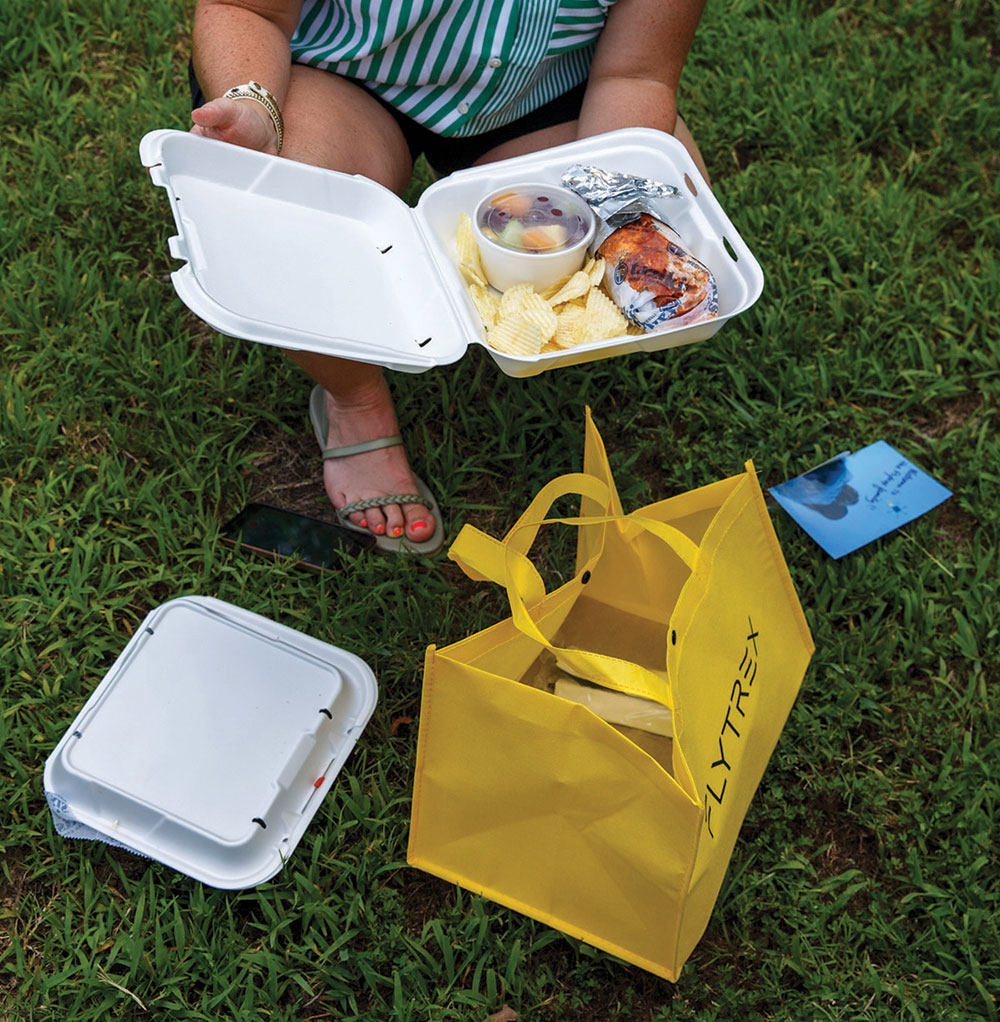 In the beginning, the company logged a few orders per week. Nearly two years later that number is more than a thousand per month, Ciampa says.
Current Flytrex Delivery Locations:
North Carolina: Holly Springs, Durham, Raeford
Texas: Granbury

"We have several customers who order weekly, and some who order daily with us. It's been really great to see. I think people really love the technology and just the experience of it."
Future expansion could include hubs in Fuquay-Varina, Apex, and Morrisville, with, hopefully, a delivery zone of 3 to 5 miles, if approved by the FAA.
"We want short, quick flights. We don't want the drones taking 10 minutes to fly to you," says Ciampa.
"Drone delivery is still a bit of a novelty. It's fun and exciting, but give it a few years. I think it's just gonna be the norm to have these drones flying back and forth."