Do you want to go on a bear hunt?
Drive Time
From Holly Springs: 2 hours 15 minutes
From Fuquay-Varina: 2 hours 10 minutes

Lace up your walking shoes, grab a camera, and get ready to explore New Bern. As the sister city to Bern, Switzerland — the word "bern" means bear in Swiss — the N.C. riverfront city adopted the bear as its mascot, and since 2010, artists and local businesses have partnered to install more than 70 whimsical bear statues located throughout the city. As you search for these iconic bears, you'll discover fascinating stories, delicious food, and lots of friendly faces.
"The resiliency and charm of this small town isn't just found in the buildings," said Melissa Riggle, executive director of Visit New Bern.
"The spirit of our community is what makes us so unique. We are all so happy and proud of where we live and work that we love sharing that with everyone we meet. Visitors are welcomed and greeted as longtime friends and family. In New Bern, Southern hospitality isn't just a metaphor, it's our way of life."
That hospitality will be served up, along with a delicious breakfast, if you book a room at one of New Bern's six downtown inns, all conveniently located on Pollock Street.
"To have all of these old, beautiful, restored bed and breakfasts all located on Pollock is just really quite charming," says Riggle. "Very iconic to downtown."
A central location from which to begin the day, Pollock Street provides access to the Neuse River waterfront in one direction and Tryon Palace in the other, with lots to explore in between.
At the pet-friendly Aerie Bed & Breakfast, innkeeper John Blackwelder will whip up a hearty meal like Bananas Foster French Toast, bacon, eggs and fruit — the perfect start to a busy day exploring the city's sights.
Downtown Historic District
It's easy to spend several hours strolling New Bern's walkable downtown, admiring its historic architecture and pausing at the many independently owned stores, art galleries and coffee shops.
Pop into Bella's Cafe & Catering for a specialty coffee, or keep going down Middle Street toward the Pepsi Store. Billed as the "Birthplace of Pepsi-Cola," it is the site of Pepsi inventor Caleb Bradham's drugstore and now sells souvenirs and soft drinks, and provides a look into the history of the ubiquitous beverage.
More than 160 homes and buildings in downtown New Bern are listed on the National Register of Historic Places, and one of the best ways to learn about all those bygone residents is to book a ride on a trolley tour. Well-informed guides will keep you entertained during the 90-minute tour with anecdotes of secret duels, Civil War generals, and other famous residents.
"I recommend (the tours) to everybody who comes to New Bern. It's hands down one of the things you have to do. It gives a really good overview of New Bern from the Colonial period all the way through the present day," Riggle says.
Tryon Palace and Gardens
The trolley tour begins and ends at the gates of Tryon Palace, the site of North Carolina's first capitol building. Guides lead visitors through daily life in the 18th century, and it's not just stories of the governors and elite society. The popular "Life on the Lesser Stairs" tour explores the lives of those who worked behind the scenes.
"The Lesser Stairs tour talks about the servants and the enslaved, who worked there and what their life was in Tryon Palace. So it's a whole different perspective," said Nancy Figiel, director of public affairs for Tryon Palace. "Something we're trying to move forward with too, is to tell the complete story more."
The original palace structure burned down in the 1790s, but it was rebuilt in the 1950s to historic specifications on the original foundation. At the nearby North Carolina History Center, learn about the determined women who painstakingly collected period antiques, recreated Gov. William Tryon's library, and tracked down furniture once owned by the family.
Tryon Palace, the surrounding buildings and gardens draw visitors year round, but during the holiday season festive decorations and special events beautifully showcase the traditions of Christmases past.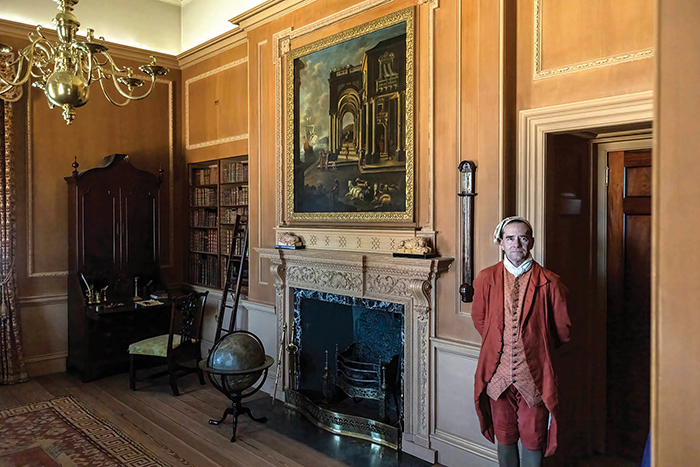 "This holiday season we are very excited to open up several of the homes in the palace grounds complex for Holiday Home Tours. Three of our commissioned homes will be opened with decorations and living history coordinators walking around. Everything will be decked out," says Riggle.
Tryon Palace will host its signature holiday event, Tryon Palace Candlelight, twice during December.
"They completely open up the front lawn of the Palace and have colonial tents, bands, a fife and drum corps, hot cider and cookies … and make it like a colonial carnival. Inside the guides take you through a candlelight tour of the palace. Everybody is dressed in Colonial garb. They finish the event with Colonial fireworks," says Riggle.
"To say it puts you in the (holiday) spirit is an understatement."
Firemen's Museum
For youngsters and the young at heart, a visit to the Fireman's Museum is an excuse to ogle antique fire trucks, pumper wagons and firefighting equipment. Learn about the first chartered fire department in North Carolina and listen to stories of the fierce competition between the city's two fire companies.
The city merged the two companies in 1927, housing them in the same building, where the museum is now located. This forced togetherness meant little as two identical wings divided the firehouse, and visitors can see duplicate dormitories, captains' offices, and even two separate fire poles connecting the second floor to the ground.
More somber but just as interesting is the display commemorating the Great Fire of 1922, which destroyed more than 1,000 homes, roughly 40% of the houses in New Bern.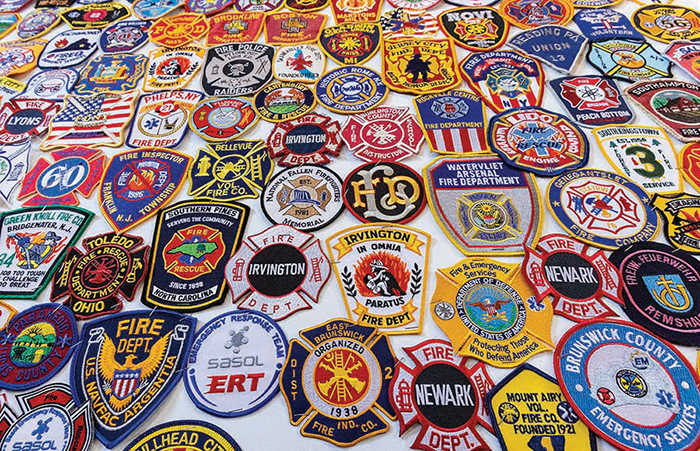 Beary Merry Christmas
We told you bears were big here, well, that tradition continues with the town's holiday celebration entitled Beary Merry Christmas, commencing with a 30-foot Christmas tree lighting on the waterfront and continuing with downtown's Bears Plaza transformed into the North Pole.
Families can visit Santa and take photos, play in man-made snow, and participate in ongoing events like a scavenger hunt or sledding.
"The entire plaza is turned into Santa's wonderland," says Riggle. Beary Merry events run from the Friday after Thanksgiving through Christmas.
"While anytime is a good time to visit New Bern, the holidays bring a special magic to our historic downtown. Festive decorations line the streets, the tree is lit in the park and store fronts showcase the annual gingerbread house competition entries," says Gretchen Du Peza, innkeeper at the historic Benjamin Ellis House Bed & Breakfast on Pollock Street. "The numerous places to stay downtown provide travelers convenient access to holiday shopping, premier restaurants, museums and more all within walking distance. There is truly something for everyone."
Save the Date! Street Cafe Returns
Born out of 2020's restaurant closures, downtown New Bern restaurants created the Street Cafe — several streets are closed to motorized traffic, tables are set, windows opened, lights strung, and diners can enjoy the downtown restaurants in these al fresco cafe settings.
The Street Cafe is closed for the winter months, and will resume in April, but the Cider-Braised Pork Cheeks at Cypress Hall or the signature oysters and crab cakes at MJ's Raw Bar and Grille easily merit a springtime return trip.
Holiday Events
Visit New Bern during the month of December and enjoy numerous town-wide holiday events.
Beary Merry Christmas: Month-long event that transforms downtown New Bern into a winter wonderland. Santa's home in Bear Plaza is open Friday through Sunday during the Christmas season with special surprises planned every weekend. Through Christmas. bearymerryevents.com
Tryon Palace Holiday Decor Tours: Hadley Cheris, Tryon Palace gardens and greenhouse manager, leads a tour of the first floor of the Governor's Palace, describing the special items used in the decorations, design tips and theming for this year's holiday decor. Dec 1, 6, 8, 10, 13, 15. 10:30 A.M. tryonpalace.org
Tryon Palace Holiday Home Tours: Visit the Stanly, Dixon and Commission houses in the Tryon Palace grounds, bedecked in greenery and decorations, showcasing traditions of colonial Christmas. Dec. 3, 10, 17 10:30 A.M. tryonpalace.org
Downtwon Christmas Parade: The annual downtown New Bern and Jaycees Christmas Parade features marching bands, themed floats and civic groups. The parade is followed by a holiday flotilla on the river. Dec. 4. 3 – 6 P.M.
Live Window Displays: Downtown shops in the historic district compete to create live window displays for visitors and residents to stroll through. Think a real-life Elf on the Shelf or a twirling ballerina performing the Nutcracker. Dec. 3. 6 – 8 P.M. bearymerryevents.com
Second Friday Art Walk: Downtown businesses and restaurants open for receptions, demonstrations and special events highlighting local artists. Dec. 10. 5 P.M. – 8 P.M. cravenarts.org
Tryon Palace Candlelight: The magical glow of candlelight illuminates Tryon Palace during this special ticketed festival and tour. Explore the historic buildings, enjoy live entertainment and festive food, capped off with black powder fireworks. Dec.11 & 18. 4:30 – 9:30 P.M. tryonpalace.org

If You Go
Aerie Bed and Breakfast
509 Pollock St., New Bern
(252) 636-5553 | aerienc.com
Benjamin Ellis House
215 Pollock St., New Bern
(252) 259-2311 | benjaminellishouse.com
Bella's Cafe and Catering
323 Middle St., New Bern
(252) 633-7900 | bellascafenb.com
Cypress Hall
219 Middle St., New Bern
(252) 633-5909 | cypresshallrestaurant.com
Firemen's Museum
420 Broad St., New Bern
(252) 636-4087 | newbernfiremuseum.com
MJ's Raw Bar and Grille
216 Middle St., New Bern
(252) 635-6890 | mjsrawbar.com
New Bern Trolley Tour
610 Pollock St., New Bern
(252) 637-7316 | newberntours.com
Pepsi Store-Birthplace of Pepsi
256 Middle St., New Bern
(252) 636-5898 | pepsistore.com
Tryon Palace
529 S. Front St., New Bern
(800) 767-1560 | tryonpalace.org