The holidays are approaching and you stupidly collected some new friends this year, so what in the world are you going to buy them? If your solution is racking up some serious money on your Old Navy credit card and paying the minimum balance for the rest of your life, then I'm here to offer you another way.
Why not put a local spin on your spending, and surprise dear friends and family with a thoughtful gift that says, "I know you live in Holly Springs — and I forgive you." Or, "Your truck has been half lifted for years — let me help you with that."
The locally themed options are abundant, whether you live in Holly Springs, Fuquay or other small towns in Southern Wake that we forget exist. We've got you covered with this handy, serious, totally non-satirical local gift guide to help you through the holidays.
Pineapple Decor
The pineapple, a symbol of southern hospitality since colonial times, was traditionally set in the middle of the table to welcome guests. The meaning of the pineapple changed as time went on, particularly in the Holly Springs/Fuquay area, where certain groups of … friends … use the tropical fruit to identify like-minded … friends. (For clarification, go to my meme page and take the hint.) Pineapples are ALL THE RAGE, particularly in Holly Springs. Whether it's an ornament, a garden flag or a pineapple-shaped scented candle, these are the gifts that keep on giving! Deliver the goods as a joke or as something more, we don't care. No judgment.
Cars Topped with Bows
I know this isn't Cary, but hear me out. We've all seen the Lexus Christmas commercial popularizing the big red car bow — why can't that be us? Bows also look great on 2006 Honda Civics, 2010 Kia Souls, 1989 Pontiac Firebirds and anything else with a roof. For the budget-friendly side of Wake County, bows are a lifesaver. Throw a bow on that busted 1996 Jeep Cherokee you bought Tristan for $1,500, and give him the surprise of his life! Hey, it's new to him!
Lifted Truck Kits
While we're on the subject of cars, can we talk about all the partially-lifted trucks in town? If you have a friend driving around in a squatted truck, do them a solid and help them lift it all the way. Friends don't let friends' cars drag the ground, right? If you want to really treat some children in Fuquay, hand out full lift kits in the Cookout parking lot. "God bless us, every one!"
Beer and/or Coffee
Why not hit up one of the 1.2 million breweries and coffee houses in town and pick up a gift certificate? Or a growler or two? Between Holly Springs and Fuquay-Varina, we've got coffee and beer covered. Coffee to wake you up, beer to put you to sleep. We're a full-service community.
Storage Units
Whether it's Public Storage, Ample Storage, Abundant Space Storage, STORAGEMAX, or Extra Space Storage (the list goes on), your friends and family will thank you for a place to store their secret lives, second families and riding lawn mowers!
Doorbell Camera
How can your loved ones even show their faces at the HOA meetings if they don't have a Ring doorbell? Do you really want Aunt Janet to feel left out when her neighbors post their Nest cam footage on the neighborhood Facebook page after a series of car robberies? If the price is holding you back, hook them up with a low-cost version such as Zmodo, AUNEX Video Wireless Doorbell, or strap an old iPhone to a broom and call it a day. Improvise. Adapt. Overcome.
Reflective Tape
Is there a cyclist in your life who is hell bent on pedaling down Piney Grove-Wilbon or James Slaughter Road faster than a FV resident on a beer run? Have the crosswalks in town been a little touch-and-go? Perfect as a stocking stuffer, reflective tape will illuminate your loved ones and protect them from dangerous elements (Kayden's truck) while they're crossing roads and channeling their inner Lance Armstrong.
Bojangles Gift Cards
Only one thing in this town is longer than the drive-thru pharmacy line at Walgreens, and that's Bojangles at any time of day. Bojangles has this town in a chokehold from which no one escapes. Provided your loved ones aren't fighting "The Sugars," pop a Bojangles gift card in their stocking. If you're cheap, cut out some coupons and secure with a rubber band — it's not rednecky unless you're in Cary.
Masks and Lysol
Masks not only protect against COVID-19, they also prevent us from being recognized by the president of the PTA in Harris Teeter. If your loved one is particularly ugly, it's a win-win. Masks also come in handy for Holly Springs residents, if you know what I mean. Cans of Lysol are perfect for those pesky school/Garner germs. Either way, it's the middle of cold and flu season so let's look out for our community.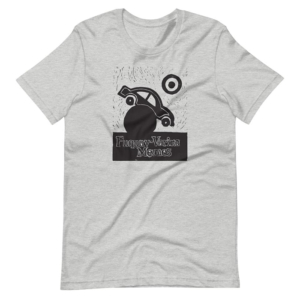 FVM T-Shirts (pictured to the right)
Even Fuquay-Varina Memes gotta hustle when necessary. My latest venture is a T-shirt collaboration with the House of Swank and local Holly Springs artist, Suzanne Dusteroff. Created as a tribute to the car that landed on the Target ball last July, all profits received by FVM and Dusteroff will be donated to Hope Connection International, an area nonprofit that helps locals impacted by abuse or addiction. Happy Holidays!