It all started with a dare.
That's right — a 20-year mayoral career in one of the fastest growing N.C. towns started on a dare. Scratch that, a double dare.
The year was 2000; the wife of a town council member approached Holly Springs resident, Richard "Dick" Sears, about running for office.
"'We need you to run for mayor,' she said, and I said forget it. She said, 'I dare you,' and I said forget it, and then, 'I double dare you.' I said, 'Ok, I'll run for mayor,'" remembers Mayor Sears.
He hadn't felt a pull toward public service, but when he began knocking on doors, asking questions and meeting residents, Sears was hooked.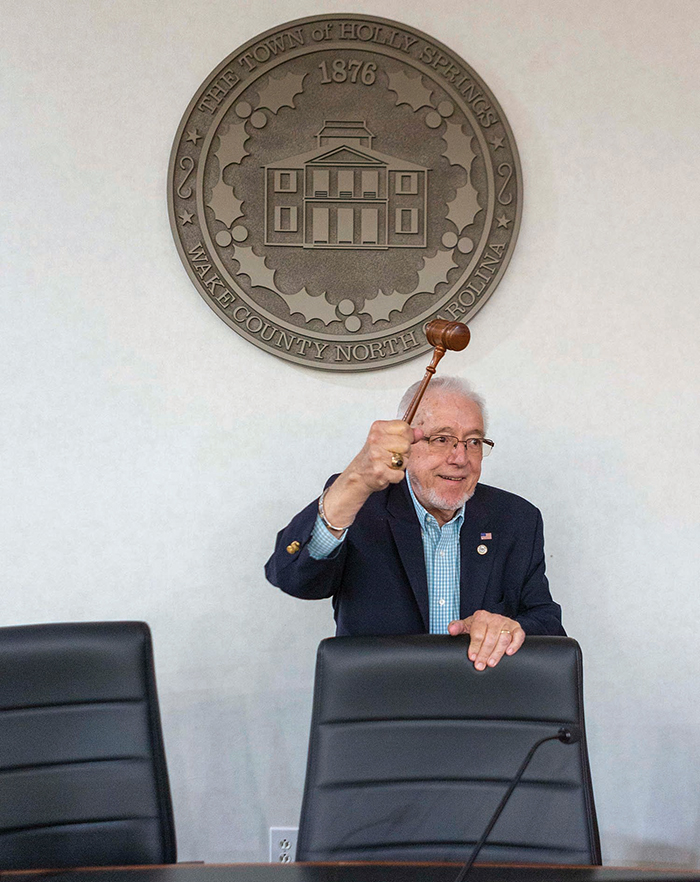 As a marketing professional — formerly employed as a national marketing manager for Sears, Roebuck & Co — Sears saw the potential of what the town could grow into and how his experience could help.
The small town of Holly Springs boasted around 3,000 residents when Sears and his wife Mollie moved there in 1995.
Sears describes what the town was like at the time: "It was mostly what it wasn't. There was hardly anything commercial."
A Food Lion grocery store and a Sonic drive-in fast food chain were the most notable attractions, according to Sears. The local restaurants, shops and downtown district did not yet exist.
"I wanted to build a town that you don't have to leave unless you want to," says Sears.
"Early on, even small things were a big milestone," says Mark Andrews, public information officer for the town of Holly Springs, early examples include a McDonald's and a second grocery store.
ver the years, Holly Springs added an impressive list of amenities, among them: the library and Cultural Center, W.E. Hunt Recreation Center, a state of the art police station, numerous shopping centers, Ting stadium and park, an up-and-coming downtown district and about 40,000 residents.
"Right after I became mayor, (the town council) started talking about, what do I (the town) want to be when I grow up?," says Sears.
"And it wasn't any one person, it was a combination that thought life sciences looks like it's one of the biggest industries of the future. This was like 15 years ago. We started talking about life sciences and how important it was," he says.
In 2006 Novartis, now Seqirus, announced it's vaccine manufacturing facility in Holly Springs, a huge win for the town of 18,000 residents.
And just this year, major investments from biotech companies Amgen and Fujifilm Diosynth Biotechnologies were announced, following years of economic development groundwork laid to establish Holly Springs as a hub for life sciences.
"For most towns, to ever get one of those would be incredible, and we got two in one year," says Andrews. "Those are not overnight successes."
Combined, the two facilities are expected to bring more than 1,000 jobs and infuse more than $2 billion into the community.
In November, Sears fulfilled one of his biggest goals as mayor with the opening of UNC Health Rex Holly Springs hospital.
"It took us 10 long years of meetings with the state to get approval to even build a hospital," Sears says.
The mayor is proud to bring quality, immediate care to a town he loves — so much so that he plans to spend his retirement volunteering or working part time at the hospital.
"That's the passion now," he says.
One of Sears' guiding mottos has been, "If it's good for the kids, it's good for Holly Springs," and he has taken great satisfaction visiting kids in schools, and founding programs to encourage youth engagement, including the Mayor's Youth Advisory Board and Anti-Bullying Committee.
A father of three, grandfather of 13 and great grandfather of five, Mayor Sears says interacting with children and youth rejuvenates him.
As the services and amenities available in town have increased, so have the housing prices. Ensuring affordable housing options will be an ongoing challenge facing the town, says Sears, which will continue under future leadership.
"There's still stuff to be done," he says. A manila folder resting on the mayor's desk is filled with notes for the next mayor — things Sears wasn't able to accomplish.
FAQs
Visiting with students in schools is one of Mayor Sears' favorite outings.
"They usually ask the same four questions," he says.
Do you know the president?
Do you have a limousine?
Do you live in a mansion?
How old are you? (No, he is not 100.)
"A circulator bus, called the Holly Trolley, that would zip around Holly Springs all the time, and take, older people perhaps, where they want to go," is one such legacy.
"I think the most important thing is to make sure that whoever wins has a good idea of how to versus knowing what to do. That's the part that you learn that takes a while," Sears says.
Ribbon cuttings, town council meetings, professional associations and civic clubs — there have been many over 20 years, including board chair for the Capital Area Metropolitan Planning Organization, president of the Wake County Mayors Association and board member for the Holly Springs Chamber of Commerce.
At the heart of these involvements has always been to develop relationships that create opportunities for Holly Springs, while still maintaining the small town charm that residents fall in love with.
"Let's make this a big small town, versus a small big town," Sears says.
Throughout his years in office, Sears has fielded countless phone calls during his tenure, voicing issues big and small — "mostly small," he jokes.
"That's a big part of the job — be available to listen, even if you don't agree."
He's as likely to receive calls about weekly garbage service as he is about economic development opportunities.
"In a lot of places, (the mayor) wouldn't be the right person to call, but you've got a mayor here who will listen," says Andrews.
The friendliness of the people is one of Sears' favorite qualities of Holly Springs, and having grown up in a small town where "everybody knew everybody," Sears recognizes the importance of preserving the small town atmosphere.
"It's been hard to come up with the right word (to describe the town), and I finally came up with one. I say it's a magical town, and I really believe that."
Continue reading "Farewell Mr. Mayor" with John Byrne of Fuquay-Varina.