THE DARK SIDE: As we approach the end of the year, it's time to turn towards "the dark side" — with beer, of course! When there's a chill in the air, dark, rich and higher-alcohol beer styles off er a pleasing warmth from the inside. The Wee Heavy from The Glass Jug Beer Lab is a great option.
STYLE: The Wee Heavy, a beer style originating in Scotland, is the strongest of the four Scottish Ale sub-styles — Light, Heavy, Export and Wee Heavy. Since Scotland's climate isn't favorable for hop production, and importing hops is expensive, this beer is malt-driven, one to sip slowly and savor the dark caramel flavors — the perfect complement to a chilly evening.
SPICE IT UP: To really drive the holiday spirit, The Glass Jug Beer Lab brews their Chemistree Wee Heavy with a beautiful blend of spices. The result is a restrained, but balanced aroma and flavor of Christmas spice that melds fantastically with the existing malt flavors. The brewery has aged the beer in a Maker's Mark Private Reserve barrel, which should offer wonderful additional flavors of caramel, toffee and brown sugar from the whiskey. This limited edition release debuts in December.
ENJOY: Visit the onsite brewery, bottle shop, taproom and outdoor beer garden located in south Durham, or the new taproom at Durham Central Park.
Glass Jug Beer Lab
5410 Hwy 55, Suite V, Durham
545 Foster St., Suite 10, Durham
glass-jug.com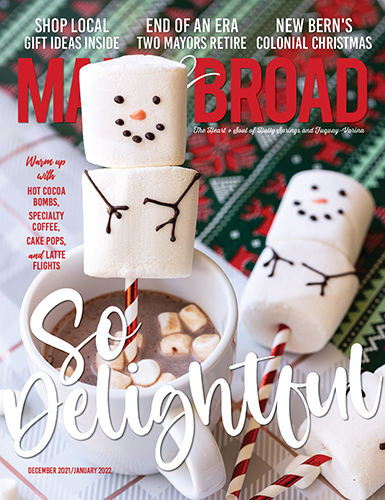 Dig In & Drink Up: Chemistree Wee Heavy from The Glass Jug Beer Lab