John W. Byrne remembers the exact day he and his wife, Patty, moved to Fuquay-Varina — March 12, 1973.
"During that period of time we were the only new couple that had moved to the area. All of the young people were moving out of town," Mayor Byrne recalls. "I had the opportunity to come here and work with (Fidelity) Bank and that's where I spent my career. In doing that, I got to know everybody in town and everybody got to know me."
Knowing everybody was much easier in a town of about 5,000 residents, as Fuquay-Varina was during the '90s, and Byrne developed a deep relationship with the town and residents during his decades-long career at the Fuquay-Varina based bank.
In 2000, Byrne was elected to his first term as mayor, an event that would be repeated nine times, resulting in a 20-year run as the town's leader.
"I'm confident that if I would run again, I would be elected again," says Byrne. "You have to have gone through the experience that I have to experience the warmth that I feel."
That confidence springs not from a belief in his own overwhelming popularity, but rather from the relationship Byrne has worked to develop with residents, businesses, civic organizations and town staff.
"I believe a mayor needs to be engaged, needs to know his community. … I walk five miles each day. Doing that, I'm visiting with people, seeing people up and down the street," he says.
And there's the ribbon cuttings, civic club gatherings, public events, town board meetings and professional organizations — regular fixtures of the mayor's day, where he can interact with citizens, and they him.
"What I came to know was how much appreciation people have for the mayor being there. I've always tried to be there."
During Byrne's 20 years as mayor, the town of Fuquay-Varina has transformed, growing in population from about 8,000 to almost 40,000 residents.
Beloved by those residents are the two downtown districts, with coffee shops, restaurants, breweries, unique local shopping, seasonal outdoor concerts and town festivals, but that wasn't always the case.
When Byrne took office, he remembers the downtown bluntly, as "a disaster zone."
"Nobody wanted to locate here. Our stores up and down Main Street — half of them were empty," he says.
"You have to have a little bit of a vision for things. The truth is that one of the best things we ever did was to get enough people focused on what we could be. You don't get there in one hour or one day or one week. It's 20 years."
Refreshing the streetscapes, preserving historic buildings, centralizing town facilities, such as the Arts Center and Town Hall, and fostering small business growth all contributed to the transformation of thriving Fuquay and Varina downtown districts, and earning the designation of North Carolina Main Street Community.
"We've focused on bringing things back into the heart of our community," Byrne says.
Downtown revitalization is just one component of a bigger strategy, says Byrne, and features prominently in the town's efforts for economic development.
"Our economic development team has focused on recruiting and providing opportunities. … But they have to have something to sell."
Now Fuquay-Varina is poised to compete with all of Wake County for business opportunities, shopping centers, lifestyle amenities and education facilities.
With the explosion of growth experienced in Southern Wake County, plenty of challenges tag along, including the oft-bemoaned subject of traffic — "People get frustrated about traffic, I do myself," Byrne says.
"I wrote down about 10 or 12 things when I first ran for mayor. When I told everybody that one of the most important things was the completion of Judd Parkway. Everybody kinda laughed and said, 'John, we won't ever get that done.'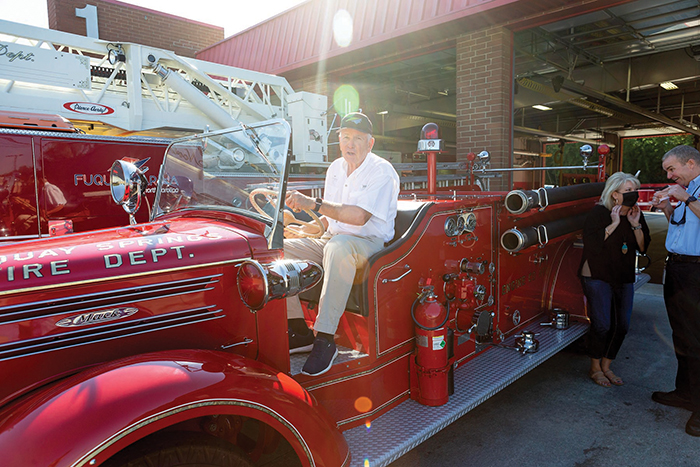 "It's taken us a period of time, but over that 20 years, we're the third town in Wake County that has a complete bypass, or parkway, that goes all the way around town," he says.
The final section of Judd Parkway opened on May 7, 2021, completing the seven-mile loop, an important step in diverting traffic out of small intersections and easing overall congestion, he says.
It's easy to measure progress in the form of multi-story downtown development and road construction, but other forms of Byrne's leadership are felt behind the doors of town hall.
During the mayor's tenure, nearly $50 million in grant money has been awarded to the town for projects like park development and transportation improvements.
Additionally, the town received a AAA bond rating in 2014, the best possible rating for a local government — a feat the mayor, a former banker, is particularly proud of.
"The AAA bond rating was a great opportunity for our town, but it was one we had to go after and get. We have saved millions upon millions of dollars in refinancing and new projects that we've done, because of the AAA bond rating and because of lower interest rates," he says. "That's made a huge difference, and it will make a huge difference in many, many years to come."
Yet Byrne's most meaningful contribution may be his commitment to personal and professional development of the town staff.
Garbage Day:
During Mayor Byrne's early years, the town ran two garbage trucks for weekly trash pickup. Both trucks broke down at the same time.
"People's garbage is gonna start piling up," Byrne remembers. "We've got a good team of workers, and I go out there with them, and act like I'm helping the garbage truck. I did help a little bit, but I can't take a whole lot of credit for it. The garbage guys still talk about that today — about how the mayor came out and helped."

"I have never experienced or seen a mayor champion professional development like Mayor Byrne does," says Adam Mitchell, town manager. "He is always encouraging our employees — not just senior leadership, all employees — to seek out certifications, seek out professional development opportunities, make yourself better, because that's going to add value to the organization."
"I think the number one way you create value is in your people," says Byrne.
"Probably the number one thing that I hope that I've been able to do, is for people to realize that everytime something goes wrong, they don't have to call the mayor. We have great staff in good positions, and they do a fabulous job. … They make a difference. It's not the mayor."
"Over 20 years, you don't have the success that he has had if you don't build relationships and partnerships, that is something that he has mastered," says Mitchell. "In N.C., and probably anywhere in the country, you're either moving forward as a community or you're dying. There is no inbetween. … It all is rooted in relationships and partnerships."
To honor the mayor's years of leadership, the town hall building will be renamed the John W. Byrne Municipal Building, a unanimous decision by Fuquay-Varina's town board, which cited historic preservation efforts, IT improvements, park creation, transportation infrastructure and downtown development, as well as many other accomplishments championed by mayor Byrne in arriving at their decision.
"(These accomplishments) are all important to the community that we are today, without these things that are on this list, I don't know that we would be the same community. We certainly would look different for sure," Mitchell says.
"I've done my best. That's the only thing that I can say," Byrne says. "I've had good people around me. They will carry on and do their best, I know they will."
In his well-earned retirement, Byrne looks forward to playing golf, traveling with his wife and continuing his involvements with St. Bernadette's Catholic Church and the executive board of Fidelity Bank.
"I'll still help the town," he says. "People will call me mayor, I reckon, from now on."
Continue reading "Farewell Mr. Mayor" with Dick Sears of Holly Springs.