As I'm sure you've noticed, this issue of Main & Broad is chock-full of Maggy Award winners, voted on by residents of Southern Wake people who aren't afraid to live by the dump … and probably a few Chads in Cary, because those people stick their nose in everything.
In any case, there are a lot of great businesses and people listed in this issue. No one asked my opinion on the categories, which honestly seems rude considering I've been writing columns for this magazine 25 years before it was even a magazine. THE DISRESPECT. THE CHEEK. THE ACTUAL GALL.
Before you pick up your pitchforks to fight my imaginary battle, don't worry — I've taken care of it. And by "taking care of it," I mean I've chosen my own categories and picked my own winners in a completely autocratic move with zero input from anyone in the community (including my husband in the next room, completely oblivious to me making big moves in the world of journalism becoming a dictator).
Most Tolerant Neighbor
My first instinct is to give this award to my actual neighbor, who has witnessed a lot over the years, but that would be 1) giving away where I live, and 2) unfair to the neighbor on the other side of me, who I think I ran off in less than a year. This year's actual award for Most Tolerant Neighbor is a tie between Forest Springs Neighborhood, the closest neighbor to the dump, and that guy who basically shares a yard with Buckhorn Creek Elementary School.
Swinger of the Month
Seriously, how can this NOT be included when we're discussing Southern Wake Holly Swings? No, we're not choosing which kid can pump their legs the fastest on the backyard swing set — so clutch your pearls, Deb. This year's Swinger of the Month award goes to the couple I saw wandering around The Teet (Harris Teeter) with an upside down pineapple in their cart when it was definitely NOT pineapple season. Could it have been an accident that the pineapple flipped itself over when they were choosing between Israeli couscous and Bob's Red Mill Golden Couscous? Not by the look in the husband's eye, kids. Stay safe out there.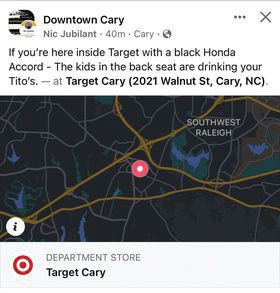 Messiest Facebook Group
This was a hard one, because there are simply so many to choose from. As a local meme page, I get a lot of screenshots from groups that definitely have rules about not taking screenshots, and they're all equally messy and hold a special place in my heart. Do I go with the Ladies of Fuquay-Varina Facebook page, where women fight over their right to own chickens, or the Ladies of Holly Springs Facebook page, where women go to war over rehoming dogs?
Neither, because I have since discovered the Downtown Cary page on Facebook. I will leave you with the following image, so you understand my reasoning.
Most Famous Animal
For years this award would have gone to the horses on James Slaughter Road in Fuquay-Varina, but they have since been moved, and the light has gone out in our lives. I thought about giving this title to the endless parade of peacocks and pigs hanging out around the Citgo on Sunset Lake Road, or the miniature horses that I might coax into the trunk of my car this afternoon, but I think we all know that the true winner of this award is Pumpkin the Alpaca. An undeniable community icon. Pumpkin became a social media celebrity last year, and even had a meet-and-greet with the mayor, so if you have a problem with my pick, SAY LESS.
Creepiest Spot in Fuquay
I have lovingly called this spot "the Blair Witch tree" for years, and every year it gets more terrifying. No one knows who is hanging all these creepy toys/dolls off of Ballentine Dairy Road, but their numbers keep growing. Runner-up would be the murder shack behind Guardian Angel, but alas, it has been torn down and now exists solely in our memories.
Road with the Most Potholes
Dickens Road in Fuquay (near Bluegrass Bagels) was the first one to come to mind, but I think we all agree that Ballentine Dairy Road has roughly the same topography as Mars. Yes, half of it is paved, but the other half will knock the soul out of your body (or at least your boob out of your bra).
Not only are these potholes, they are gravelly, dusty holes that will have your ride looking like it's been on a 100-year journey through the salty streets of New Jersey. In other words, if you care about your car, stay away. But if you are looking for a shortcut because you almost forgot about your kid in the carpool line, go get your baby.
Best Local Mural
No, it's not the I Love Fuquay-Varina mural or the Cultivate mural. The true local treasure can be found on (you guessed it) the electrical box at the end of Ballentine Dairy Road, which for years was covered up by Fuquay's natural beauty (kudzu). That's right — a spray painted image of Bill Murray, with a cryptic little side note that says "BILL BROTHER IS WATCHING." It's creepy, it's artsy, and it's been there since I first moved to Fuquay in 2007. Iconic.
Worst Left Turn
Hahaha, did you think I'd leave this out? Not a chance. Now that "mug handles" have taken over the town of Holly Springs, hanging a left has become the thing of nightmares. After consulting with absolutely no one else, I've decided that the worst left turn in Southern Wake is definitely when you're trying to get back onto Holly Springs New Hill Road when coming out of Target at Holly Springs Towne Center. Bonus points if it's a weekend and every mom within a 10-mileradius went to Marshalls and followed up with a Crumbl cookie. You'll die there, but it's fine. Everything's fine.