Residents of Southern Wake County may already know the name Paige King Johnson. The country music singer/songwriter has been performing locally for nearly a decade already.
I'm willing to bet that it won't be long before the nation also knows Johnson as the new darling of country music.
Growing up in Angier, Johnson sang in her church choir, learned piano as an elementary schooler, and received her first guitar at age 10 (a gift from her grandfather).
"I could feel how much joy music brought me, and how much I loved being able to perform for people, even if it was in the middle of my living room," Johnson says of those early musical years.
Now she's a graduate of Nashville's Belmont University; recipient of multiple Carolina Country Music Awards, including 2022 Female Artist of the Year and 2023 Country Single of the Year; veteran of the famous Bluebird Café; and mentored by country music great Pam Tillis.
Despite these accolades and accomplishments, you'll still find Johnson performing in North Carolina many weekends of the year, strengthening her already deep central NC roots and fierce love for her hometown.
As a teenager, Johnson founded a quarterly dinner theater in Angier called Country on the Outskirts of Town.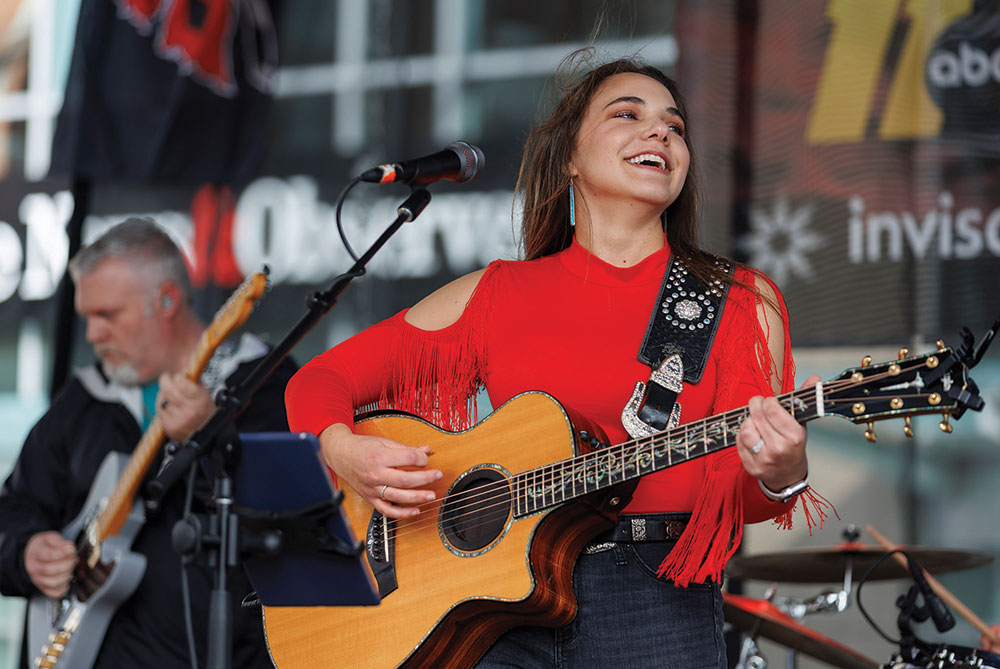 "Angier is a small community, and I wanted a place for people to be able to go out and experience live music that they didn't have to drive 45 minutes to," she says.
"That opened up the world of music as a business, seeing that people do this and get paid. … From there I started looking into colleges in Nashville and what that could look like for me as a singer/songwriter. I set my sights on it and never looked back," Johnson says.
Johnson's dinner theater pivoted into a twice yearly outdoor event, the Country Yard Party, during Covid.
"It features all North Carolina artists, which has been really fun for me to be able to find new friends and people to write with, and also be able to provide a stage for (musicians) to be able to show off to people."
Johnson has spent much of the last year traveling around North Carolina as a Got to Be NC musical ambassador for the NC Department of Agriculture and Consumer Services. Through this partnership, Johnson visits schools to promote the importance of agriculture and shares her musical journey with students.
"That keeps me really busy and on the go all the time. It's been fun, because I've seen a lot of corners of North Carolina that I never even knew were there — and I was raised in North Carolina," she says.
Upcoming Area Shows
April 8
ZincHouse Winery & Brewery, Durham
April 15
The Clayton Center, Clayton
May 4
Headquarters Bar and Beer House, Angier
May 19
Trali Irish Pub & Restaurant, Raleigh

Splitting her time between North Carolina and Nashville, Johnson fills her weeks with multiple writing sessions collaborating on new songs, booking her own shows, negotiating with venues, traveling, and performing live Thursday through Sunday nights.
"Then rinse and repeat," Johnson laughs.
But she wouldn't have it any other way. Prepandemic, Johnson was fresh out of college, gaining traction with a song on the radio, and traveling the country visiting radio stations and performing.
"2020 came and just put a halt to everything," she says. "It gave me time to sit back and really dream about, 'What do I want this to look like for me? And where do I wanna go? And who do I want to be around me whenever I'm doing that?'
"It's been really cool starting to build back up again since 2020, seeing the rewards from those seeds that we planted back then, and it's just continuing to grow."
Johnson describes her sound as "retro modern country."
"Which is completely contradictory," she admits with a laugh. "It's my way of trying to bring back the sounds and simplistic storytelling of the classic country music that I grew up listening to, but with modern topics."
Johnson names Loretta Lynn, Patsy Cline, Merle Haggard, Reba McEntire, and George Strait among her musical influences.
"That's where my heart and my soul lives. It's really nice to hear that pendulum in country music starting to swing back towards those sounds again," Johnson says.
Pam Tillis — that's right, the Pam Tillis behind "Maybe It Was Memphis" and 1994 CMA Female Vocalist of the Year — partnered with Johnson to produce three of her recent music videos.
"It's crazy to have somebody that was once your hero, and still is your hero, to be a contact in your phone that you talk back and forth with every single week," says Johnson.
"It is really cool to have somebody like (Tillis) as a mentor, who walked in the same shoes that I'm walking in now, and to help guide my steps in whatever way that she can."
On the phone, Johnson was the epitome of Southern hospitality: warm, earnest, and generous with her time. But make no mistake, this small-town girl has big dreams: playing the Ryman and the Grand Ole Opry, performing in new states and countries, and broadening her listenership each year.
"As corny as it sounds, it truly is a highlight every single day that I get to wake up and call this a job. I know that there's so many people who never had the ability to chase that dream. And so just to wake up and see how busy my schedule is, and to frame it not as an overwhelming thing, but a grateful thing, knowing that I do have all these opportunities — it's a highlight every single day."