Actor. Assistant Director. Stage Manager. Writer. Singer.
Jen Marconyak's creative resumé is deep (and she somehow finds time for a full-time job as well).
Acting has been a lifelong passion for Marconyak, a resident of Southern Wake County. She took classes as a youth, served as her high school drama club president, and has performed in many community theater productions in the Triangle. Recently, Marconyak broadened her scope into playwriting.
"I decided a few years ago I wanted to try writing my own plays. I wrote some short 10-minute plays … which did make it to the stage, which was a lot of fun for me.
"And then one day I came up with this idea of something that I thought would make a great show, that was based on romantic reality TV shows like The Bachelor, The Bachelorette, Rock of Love," says Marconyak.
That idea became The Bachelor of Apex, a murder mystery comedy, which sold out its three-show run at Apex's Halle Cultural Arts Center in February.
"These reality TV shows, they're not hard to make fun of. So I thought about some of these crazy characters that you see, if you could pick a few of them and really blow them up and put them on stage, and have a good time with it, then wrap that into a murder mystery where someone starts trying to take out the contestants. The idea kind of grew from there," she says.
Marconyak used her acting experience to enrich her perspective during script writing.
"I think being an actor gives you a lot of insight. You can go inside your own head and imagine the way that (a scene) would be performed on the stage. You can see the movement between characters; you can hear the dialogue in your head.
"Even when I was writing (The Bachelor of Apex), there were actors that I had worked with in the area that I was imagining as they would play the role, and speaking the lines as I was writing it."
The Bachelor of Apex includes all the elements of an on-stage blockbuster: comedy, mystery, popular cultural references, and audience involvement. Coupled with apt timing the weekend before Valentine's Day, it's no surprise the show sold out three performances more than 10 days before the on-stage debut.
"When we told the cast, they were very excited. It pumped up their energy to another level to know that the show has been received that well in the community, and that people are really looking forward to it," Marconyak says.
For those of us who missed this first stage run, there may still be an opportunity to see The Bachelor of Holly Springs or The Bachelor of Fuquay-Varina in the future.
"There's an opportunity with this script to re-write the murder itself. And you could play with the same characters, but I could move some things around. An audience could see a similar show and just not know where we're going with it this time," says Marconyak, who hopes to be able to stage the production in other area towns eventually.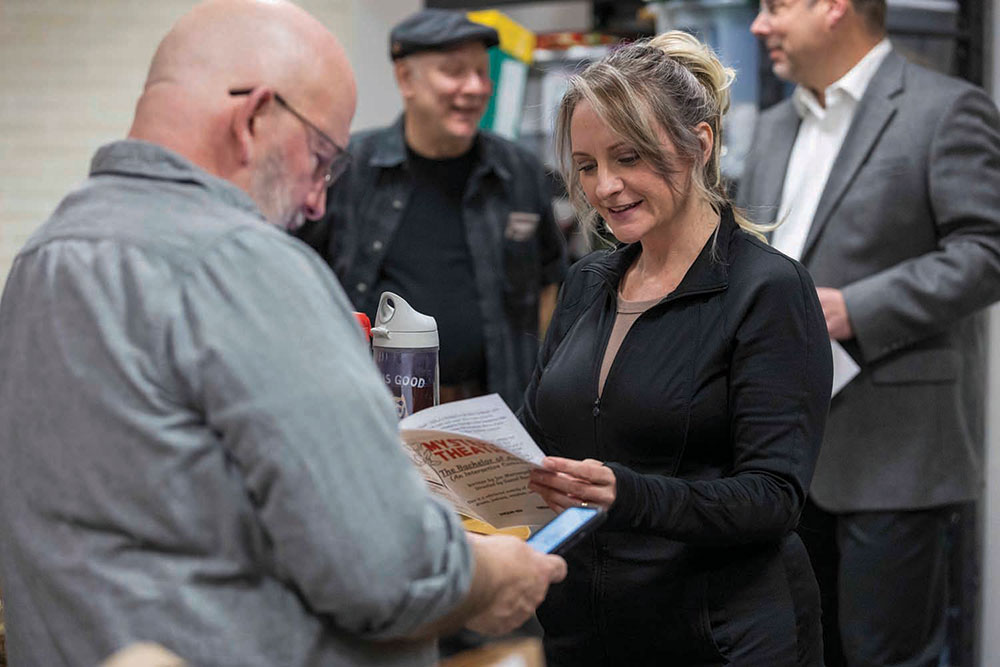 In fact, the play was first scheduled for the Holly Springs Cultural Center, but had to be canceled due to Covid in 2020.
Influencing the show off-stage has proven no less exciting than Marconyak's typical on-stage role.
"There were these words in my head, and I wrote them; I read them over and over again. I know these characters so well in my head, and then to be there … and see what these actors do with those thoughts and with those words is just so exciting to me. They had me laughing out loud at the things they're doing. I love to be on the stage, but this has been equally exciting, just in a different way."
No date is set for an encore of The Bachelor of Apex, yet. However, local residents can see Marconyak perform as the lead singer for The Ridge Band at Triangle-area locations such as Aviator Pizzeria and Shakey Ray's Tavern.
Follow the band on social media @theridgebandNC.