Best New Business (Non-Restaurant)
Rebel Cycle & Rebel PT
Chop Barbershop
Neighborhood Barre Fuquay-Varina
Best Clothing Boutique
Bless Your Heart Boutique
The Wardrobe Boutique
All Things Girly Boutique
Best Resale Shopping
KNB's Marketplace
Serendipity Consignment Boutique
Guardian Angel Thrift
Best Florist Shop
Flowers on Broad Street
Betty Jean's Flower Truck
Preston Flowers & Gifts
Best Home Furnishings and Decor
Adorn Home Furnishings
Rescued Wood Rehab
Werking Design and Decor
Best Garden Center
The Garden Hut
Fairview Garden Center
Garden Supply Company
Best Gift Store
Bless Your Heart Boutique
The Shoppes on Main
Rescued Wood Rehab
Best Shopping District
Downtown Fuquay-Varina
Fenton
Downtown Apex
Best Wine & Bottle Shop
Cellar 55
Triangle Wine Company
Black Dog Bottle Shop
KNB's Marketplace
Best Resale Shopping
Unique, one-of-a-kind finds fill the aisles at KnB's Marketplace, open for 17 years in downtown Fuquay.
"It's like a scavenger hunt," says Debbie Prince, "partner in crime" to owner Kim Draper. "Customers discover memories all the time. We have everything."
From vintage goods, repurposed items, local art, and handmade decor, there are new treasures to behold every day.
"People have a good time here and like to linger," says Prince.
120 Raleigh St., Fuquay-Varina
@knbsmarketplace
The Garden Hut
Best Garden Center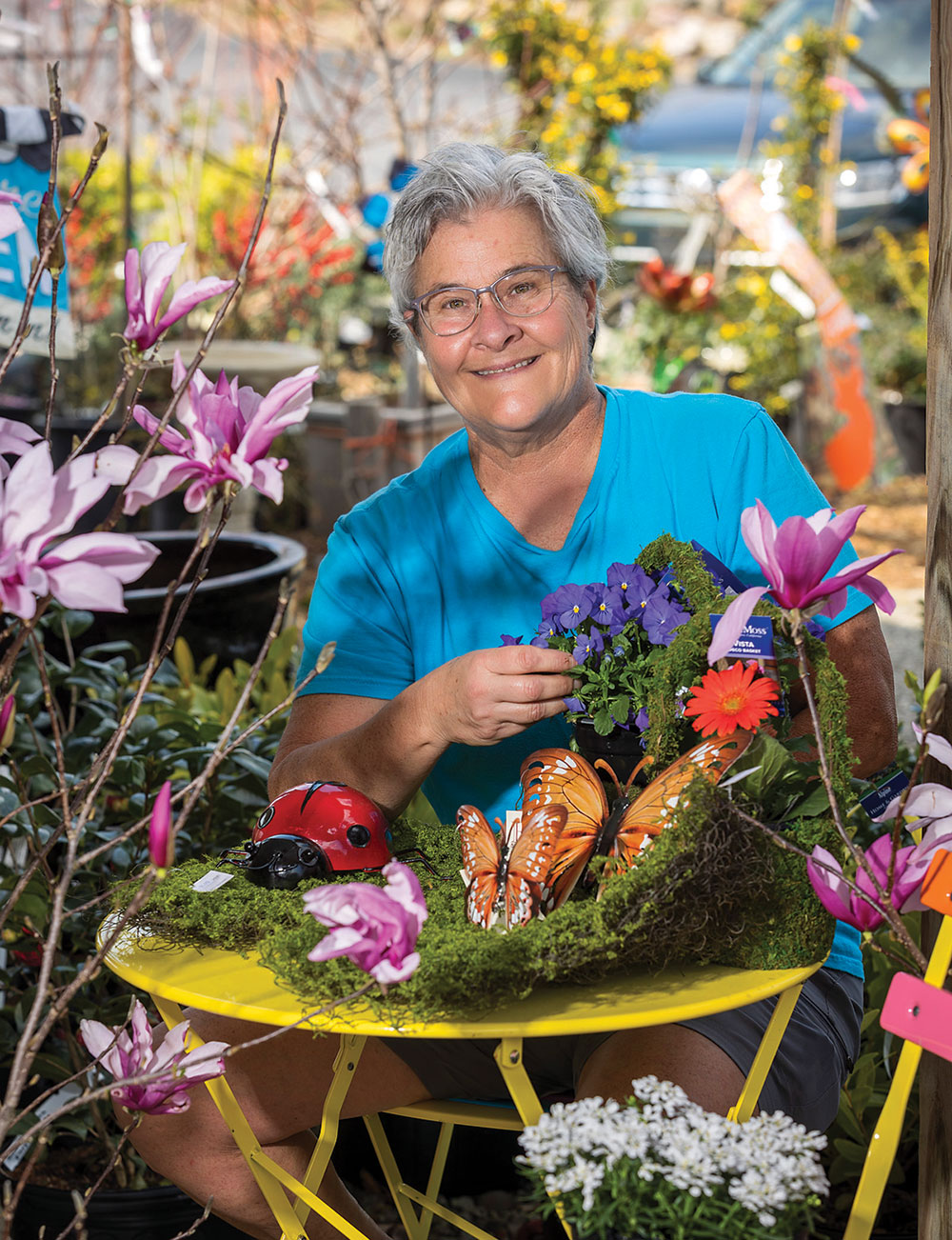 Owner Nelsa Cox, pictured above, wants everyone who shops at The Garden Hut to have a positive gardening experience. Whether you are looking for an exotic houseplant, starting a vegetable garden, or hunting for vibrant Japanese maple trees, The Garden Hut is poised to help you succeed.
"When we set you up for a good gardening experience, it earns your trust and brings you back," says Cox, who has owned the garden center for more than 20 years.
"I love having kids and young teens come in to shop. This is our future. To show them and teach them something new is exciting for me," Cox says.
In addition to a large selection of plants, The Garden Hut offers locally made household items, gifts, and artisan foods.
"With all the people moving to Fuquay-Varina, not a day goes by that we don't have a new customer through the door. So many of them say, 'This is so cute; I didn't know this was here!'
It's the greatest compliment."
1004 Old Honeycutt Road, Fuquay-Varina
nelsasgardenhut.com
Adorn Home Furnishings
Best Home Furnishings and Decor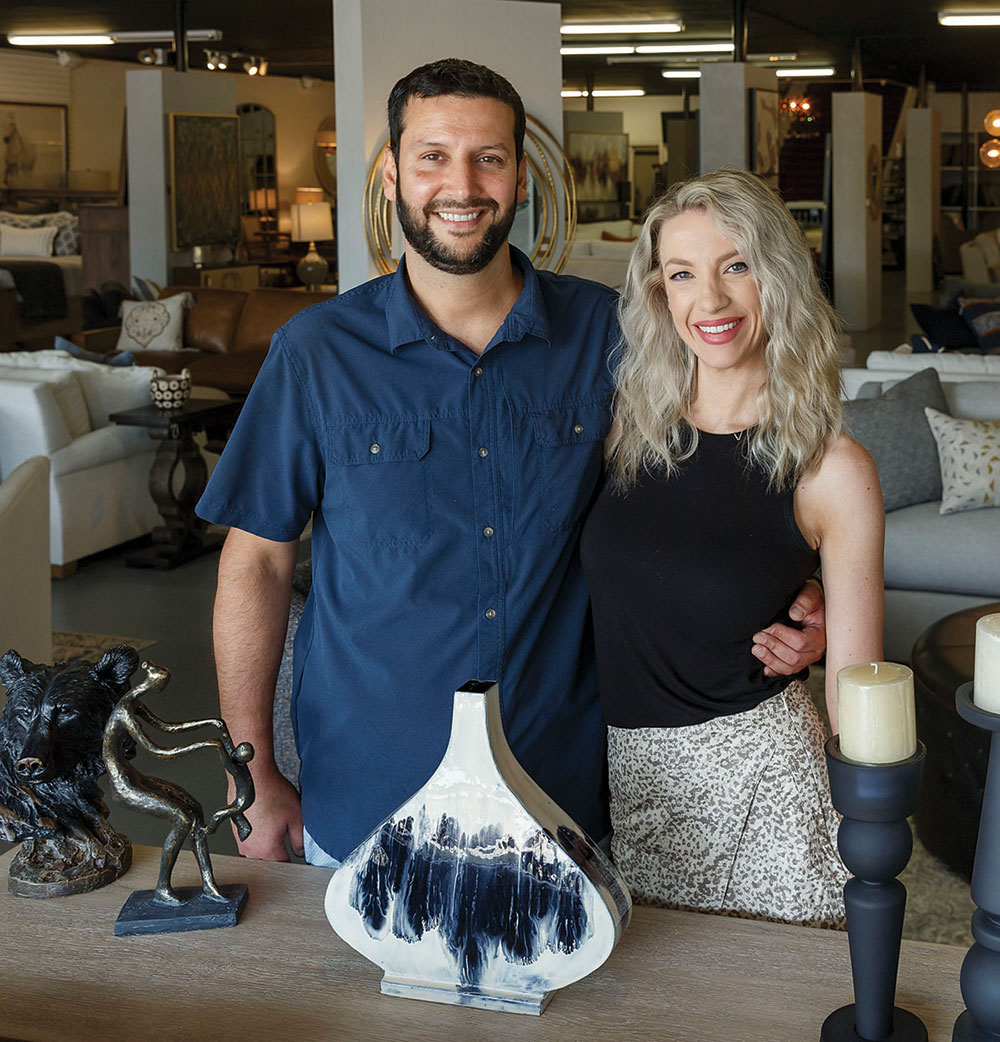 In late 2021, Ben and Samantha Radmard, pictured above, were putting finishing touches on their downtown Fuquay store — completing renovations and building displays with plastic covering the windows — customers knocked on the door anyway.
The Radmards decided to open Adorn Home Furnishings because the demand for furniture was so high.
"People's style preferences and budgets are all over the place in this area, but one thing everyone has in common is they want stuff NOW. Our store can be a mess sometimes because we are selling off of our floor every single day," says Samantha.
111 North Main Street, Fuquay-Varina
ncadorn.com
Rebel Cycle & Rebel PT
Best New Business (Non-Restaurant)
Downtown Varina recently welcomed new partner businesses Rebel Cycle and Rebel PT, owned by Kyle and Courtney Smiach, into its ranks of fun, community-centric shops.
"It's been a dream of Courtney's to have her own practice that is a combo of physical therapy and some fitness," says Kyle Smiach.
Courtney, a physical therapist, treats patients at Rebel PT, specializing in pelvic floor and orthopedic therapies. Kyle and Courtney both teach cycling classes at Rebel Cycle next door.
"We're gonna do the workout anyway," says Kyle. "Why not have the community join us?"
Inside the cycling studio, the lights are low, and the music rocks.
"To keep the vibe interesting and create a low-pressure atmosphere," says Kyle.
Speaking of low pressure, Rebel Cycle does not require a membership. Clients can drop in at will.
"Many people already have memberships to a CrossFit gym or yoga studio that they are paying a lot for. We are there to fill a gap, and add on to that with another fitness opportunity."
511 E Broad St, Fuquay-Varina
rebel-nc.com