Shane Brown
Owner, Extraordinary Cuts
First Barbershop Experience: In Sanford at Mr. Reeves Barbershop. Not only was he my barber, but he was also the barber of the guy who taught me. His shop has been there 100 years. It was a traditional barber shop. When I wanted a design for my head, he said no.
Early days: My mom couldn't afford haircuts, so I started cutting my own hair. Then I started cutting my brothers' hair. Needless to say, it was not good. I did some terrible haircuts. Now my brothers, they get free haircuts to this day.
On Joy: I have two customers: Jaden and Justin Jenkins of Fuquay Varina High. They are twins, at the top of their classes, honor roll … and they are just awesome. When I get to encounter young men like that and be part of their lives — that's the joy of being a barber.
Barbershop Rap Sessions: A man named Steve Spain first talked to me about barbershop rap sessions. I had never heard of them. But I thought, I'd like to do that. We pitched the idea to the Fuquay PD, met with Tony Godwin (retired Cary chief of police) and TruAccess and started holding the barbershop rap sessions. They have been awesome. It brings a lot of people together, and we talk about things that people are afraid to talk about.
Growing up in a black community, in a low income community, and staying in a lot of trouble with the law, people didn't know how to deal with me, because I was acting out. I thought (the rap sessions) would be good, so people could start to see that not all officers are bad. When (residents and officers) start to get to know each other, it works out better. If a cop knows this person, then he knows how to deal with him.
Brown's shopmate James Cook owns Shoe Shine Express inside Extraordinary Cuts.
James Cook
Owner, Shoe Shine Express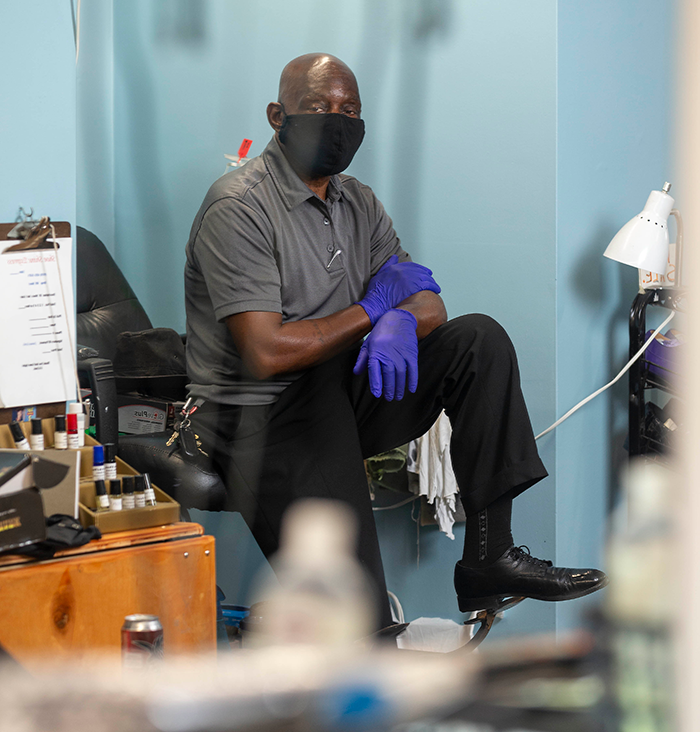 Background: I was a professional chef for 54 years and retired in 2011. I never wanted my own restaurant business. I said, let me do something that makes me happy. I like clean, nice shoes. I'll open up this shoe sign stand.On entrepreneurship: One of the joys of having your own business is you work when you want to work, but you have to put the hours in if you want to prosper. It's a good feeling to have your own business, because it's your own money and you are your own boss. When you set policy, you are setting the standard, and you have to live up to that standard.
Values: This has always been a barbershop that respects everybody. We don't have profanity. The Lord is in this place.
Community involvement: We have to be a figure for the neighborhood also. We have to be a public figure, have to be honest and have courage to influence young people.
Barbershop Rap Sessions: We talk about what police officers can do to get to know the people in the community. Once you get to know people, you can communicate better. That way, if something goes wrong, they aren't afraid.