When Diana Thomas opened Joyful Sounds Academy of Music & Arts more than 30 years ago, she had no idea it would have such an enduring imprint on the community. Throughout the last three decades, Thomas has taught hundreds of students — young and old alike — to play the piano. Her academy also offers lessons in violin, guitar, flute, saxophone, voice, visual arts and more — all provided by diverse and gifted instructors.
Thomas is highly regarded in local music circles and beyond. She earned a bachelor's degree in music from Campbell University. Then there's the distinguished list of memberships: Music Teachers National Association, North Carolina Music Teachers Association, Raleigh Piano Teachers Association, American College of Musicians and the American Guild of Organists. Thomas also serves as the longtime lead accompanist at Fuquay-Varina United Methodist Church.
We spent time at Joyful Sounds earlier this year and captured all the photos you see here prior to the pandemic. Thomas was quick to show us numerous pictures of her students with trophies and medals earned at various competitions through the years. Since our visit, we followed up with Thomas to see how things have changed in recent months.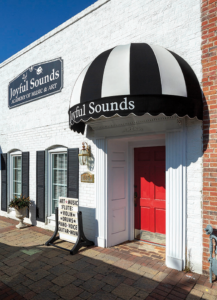 M&B: You have developed a truly venerable business here in the community. To what do you attribute your success?
Thomas: "God has been good, and I'm grateful for his blessings over all these years."
M&B: How many students are you teaching nowadays?
Thomas: "I have 22 taking piano right now, which is bit more than usual, including three sets of siblings. As for the academy overall, we have students of all ages. They can start as young as 4 years old with the violin, and we have older adults taking all types of lessons."
M&B: What seems to motivate students of different ages?
Thomas: "When it comes to children, some are quite self-motivated, and others have to be encouraged to practice. Some like to play an instrument, because it's fun or relaxing. Still others find it to be a chore and are not always happy about it. Adult students typically have different reasons for wanting to learn. For instance, I have one older man taking piano lessons who wants to learn hymns, so he can play them for people at a nursing home."
M&B: Do you still enjoy teaching after all these years?
Thomas: "It keeps me young. If I didn't have this to do, I'm really not sure what else I would be doing."
M&B: How do you find qualified instructors?
Thomas: "It helps that we have the only private music and arts studio in town. That enables us to acquire the most qualified teachers in the area. A good number of our instructors have been here for 10 years or more, which speaks to our commitment to excellence."
M&B: In what community-oriented experiences has the studio played a role?
Thomas: "We've participated in various festivals and recitals, and I encourage students to share their music locally such as at school, church and community events. The goal is for them to enjoy what they are doing and share it with others."
M&B: What kind of legacy do you hope to leave once you do step away?
Thomas: "I hope people remember that we did a good thing for the community and the students who came here. A lot of this is built on the reputation we've been able to build over the years."
M&B: How have things changed for Joyful Sounds since the pandemic hit?
Thomas: "We have been doing virtual lessons using Zoom, and everyone seems to have adjusted well to the change. We're planning a limited reopening for mid-summer. We have to be careful about how many people can be in the building at any given time. We also have to think about wearing masks, proper sanitizing, taking people's temperatures and having no one sitting in the small waiting area for social distancing purposes. We're closely following the CDC guidelines. It's been a difficult time, but we look forward to things getting better in the future."
Joyful Sounds Academy of Music & Art
117 East Vance Street, Fuquay-Varina
(919) 552-8219
joyfulsoundsacademy.com