Raw juicing seems like a modern health phenomenon, but it isn't for Holly Springs resident Laura Arrieta.
"I grew up with it," Laura says.
As a teenager, Laura's mother suffered from an undiagnosed illness, until a homeopathic specialist prescribed herbal supplements and raw juicing.
In a few months, she was "completely back to normal," Laura says.
Several years later, Laura met Alex Arrieta and encouraged him to try juicing to combat autoimmune and inflammation issues he was facing.
"You get turned on to (juicing), because you feel like, 'I'm doing something good for myself,'" she says.
"(Alex) felt and saw such an improvement; and that's when it really became (his) passion to learn more about nutrition, and he's far exceeded my knowledge," Laura says.
The couple opened Juicehaus raw juice joint in downtown Varina last December, as a tangible way to share years of nutrition and health research with the community, Alex says.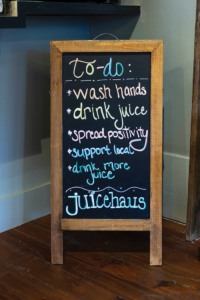 Juicehaus specializes in raw, made-to-order juices in combinations developed to support the body's major systems, like digestive, circulatory and immune. Smoothies, local kombuchas, coffee and other locally made specialty items are also for sale.
"When we eat these products, we are really eating things that our bodies assimilate at a cellular level, not just fulfil our dopamine receptors. … That's the type of information that we want to get out. Not only has it been positive and impactful in our own lives, but the lives of family and friends," says Alex.
Health and nutrition became a passion project for Alex who likes to discuss current studies and research with medical professionals and other wellness enthusiasts.
"You see a lot of medical and physiology books (here). When you don't have depth and validity to the products that you are putting out, then it's just a trend," he says.
The warm and eclectic cafe features chemical formulas for vital substances — chlorophyll, hemoglobin and dopamine, among others — adorning the walls and a long countertop crafted from old National Geographic magazines, which came from Alex's personal collection.
"The bar is open for a reason, because we want people to see nothing is watered down," says Laura. "We are taking this produce right in front of you and running it through the machine at that very moment."
Beets, spinach, apples and kale feature prominently in the juice bar menu, along with more unexpected choices like broccoli, sweet potato and cranberries. Plenty of powerhouse supplements like spirulina, wheatgrass and maca root can be added on. About two pounds of produce goes into one 16 oz juice.
Juicehaus chef Jenny Drake enjoys helping customers create different combinations to suit their taste or fulfil their nutrition needs.
"There's more creativity, and it's fun for the customers to be able to customize their order," Drake says.
"We are basically a reset button," says Laura. "There are a lot of wonderful restaurants in this town. We love them, but sometimes you need a reset button, and that's what we want to be — that reset, that balance."
Ready to jumpstart your body and mind back to health?
Start with the Nutrify, Vitality and Restore juices — which were created to mimic the three basic facets of overall health: nutrition, movement and rest.
Nutrify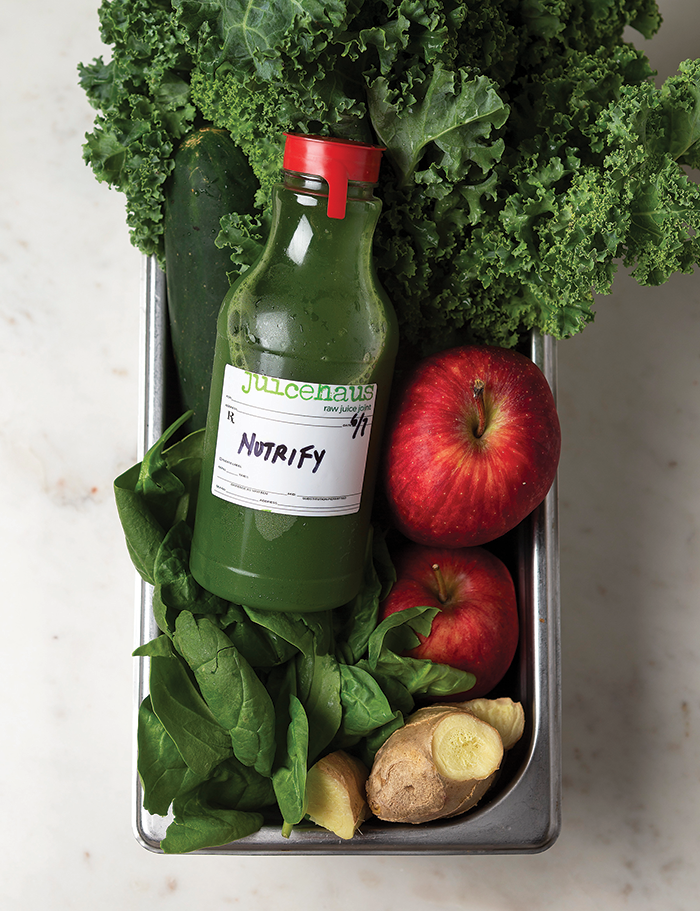 Spinach, kale, cucumber, apple and ginger
Loaded with chlorophyll from all the leafy greens, Nutrify ensures your day begins with an infusion of key nutrients.
"In the body, chlorophyll acts almost like a blood transfusion. Its chemical structure is nearly identical to hemoglobin, so our bodies assimilate them in much the same way."
– Alex Arrieta
Vitality
Beets, cabbage, sweet potato, grape and grapefruit
Ideal for a midday drink, Vitality provides long lasting energy to overcome a sluggish afternoon.
"Carbs from sweet potatoes have less impact on glucose levels than a traditional meal. Our bodies can sustain energy levels and work output more efficiently." – Alex Arrieta
Restore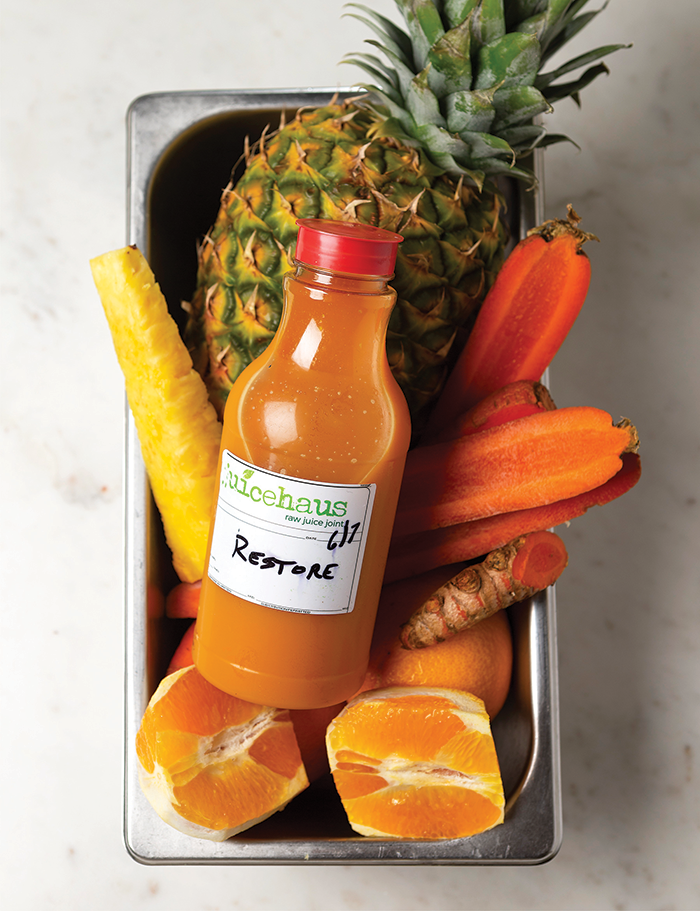 Carrot, black radish, orange, pineapple and turmeric
Lower inflammation, minimize aches and pains, and recover faster with Restore.
"Just like we have the sun, we have the night. We need that balance. If you're not getting proper rest, the restore will give you some natural building blocks, so you can restore after exercise or during sleep."
– Alex Arrieta
Juicehaus
509 North Broad St,
Fuquay Varina
(919) 285-2130
Juicehaus.org
Call ahead for pickup.
Delivery available through the Gopher app.