"He's amazingly famous," says Holly Springs fire fighter Joe Harasti, affectionately patting the head of a slightly goofy, curly-haired, black Australian Labradoodle who looks adoringly back at him.
Harasti is referring to Cinder the fire dog, who serves the town of Holly Springs as Harasti's full-time assistant, teaching fire prevention and safety. You may recognize Cinder from the banners around town, his picture on the side of the fire van or his monthly column in the town's The Source newsletter.
"I've joked with the mayor that more people would know Cinder's picture than his," Harasti says.
Harasti, the Fire and Life Safety Educator for Holly Springs Fire Rescue, travels with Cinder on a circuit of public appearances including station visits, community festivals and school tours, attending up to four events a day during their busiest times, typically May and October.
Since the fire department acquired Cinder as a weeks-old puppy, the pooch and Harasti have only spent about 30 days apart in six years.
"At this point I'd wager, I spend more time with him than I do my wife," says Harasti, who is the pup's around-the-clock handler.
The idea for a fire prevention dog originated with fire department chief LeRoy Smith.
"A neighboring department had a dog, and that kicked up some ideas. I gave the idea to Joe, and he ran with it," says Smith. "(Cinder) allows us to have conversations where we may not otherwise have had them before, because people are automatically attracted to him."
Cinder's life as a fire dog began with two years of training, aided by professionals from Top Line Canine Solutions and USA Dog Training Camp.
"He does not respond to voice commands. It's intentionally all hand signals so he can respond to different types of situations," says Harasti.
For example, Cinder can "play dead" during a presentation to teenagers about the dangers of texting and driving or during a stop-drop-and-roll lesson with elementary school students.
Cinder can demonstrate how to feel a door for heat before opening it, how to crawl low under smoke and, the crowd favorite, how to stop, drop and roll. He can also "speak" on command.
More than anything, Cinder catches people's attention and helps them engage with the messages of fire safety and prevention.
"A room full of first graders may not want to listen to me, but they will pay attention to Cinder," Harasti says. "Prevention is our thing. We want people to ultimately change the way they do things, so they can prevent injuries from fires."
As a part of it's P.R.I.D.E. initiative (Proactive Residential Information Distribution Effort), the HS fire department conducts free door-to-door smoke alarm checks and also installs new smoke alarms or batteries as needed at no cost, a service overseen by Harasti and Cinder.
Specializing in education, rather than rescue, Cinder rarely goes on emergency calls.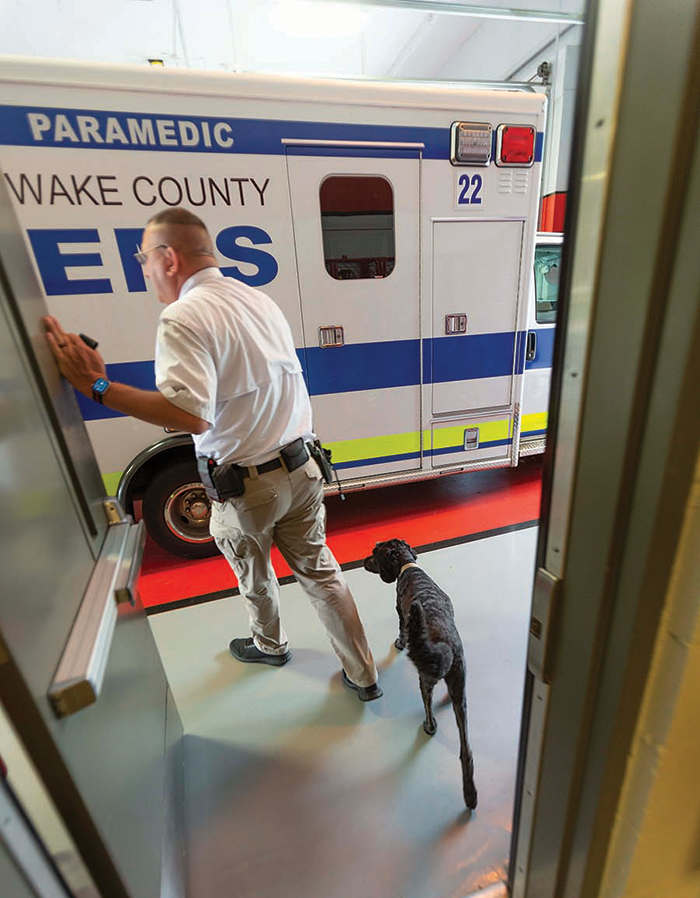 "He can help lower victims' blood pressures," says Harasti. "In cases where someone is experiencing the worst day possible, he's going to make you feel better."
Cinder was donated to the department as a puppy from Shivering Rock Australian Labradoodles in Holliday, Fla. The breeder responded to Harasti's initial inquiry in less than 12 hours. Almost all of Cinder's food, veterinary care, grooming and supplies are provided by donations from local businesses and civic groups.
Non-Emergency Safe Line: (919) 577- 7233
Holly Springs residents can call this number to request a station tour, home safety check and other non-emergency educational and prevention services.
"In the five years that we've had him, he's cost the citizens of Holly Springs less than $2,000. The town has embraced him," Harasti says.
Cinder is a model of obedience now, but in the beginning, he was a typical "tear-your-furniture-up puppy," Harasti says.
"He has a bark that is larger than he is, disproportionately so … (He has) a lot of the labrador in him; a very strong prey drive. His nose is amazing. He loves people."
Australian Labradoodles don't have fur or dander (they have hair instead), and are bred specifically for people with severe allergies. In almost six years, Harasti hasn't encountered a single allergic reaction to Cinder.
"Children and adults that have never in their lives petted a dog were able to pet him," Harasti says. "It is a joy to see that for the first time with someone."
Cinder enjoyed a well-earned vacation this spring, since town events were cancelled and contact with residents was eliminated due to the stay-at-home order, but he looks forward to meeting his fellow citizens at the station again this fall.
Tales of Cinder's fame have reached fire stations nationwide. Harasti has counseled several fire departments considering fire prevention dogs, helping them understand what to expect and how to prepare. The most important point — consistent discipline. Cinder lives with the Harasti family so that Joe is always able to maintain the structured training Cinder requires.
"It's been a joy working with him, it really has," says Harasti.
Ripken the Bat Dog
Ripken O'Donnell has all the markings of an A-list celebrity. He is recognized on the street and enters stadiums to rounds of applause. He signs autographs and poses for pictures with adoring fans. He maintains entertaining social media accounts.
There is one remarkable difference though — Ripken is a 3-year-old American Black Lab. He skyrocketed to fame in southern Wake County because of his work as bat dog for the Holly Springs Salamanders baseball team.
"The crowd loves it," says Michael O'Donnell, Ripken's owner. "I get people who say they came to the game to see Ripken."
"Ripken brings an added level of family entertainment to the ballpark experience," says Chip Hutchinson, general manager of the Salamanders. "Many of our fans have pets, especially dogs, at home, so they are so impressed with his discipline and ability to interact with fans, players, coaches … everyone!"
Game days for Ripken mirror those of the Salamanders players, beginning with a low key morning to rest up for the evening event. Before game time, Ripken heads to the locker room where he greets his teammates, enters the field for warm ups (usually frisbee toss), greets the fans in the stadium, then quietly observes the national anthem.
Once the game begins, Ripken sits in the Salamanders dugout, waiting for the signal from O'Donnell to fetch the bats dropped on Salamanders' hits.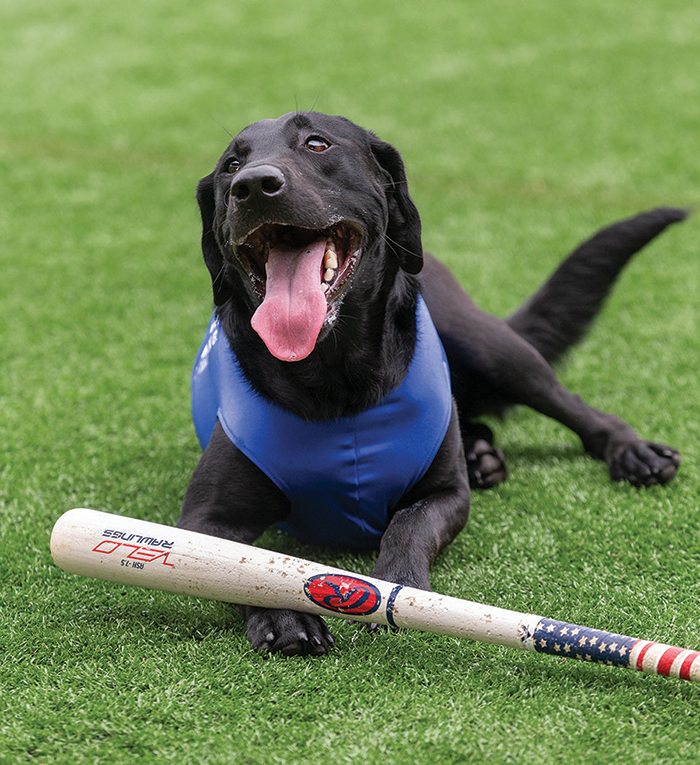 "We usually do three to five innings a game because it gets hot. After that we go upstairs to a table where people can take pictures and get his baseball card," says O'Donnell.
Ripken even gives away baseballs "autographed" with a paw print stamp.
"He loves the meet and greets afterwards. Kids lay all over him and hug on him," O'Donnell says. Ripken poses for photographs perched on a fire hydrant.
O'Donnell, a lifelong dog lover, owns Sit Means Sit Dog Training in Apex. Ripken is a great "spokesdog" for successful dog training, but the idea for a bat dog sprung from O'Donnell's love of baseball — he grew up playing the sport, ultimately playing at Radford University for one year.
"Out here on the baseball field again, bringing people to a game that I enjoy and love and grew up playing. … It's a blast," O'Donnell says.
As a Baltimore Orioles fan, O'Donnell attended tons of games to watch his favorite player, Cal Ripken Jr., hall-of-famer and longtime Orioles shortstop.
"He is my favorite player of all time. Ripken was a natural choice for a name," O'Donnell says.
Bat dog training for Ripken (the dog) began in his early puppyhood, when O'Donnell coached him to fetch small novelty bats, working as he got older up to metal bats and finally wood bats.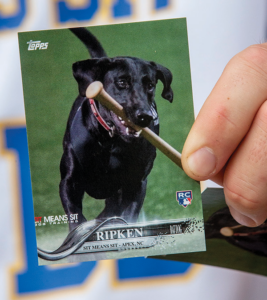 "There's a lot of focus work so he ignores everything else and pays attention to me. That helps build his personality, so people can pet him, and he's not jumping all over them," O'Donnell says. "There's a lot of impulse control work, and a lot of retriever work to get him to want to get the bat and enjoy it.
"He has a very high working drive, which is great for this. He always keeps his interest in what we are doing.
"The team loves him — he became part of the team real quickly," says O'Donnell. "Some (players) will come up, and they have to pet him before they go to bat, or will rub their bat on him — all the little superstitious stuff."
"Ripken is definitely part of the team, and even made one road trip last year," says Hutchinson. "The opposing team had heard about Ripken's popularity and said it was fine to bring him along. Their fans loved him too."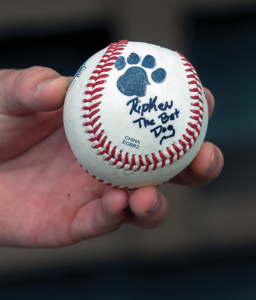 Ripken loves to show off on social media with sneak peeks of his training and fun adventures around town.
"Ripken is not only part of the team, but also the entire community," says O'Donnell.
Ripken has been recruited to serve as the bat dog for the Durham Bulls as well, when and if the Minor League season begins.
Ripken is very people friendly, thanks in part to his human brother and sister (O'Donnell's son and daughter) who hug, jump, lie and ride on him.
"I will always own a lab because of the personality," O'Donnell says.
"Everybody knows a lab as a goofy, out of control, playful dog. I just have control over that playfulness, and that's what people love."
Follow Ripken on Social Media:
Facebook, Instagram & Twitter
@ripkenthebatdog

"Bringing people to games that maybe wouldn't have come otherwise, and then they enjoy a game with their family; bringing families together is always fun. It's what I love about it."
Editor's Note: The Holly Springs Salamanders 2020 season has been cancelled due to Covid-19. Official information about the start of Minor League Baseball had not been released at time of publication. Ripken looks forward to fetching again when play resumes.