Spring Trend: Pleats, Please
Just try not to twirl while wearing flirty accordion pleats. Wear with sneakers for daytime casual.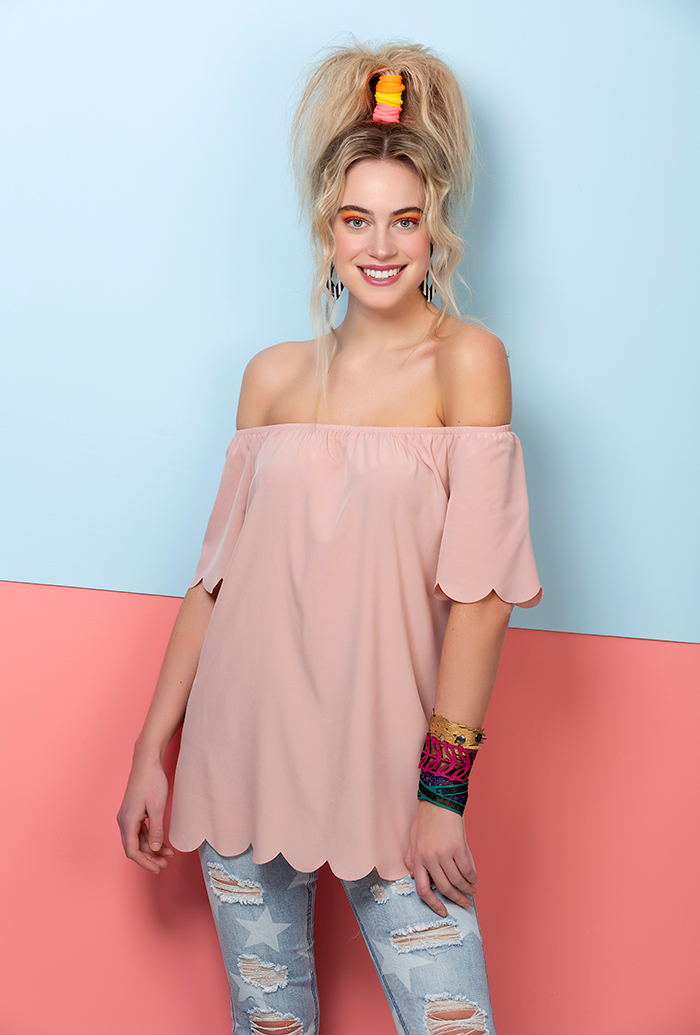 Designer Spotlight: The Painted Pearl
Designer and artist Courtney Frye started The Painted Pearl in 2012 with necklaces featuring hand-painted oyster shells she salvaged from the Carolina coast. The Painted Pearl's collection of colorful and bold accessories, like the earrings pictured below, are currently for sale in three N.C. boutiques.
Frye recently launched a monthly subscription service called The Earring Envelope that delivers an exclusive style of her signature statement earrings right to your door.
"Jewelry is a way for us to express ourselves without having to say a single word. Invest in good wardrobe pieces, then let your personality shine through the accessories you wear."
– Courtney Frye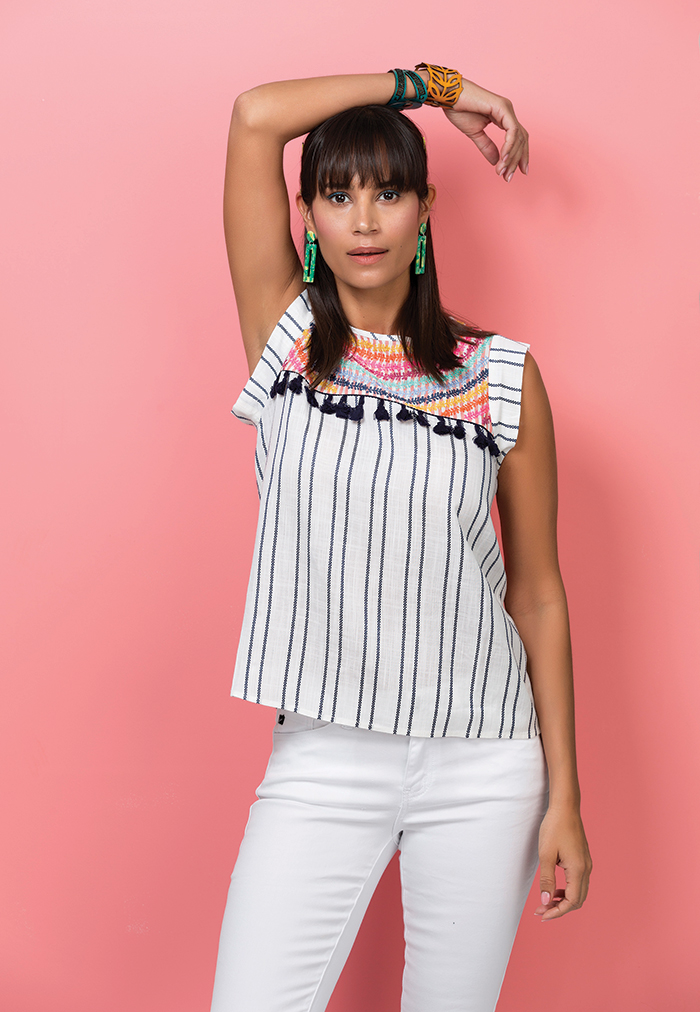 Tips from the stylists
"Colored bobby pins, hair ties and clips are huge right now. Colorful bobby pins are a great place to start, because you can create really fun looks without spending a ton of money."
– Amanda Kimball, hair stylist
"A great way to experiment with the bold-and-bright trend is to smudge your favorite color into the lash line and add mascara. Remember, a little goes a long way!"
– Jen Bigas, makeup artist
"Layering hair accessories into a unique shape or stacking on top of each other can add a lot of drama. Above all, have fun with it!"
– Amanda Kimball, hair stylist
"I love bold and bright avant-garde looks. Being able to wear a splash of color on the lid or bold lips is such a fun way to express yourself."
– Jen Bigas, Makeup Artist
Spring Trend: Tie-Dye
Tone-on-tone or monochromatic tie-dye, like the jumpsuit seen on pg. 53, is a fresh update to 1960s vintage tees.
Spring Trend: Head-to-Toe
Choose matching sets, maxi dresses or jumpsuits for a playful top-to-bottom look.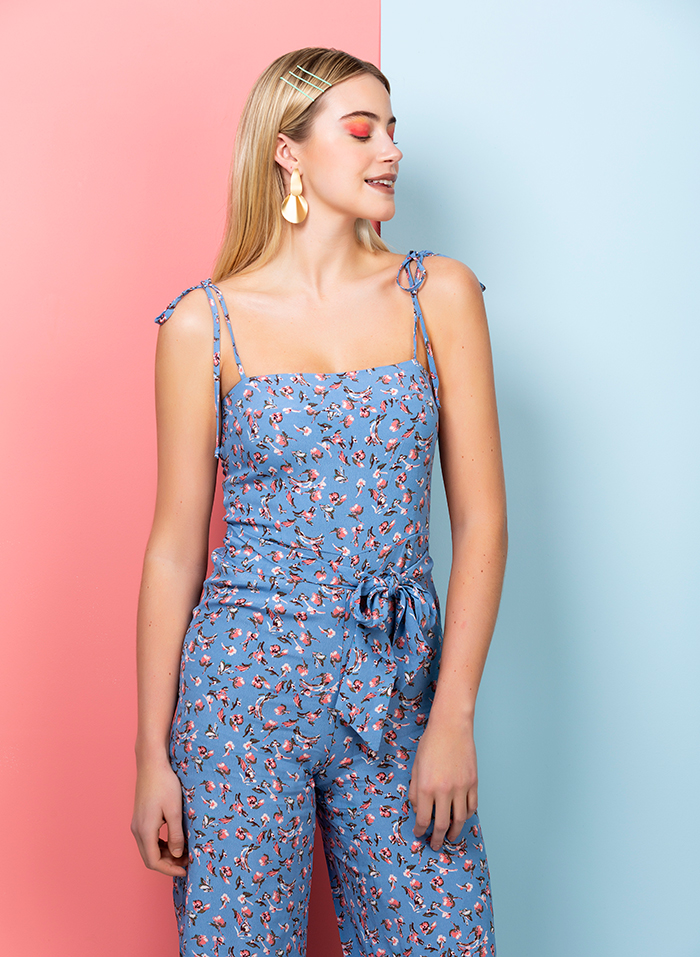 Designer Spotlight: Simply Adorned 79
Cary native Amanda Duncan founded Simply Adorned 79 in 2018, crafting laser-cut, hand-dyed leather jewelry. Her earrings and bracelets are for sale in 10 boutiques across N.C. and online.
New this spring is a collection of layered botanical print earrings, like the Ginkgo Leaf pair pictured below.
"Leather is one of those materials that is often seen as masculine. I wanted to take leather and … fuse it with a delicate, colorful weightlessness, so that each piece has a balance of both masculinity and femininity."
– Amanda Duncan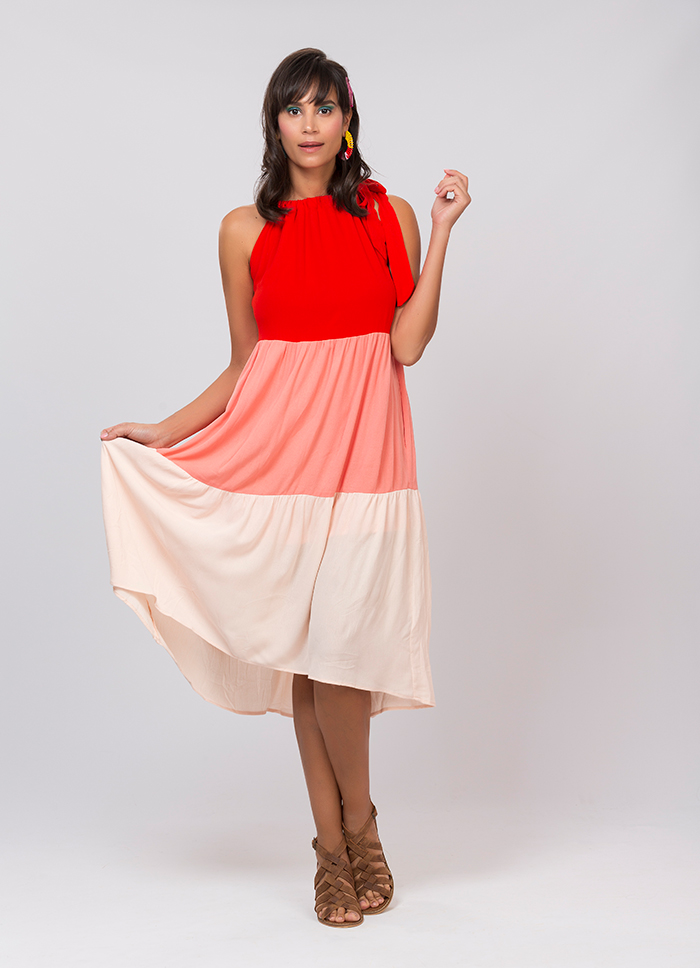 Special thanks
Special thanks to Amanda Kimball and Jen Bigas with Twisted Scizzors Salon and Spa for hair and makeup styling.
Twisted Scizzors Salon and Spa
950 High House Road, Cary
(919) 303-7775
twistedscizzorsonline.com
Models Shannon Keens and Abby Roming are with Directions Model and Artist Management.
Pop to the Shop
Gifted Boutique & Wrappery
1112 Kentworth Drive, Holly Springs
(919) 762-7785
giftedboutiqueandwrappery.com
Holl & Main
Park West Village
3013 Village Market Place Morrisville
(919) 377-8005
hollandmain.com
The Painted Pearl
thepaintedpearl.com
Available Triangle-wide at Simply Anchored Gifts and Zest Cafe & Home Art.
September & Company
2859 Jones Franklin Rd, Raleigh
(984) 200-0165
septemberandcompany.com
Simply Adorned 79
Simplyadorned79.com
Available Triangle-wide at Simply Anchored Gifts, Gifted Boutique & Wrappery and Cary Pottery.
Swagger Clothing and Gifts
2425 Kildaire Farm Road, Suite 503, Cary
(919) 858-5884
swaggergifts.com
Swoon Boutique
2112 Werrington Dr, Holly Springs
(919) 586-7003
heartswoon.com