In southern Wake, there's no shortage of delicious chow to coax those beers down oh-so-smoothly.
Here are five of our favorites bites — big and small — to nibble with a cold one.
Bavarian Soft Pretzel Sticks
Move on out, yellow mustard. The Bavarian Soft Pretzel Sticks at Bass Lake Draft House are paired with creamy beer queso cheese and spicy Sriracha honey mustard dipping sauces — both of which are sure to tantalize your tastebuds.
"It's unique," said owner Charles Miller, of the sauce options. "A lot of people don't tend to go to that extreme."
Try them with a Seven Saturdays from R&D Brewing, a 6.2 percent ABV with notes of grapefruit, mango and passionfruit, giving the brew a bittersweet finish.
Bass Lake Draft House
124 Bass Lake Rd., Holly Springs
(919) 567-3251
basslakedrafthouse.com
Mac & Cheese Burger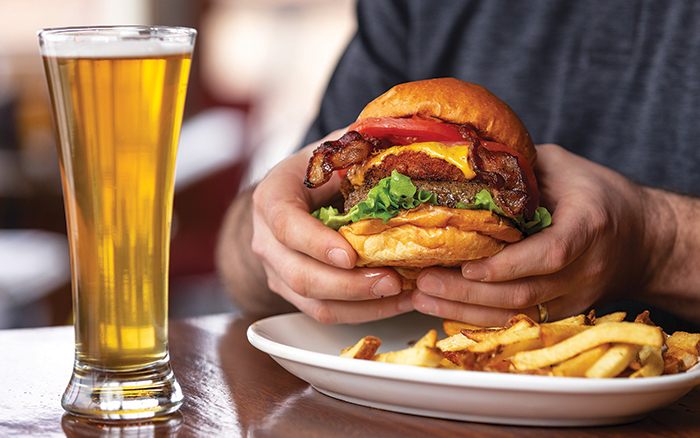 Burgers are bomb at Town Hall Burger & Beer. This chargrilled Angus beef burger, topped with a fried mac and cheese patty, bacon bits, lettuce and tomato, is quite the handful.
"It's one of those things that you have to have on the menu," said general manager Jason Chalmers. "It's something that's different than everyone else."
Pair with a classic Hardywood Park Pilsner, a light, 5.2 percent ABV beer with a slightly hoppy and malty taste.
Town Hall Burger & Beer
301 Matthews Dr., Holly Springs
(919) 335-5388
townhallburgerandbeer.com
Pint O' Bacon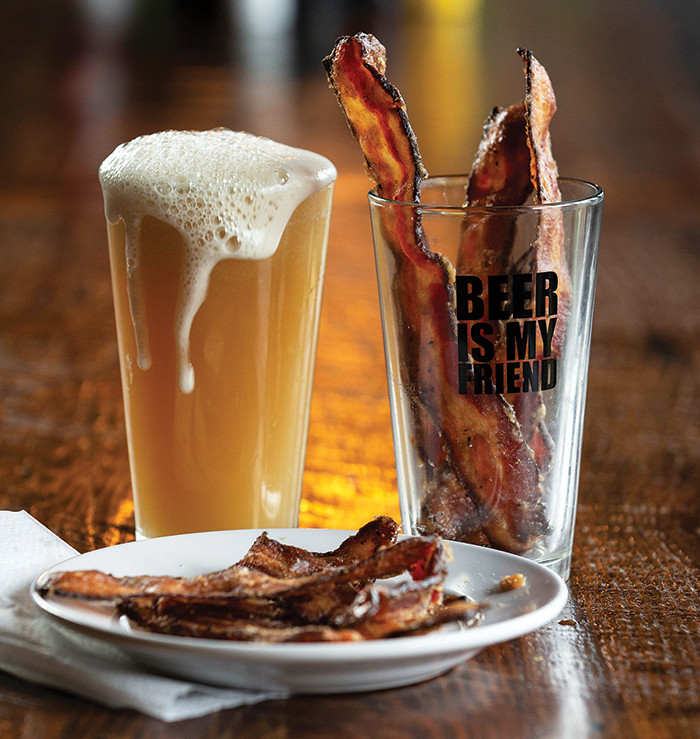 Aviator Brewing Company founder Mark Doble fills his restaurant menus with foods he personally wants to eat. "And who doesn't like bacon?" Doble says.
The Pint O' Bacon — seven sweet and savory strips served in a pint glass — is a top seller at Aviator SmokeHouse and the Tap House across the street. "Thick cut, hickory-smoked bacon is rubbed with spices and brown sugar then baked in the oven," Doble says.
Pair with Aviator's The Haze is Strong With This One IPA or the Black Mamba Stout.
Aviator SmokeHouse
525 E. Broad St, Fuquay-Varina
(919) 557-7675
aviatorbrew.com
Chicken Wings, Duh.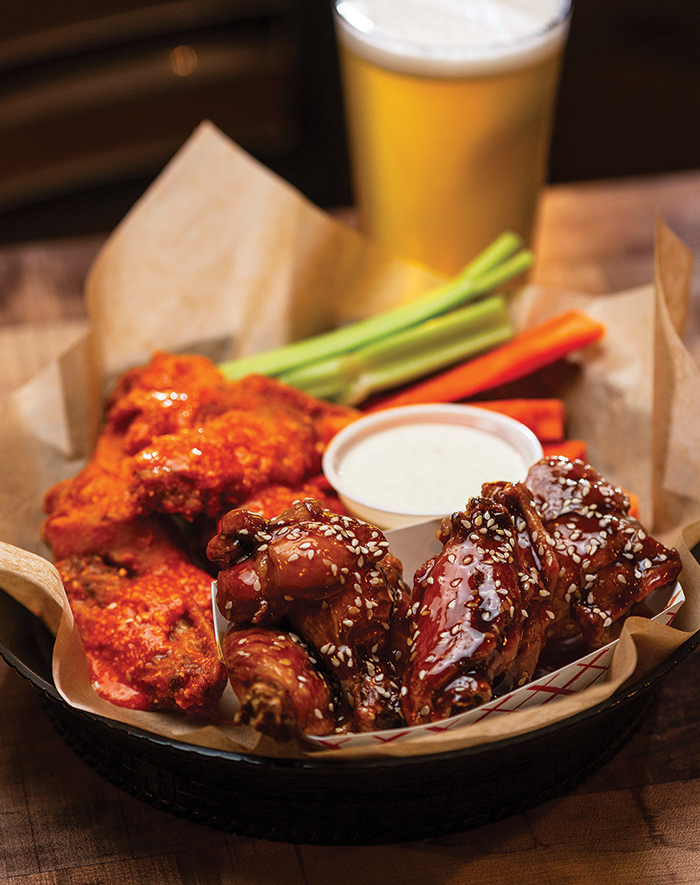 Classic bar food keeps the masses happy at Wingin' It Bar & Grille, but it's the wings that keep 'em coming back time and again. Choose traditional or boneless wings, and you'll find staple flavors like buffalo and teriyaki are always on point. Adventurous eaters can select from more than 20 lip-smacking sauces, including Pina Colada, Chili Lime and Bayou Cajun. For a sweet-and-savory homerun, order the Hot Honey.
"We sell about 18,000 of our award-winning wings each week," says owner Mike Anderson, who runs Wingin' It along with his wife Beth Anderson. "Our popular Awesome Sauce is a mixture of buffalo and garlic parmesan."
Try with Wicked Weed Brewing's Pernicious India Pale Ale.
Wingin' It Bar & Grille
1625 N. Main St, Suite 109, Fuquay-Varina
(919) 762-0962
winginitbarandgrille.com
Beer Brat Sandwich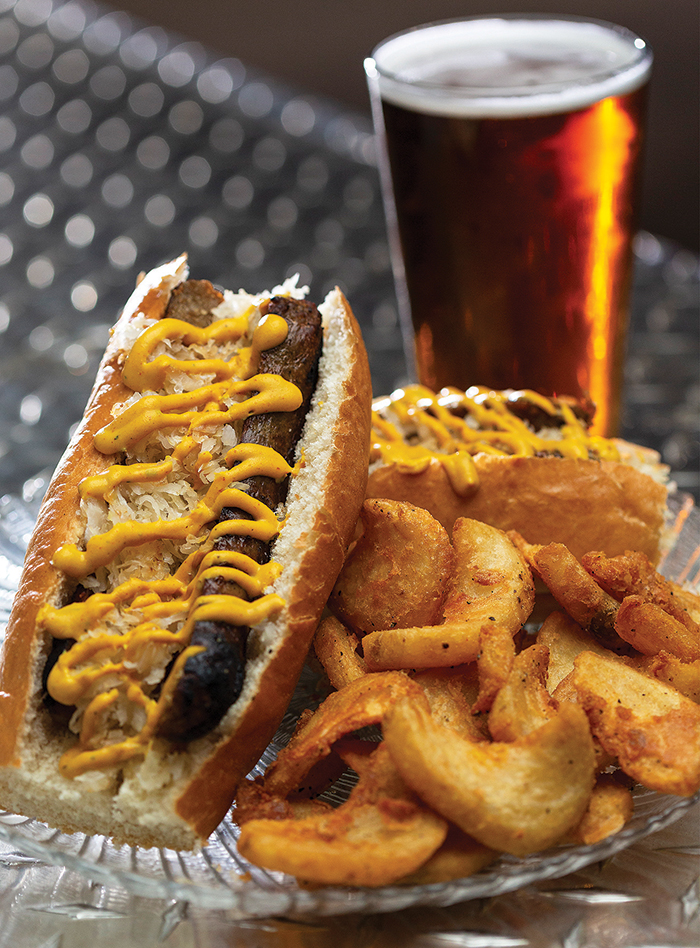 People come to relax and hang out at this popular billiards-and-burgers outpost, where we favor the flavorful beer brat sandwich with sauerkraut, spicy mustard and perfectly seasoned sidewinder fries. Bratwurst is sourced locally from the Carolina Butcher Shop in nearby Angier.
"We marinate (the brats) in Yuengling or Guinness for 12 hours," says manager Trent Harris. "It's also a lot of food, so you're definitely not going to leave hungry."
With the brat sandwich, try Maniacal Beer Project lager.
"It's brewed at Aviator Brewing Company exclusively for Triple Barrel," says Harris, and is available on draft for $2.50 every day.
Triple Barrel Tavern
2221 N. Grassland Drive, Fuquay-Varina
(919) 762-0940
@triplebarreltavernfuquayvarina