Big Idea: A hospital can adapt to a changing community.
My conversation with Roy Tempke, COO of the new UNC Health Rex Holly Springs hospital began as do many of my interviews — discussing the rapid growth of southern Wake County and the area's appeal to families with young children.
"Right now (residents) have to drive to Cary for the closest hospital or to Rex (in Raleigh) — more than a 30 minute drive through lots of traffic," says Tempke.
The opening of UNC Health Rex Holly Springs will be delayed until November due to staffing concerns during the current surge of COVID patients.

But in a matter of weeks, that all changes.
UNC Rex Holly Springs hospital opens to patients later this fall, ending a development and construction phase nearly 20 years in the making.
Of course, the opening of the hospital is not an end, rather, the beginning of a relationship between the community and the physicians, nurses and staff that will provide care during some of life's most exciting and nerve wracking moments.
The building is 240,000 sq. ft with 50 patient beds at opening. There will be a 24/7 emergency room, operating and procedure rooms, including one specifically for c-section patients, and shell space — or planned expansion — for much more.
"We will open up with three main focuses," says Tempke. "The first is obstetrics and gynecology. We already have more than 100 births scheduled between September and January."
What was that about young families, again?
Special Feature: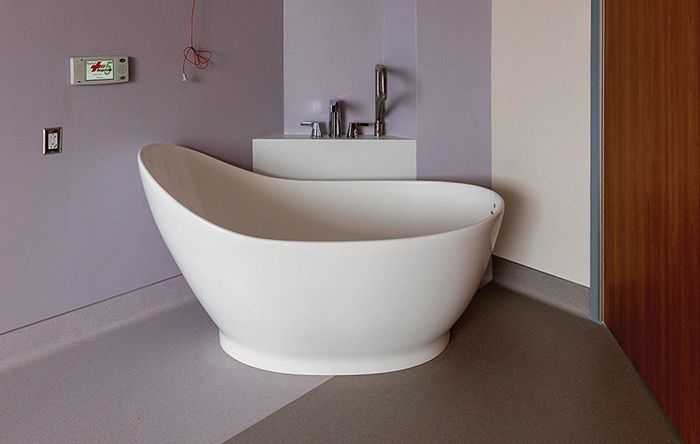 UNC Health Rex Holly Springs expects to host many births, and designed it's labor rooms to have laboring tubs.
"If a woman is uncomfortable, sitting in a tub of warm water can be really relaxing," Temple says.
Tubs are for laboring. Births will not occur in the tub.

"The second focus is orthopaedics. We do a lot of orthopaedic surgery, a lot of joint replacements," he says. "And the third is general surgery — gallbladder, appendix removal, things like that."
There will be a Da Vinci robotic-assisted surgery system on site, which aids surgeons with accuracy and precision, and is a less invasive option for many procedures.
"The trick with a small hospital is you really don't know your volumes, but you need to be prepared to be able to handle most anything that comes your way.
"What we focus on will change multiple times before it's all said and done. Where we land will be different a year from now, and likely different five years from now. It will depend on the population, who comes to see us and our ability to flex and adapt," says Tempke.
Adaptation began last year when COVID-19 changed the world. Fortunately, hospital construction was only minorly impacted, Tempke says.
"We were in a sweet spot when (materials) were already ordered and on the way and the building was well underway. We got lucky there."
Extra safety measures had to be implemented — most importantly cleaning the site from top to bottom every night with an airborne disinfectant.
Additional adjustments were made to furniture purchases and placements.
"We added screens in certain areas and tried to improve physical separation in waiting rooms," Temple says.
The hospital was already designed with "the ability to completely isolate two nursing units, for 12 beds total, should we have to deal with this again, or anything in the future."
During his 28-year career with Rex, now UNC Rex Healthcare, Tempke has served many roles, including early on as a physical therapist, moving into nursing home management, care management and vice president of operations.
"I enjoy challenges. I enjoy operations and heavy patient contact. I work with physicians and nurses and social workers, therapists — all different levels of profession and education together — to solve complex problems. I really enjoy that," he says.
As the chief operations officer at the new Holly Springs facility, Tempke has been tasked with implementing the UNC Rex culture of customer service, strong leadership and top-level care in a new community.
"I grew up in a small town, I knew how valuable the hospital was to our town. It's no different 30 years later in Holly Springs, in southern Wake County. A hospital symbolizes the importance of the area, recognizes the level of growth that is going on."
UNC Health Rex Holly Springs
850 South Main Street, Holly Springs
rexhealth.com