Big Idea: A building can foster local identity.
"When it comes to growth, half the people think growth is great and half don't want it. Building a downtown (in Holly Springs) is the one thing that almost everyone agreed on," says Chris Harol, Holly Springs resident, business owner and real estate developer.
Holly Springs' downtown, or Village District, has come a long way in the last few years, with the addition of a parking deck, restaurants, shopping and locally-driven mixed-use buildings.
Chris and his brother, Jon Harol, have been invested in that change for many years. They founded the Holly Springs Coworking Station, previously housed in the old police station, and are leading the development of The Block on Main, downtown's newest addition.
The brothers are also the owners of a medical lab consulting firm, Lighthouse Lab Services. It was the growth of that company that led the pair down the path of downtown development.
"We had four different locations throughout Holly Springs where we had employees tucked away. We needed to get everyone into one space," says Jon.
When they didn't find one building to address all their needs, they decided to build.
"That's how we got into development," Jon says.
"We ended up talking to the town about economic development and sat on the board for downtown revitalization. … (The town) wanted to revitalize downtown; we caught a bit of that vision, too," he says.
"Our vision is to create a vibrant downtown, and we think that's going to be a mix of office space, retail, restaurants and some residential," says Jon.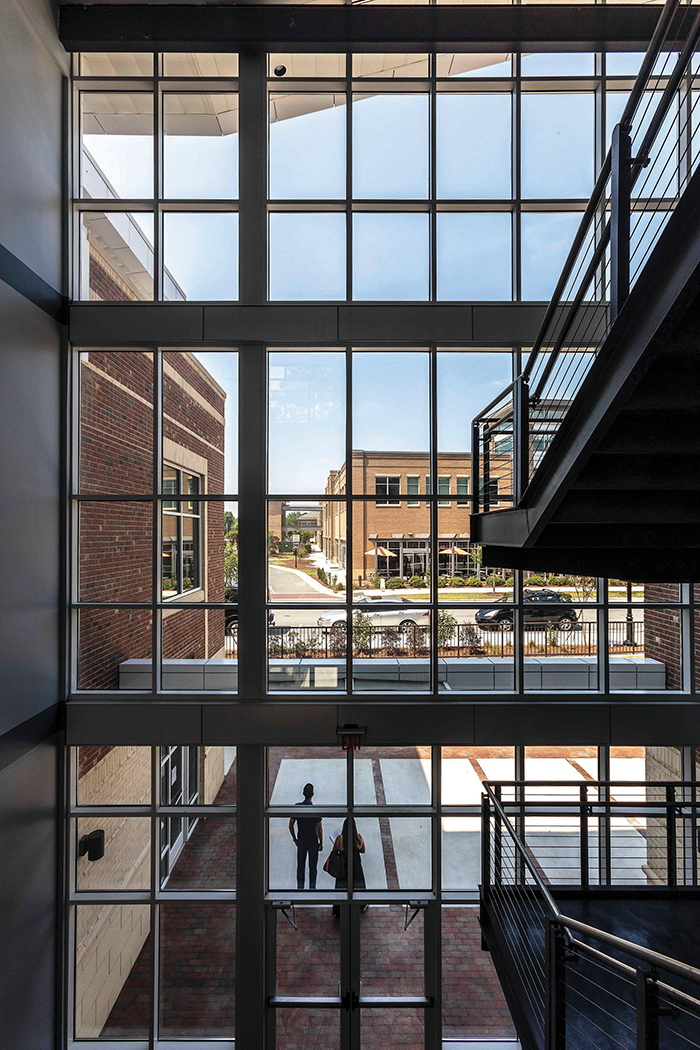 Thus began the development of The Block on Main, 54,000 sq. ft. of commercial, mixed-use space. As of June, there were only four vacancies left in the building, the rest are occupied or have tenants committed and opening soon.
The retail businesses include a children's boutique, salon, yoga studio, restaurants and an ice cream parlor. Office suites occupy much of the upper floors, except a to-be-determined rooftop restaurant, for which Chris and Jon are still vetting possibilities for the perfect date-night restaurant with creative food and cocktail menus.
The Holly Springs Coworking Station, which outgrew its original home, is one of The Block's anchor tenants, occupying 11,000 sq ft, divided into 47 offices.
"We instantly filled 45 offices on day one, confirming that people will want to come back to work. Enough are tired of working from home and wanted an office," says Chris.
The Coworking Station has served an important role as a hub of entrepreneurship and innovation in the Harol brothers' vision for downtown.
"It allows a business to start with a tiny office and grow," says Jon. "Providing the opportunity to expand without having to sign a big lease on a big space, if you don't know what your future holds. You can breathe as a company and get bigger or smaller by just picking up a couple more desks."
The Coworking Station partners with LAUNCH Holly Springs, providing free space to host training sessions and program events, and works with the Holly Springs Chamber of Commerce and Rotary Club to promote leadership and networking events.
"It's all about creating a fertile business environment for innovation to happen," says Jon.
Chris and Jon are working intentionally to create an atmosphere that is anything but corporate — think beer on tap in the Coworking Station cafe and a ping pong table conference room framed by garage doors.
"We committed early on to only signing leases with local operators, so every tenant that we have is unique," says Chris, who serves as the property manager for the building.
"We know all the operators personally. We work in the building every day. … That's an important factor when people are deciding where they want to go.
Block on Main Businesses
Anewgo
Beau Monde Salon Suites
Bep Vietnamese Kitchen*
Coworking Station
JT's Creamery*
Mamma Mia Italian Bistro
Peek-A-Boo Grins
Prana Yoga
Studio 557
*Coming Soon

"Hopefully they understand, for us, it's about more than just the building, it's about the community we are trying to build."
The Block on Main plans to host outreach events, charity partnerships and family activities, like a children's reading series, game nights and food truck Fridays.
"Fun things for the community to get excited about, bring the kids out, gather that sense of community," says Chris.
The building itself was designed as a gathering spot, incorporating public art and an outdoor amphitheater for hosting music and special events.
"It was another way to get the community involved in the project," says Chris, of the Block's three murals, painted by North Carolina artists Susan Buck, Lacey Crime and Chris Frisina.
"I think a downtown needs to have it's own identity and unique feel," says Chris.
The Block on Main
300 S. Main Street, Holly Springs
(919) 802-7767
theblockonmain.com