Parents, how do you handle "back-to-school?" Do your kids pose in the front yard every year with a cute, Insta-worthy chalkboard? Do you throw them on the bus with a celebratory mimosa in hand? Do you low-key feel bad about how happy you are to go an entire day without hearing "I'm bored?" Do you cry sorrowful mom tears and get in the carpool line an hour early, because you miss your precious angels (that's crazy, but OK)?
Your answer might very well depend on the town in which you reside. Just like in middle school, you become who you hang around, so don't be surprised if your ZIP code has drastically, if subconsciously, affected your parenting style.Which "back to school" parents do you identify with? Are you living in the wrong town? Read on to find out.
*ETA: Despite the obvious stereotypes; no Karens were harmed in the creation of this article
Holly Springs: Annoyingly Impressively Well-Prepared
Parents in Holly Springs started asking "back to school" related questions on the Interwebs back in June, so I think it's safe to say that Kayden's Under Armour backpack has been stuffed full of Ticonderoga pencils since July 4th. Oh, you're not a type A person? Trust me, just a few months of living in this town will have you hiring private tutors and polishing your porch lanterns. Just remember, no self-respecting Holly Springs mom would show up to the bus stop wearing pajamas! Crossfit opens at 6 a.m., and they're either on their way or they've just returned and wearing the workout clothes to prove it.
Fuquay-Varina: Completely Clueless
Fuquay parents crowding the aisles at Walmart and fighting over the $0.99 glue sticks a day before school starts? Typical. If you find yourself in a blind panic with less than 24 hours before your child starts school, this might be the town for you. Do you struggle to remember what dividers looks like? Do school supply lists asking you for three-ring, poly, pronged, five-tab, and 10-pocket folders give you stress IBS? Do you find yourself buying the store-brand pencils even though the school "recommends" Dixon or Ticonda-whatever? Yeah, welcome to the club. On the plus side, Fuquay bus stops don't have a dress code — you either look halfway decent, or you stay in the car because you may or may not be wearing pants.
Apex: The Overachiever
It's amazing that kids in Apex even have time for school given how many extra-curricular activities they're involved in, but mama didn't pay 500K for a house in a good school district for nothing! Approximately three weeks before school begins, Apex parents pick up their kids from tennis/swim/volleyball/lacrosse practice in their Honda Odysseys and descend upon Super Target in droves. Apex moms drain the Target school-supply section faster than they drain their wine their kids drain their iPhone batteries, so if you're new in town, be aware that Janet bought that last 10-pack of erasers two weeks ago, and you'll probably have to hit up OfficeMax. THANKS A LOT, JANET.
Cary: The Pinterest Parent
If you're the type of parent who packs their kid's lunch in a Bento box and cuts their crustless sandwiches into flowers, then you might be trying too hard living in Cary. People in Cary are as precious about "back to school" as they are their town's color scheme (beige), so throwing a lunchable in a brown paper bag simply won't do. By the time these kids get on the bus get dropped off at school, their moms have already cried a river of organic, essential oil-infused tears all over their favorite pair of TOMS.
Lillington/Angier: The Anti-Coddler
Parents in Lillington and Angier don't believe in coddling their kids, so don't expect much fanfare, unless you count the annual trip to the Fuquay Kohls for back-to-school clothes. You'll never find a parent in these parts walking their 11-year-old to the bus stop and holding their engraved L.L. Bean bookbag without being judged by every memaw in town. For parents of young ones, acceptable school bus-stop clothes include cookie monster pajama pants, sweats, and whatever the hell you want; no one cares.
Raleigh: The Mommy Blogger
Parenting styles in Raleigh can vary widely, but most notable are North Hills moms that combine Cary, Apex, Holly Springs, and Satan himself a healthy dose of affluence. While Holly Springs and Apex residents rely on Dick's to provide trendy backpacks and back-to-school wear, parents in Midtown go the extra mile and purchase brand names that are worth more than the laptop I'm using right now (honestly, that's not hard). By the time the class bell rings, Raleigh moms have already uploaded at least 25 back-to-school pics on Instagram and penned a poignant "open letter" to their kid on their blog. Bus-stop etiquette includes, HAHAHAHA just kidding, buses are for the plebs.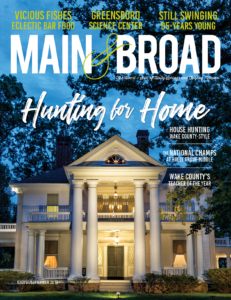 Your "Back-to-School" Personality According To Town