On any given morning in downtown Fuquay-Varina, you can find a tennis match underway at Action Park.
The play is competitive, but friendly, with its own round-robin-style format. Open to all ages and ability levels, male or female; the "Action Park Tennis Group" plays year-round, in the blazing heat of summer and near-freezing temps of winter.
When they say they're open to all ages, they really mean it.
There are more than five players over the age of 80. Among them are Fuquay residents Jack "Papa Jack" McGarrigle, 85, and Gene "Gene, Gene the Tennis Machine" Annunziata, 89.
George Smith's Quick Picks:

Singles or Doubles
Federer or Nadal
Wimbledon or US Open (Has attended both!)
At the Net or At the Baseline
Coffee or Tea
Beer or Bourbon Hard Cider
Beach or Mountains
Sunrise or Sunset
Cake or Ice Cream
Cats or Dogs
Breakfast or Dinner
Chocolate or Vanilla

I joined them on a fiery morning in May, when the group was celebrating the 95th birthday of one of its longtime players, George Smith.
At 95, Smith plays as many as five days a week, often going to the gym afterward for strength training. He's been playing with the Action Park squad for at least 12 years, with no signs of stopping.
"He's our inspiration," says Don Haines, fellow tennis player and friend. "George is consistent in his determination to keep playing, and he plays well, as an opponent and a partner."
"He's my poster child for tennis as a lifelong sport," says Laura Weygandt, executive director of Western Wake Tennis Association, who attended Smith's birthday match and celebratory lunch. "When I meet kids that are 6 years old, I have to do the math really fast. I'm like 'You've got 89 years to play tennis'. And it's true."
Smith is soft spoken and humble, giving credit to God and a healthy diet for his longevity and continuing active lifestyle. He admits, tennis plays a big role as well.
Smith first learned to play as a teenager, but claims he was "never really that good." He shelved his racquet while he and his wife Loretta, known as Rusty, raised four children, then picked it up again in his 50s.
"It's good exercise. You can still do it as long as you're able to walk around," Smith says. "Your reactions don't have to be quite as fast as they do for other sports."
"This is such a good group of people, so friendly and caring and polite," says Smith. "We don't criticize you when you make a mistake."
Criticism is replaced by friendly banter freely tossed back and forth, as you would expect in a group that has met almost daily for over a decade. Members chide each other about their age or their penchant for cheating or their on-court language.
"George likes to set a good example for the younger people, like Gene (Annunziata, age 89) and Matt (Perri, age 80)," says Dave Nershi with a chuckle.
"We laugh at each other," says Shirley Callis, the "youngster" of the group. "It's fun to get out here and be around different people to have a good time."
That "fun" is a vital element for seniors like Smith, emphasizes Weygandt.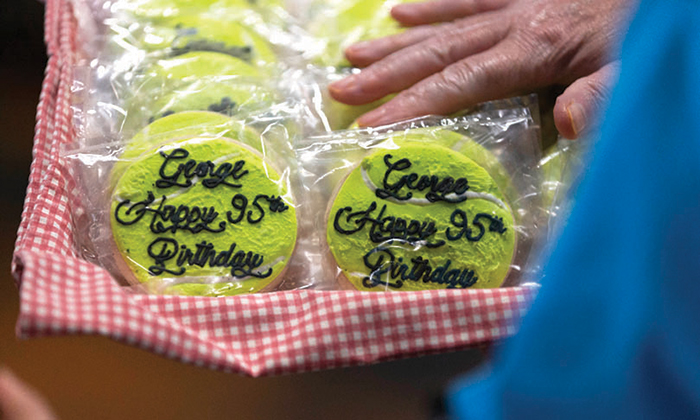 "It's a mental sport — you have to think — but it's the social aspect of tennis that makes a huge difference," says Weygandt. "Racquet sports tend to be more social.
"Tennis players live 9.7 years longer," she continues, citing a Danish study published in 2018 that compared the effects of different sports on life expectancy, with tennis taking the top spot, followed by badminton. "Tennis is therapy for a lot of people."
The "close-knit" Action Park group has stood together through many of life's major events: birthdays, anniversaries and some funerals.
"It's a great support system already built in," says Marcy Smith, who attended the birthday lunch with her father, 85-year-old Jack McGarrigle. Smith has witnessed how the fellowship with the other players, now friends, has lifted her father up during tough times.
When pressed, Smith finally — jokingly — admits, "Tennis is the secret."
At 95-years-young, I'm inclined to believe him.
"This is special," says Haines. "I have a new hero."