Origins: Canned wines and spiked seltzers are rising significantly in popularity; think popular brands like Truly, White Claw and Smirnoff Ice. All of these are made from malt beverage, not with distilled alcohol, such as vodka, rum, gin or whiskey. Malt beverage is very similar to beer. A base grain or sugar is first fermented with yeast, then flavored, carbonated and canned.
At Durham Distillery, we make canned cocktails that are focused on premium quality. They're made with our distilled alcohol — gin or cucumber flavored vodka — and only natural, gluten-free ingredients. We want you to have the experience of a cocktail you'd order at a bar, now in the convenience of a can.
FLAVOR: Last summer, we launched our first two canned cocktails: Conniption Gin & Tonic and Cucumber Vodka Soda. Now, we couldn't be more excited to introduce the third flavor in our series: Conniption Gin Rosé Spritz.
Taking inspiration from fruit-forward spritzes in Europe and the popularity of rosé wine, our Conniption Rosé Spritz is made with Conniption American Dry Gin, rosé and petite sirah wines, a hint of sweetness with house-made simple syrup, all-natural strawberry and lemon flavors and bright, bubbly club soda.
It is all precisely blended for you to take poolside, beachside or tailgating for your favorite team. Perfect for when you're feeling festive, not fussy.
Durham Distillery
711 Washington Street, Durham
(919) 937-2121
durhamdistillery.com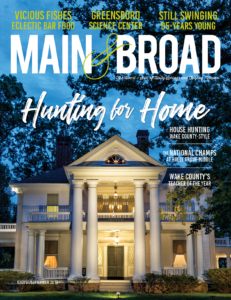 Conniption Gin Rosé Spritz from Durham Distillery