You don't have to drive to the coast to find quality fresh seafood. Instead, simply visit The Blind Pelican in Holly Springs to enjoy first-rate fish, shrimp, lobster, crab, oysters and other ocean-centric delights.
Founded in 2019 by Andrew and Nikki Stafford, proprietors of the popular My Way Tavern downtown eateries in Holly Springs and Raleigh, The Blind Pelican showcases the creative culinary talents of executive chef and operating partner Michael Flood.
"Fresh seafood is delivered daily, and it's mostly sourced from the east coast," says Nikki. "We want people to feel like they are escaping to the beach without leaving town."
Provisions are served up in a casual and accessible nautically themed dining space. There's an eye-catching lobster shell wall near the front entrance along with a suspended metal pelican donated by a local artist. Rustic lobster traps serve as casings for light fixtures perched over comfy banquettes.
The restaurant's focal point is a stunning community table fashioned from reclaimed wood. Hovering above the table are pieces of driftwood with hanging Edison lights.
"The wood for the table came from two piers taken down during Hurricane Michael (in 2018)," Nikki explains, "one from Kitty Hawk and another from Currituck."
When it comes to the food, start your dining experience with some creamy, hot crab dip, gator bites or crispy conch fritters. You also can't go wrong with a bowl of she crab soup or hearty seafood chowder.
As for standout entrees, consider the Maryland-style crab cakes, Low-Country shrimp & grits with andouille sausage and lobster & scallop pasta involving tomatoes, roasted corn and artichokes served atop a bed of angel hair pasta in a light cream sauce.
"Everything is made from scratch, including salad dressings and sauces," Nikki says, adding that other well-regarded items include a blackened grouper sandwich with remoulade and her personal favorite: buttermilk- marinated fried shrimp.
Like oysters? Choose from raw, steamed and baked options, the latter of which come in four inventive varieties. One dollar oysters are offered on Sundays. Lobster rolls with house-baked split-top buns are presented in Connecticut and Maine styles, which are served cold and hot, respectively.
Don't ignore the enticing daily food specials like all-you-can-eat crab legs on Monday, fresh lobster on Wednesday and sushi nachos with ahi tuna, shrimp, crab and avocado Thursday through Saturday from 4 p.m. to close.
Save room for rewarding dessert selections such as Key lime pie, cinnamon-infused bread pudding and decadent chocolate Ho Ho cake with cream cheese frosting.
In a nod to a song written by musician Jimmy Buffett, the restaurant's "Boat Drinks" menu features a wide array of craft cocktails, beer and wine. Check the website for daily drink specials.
"Our most popular cocktail is not even on the drink menu, but it's a smoked old fashioned with an orange peel and maraschino cherries that are soaked in bourbon for 30 days," Nikki says.
For a splurge-worthy after-dinner beverage, try a Snickerdoodle or Butterfinger martini. Service at The Blink Pelican is friendly, accommodating and notably experienced.
"Our staff members are the backbone of the restaurant," Nikki says with a smile. "We don't want them to be order takers but rather to have fun and bring an upbeat energy to the table so our guests can have a really positive experience."
The Blind Pelican is open seven days a week. Reservations are not accepted but there is a call-ahead waitlist option. Outdoor seating is offered and fills up fast. In addition to dine-in service, takeout, curbside pickup and delivery are available.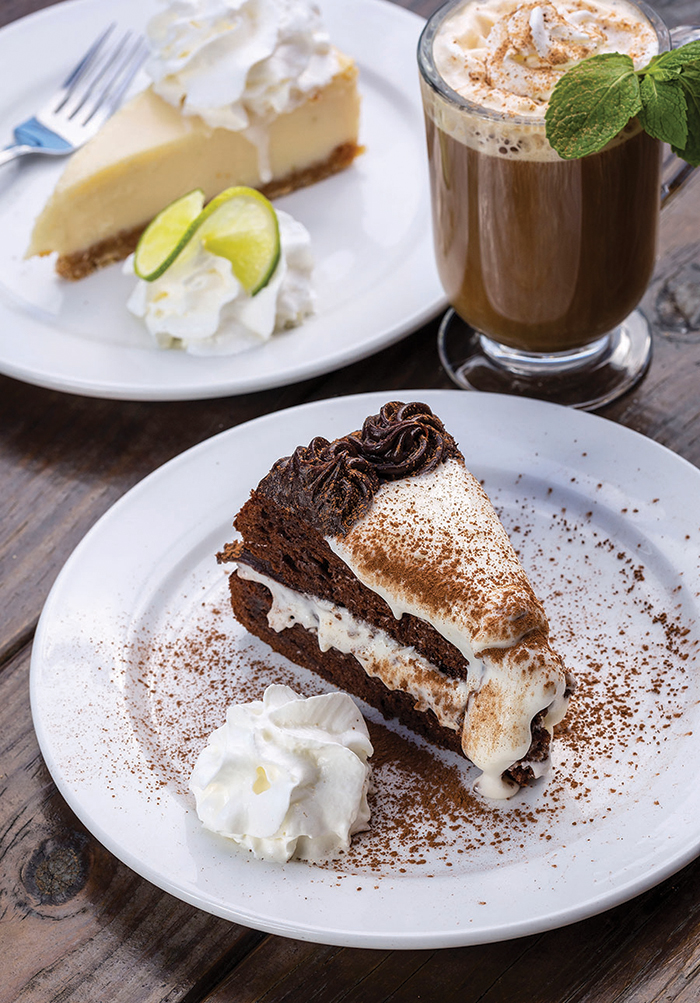 The Blind Pelican
120 Bass Lake Road (Holly Springs Crossing), Holly Springs
(984) 225-2471
blindpelicanseafood.com