John Hiester has always loved old cars.
With car dealerships in Fuquay-Varina, Lillington and Sanford, selling cars and trucks to area residents for 35 years, he likely loves all cars. But old cars generate a special, unique kind of excitement.
So last Spring, when the pandemic shutdown forced people to stay home and businesses to close, Hiester decided to purchase 14 classic cars for the mechanics and technicians at his dealerships to restore while business was slow.
"We were wondering what to do when the work runs out, and I didn't have a good answer. We don't want to lay anybody off. We don't want to harm anybody's family," recalls Hiester.
So the idea for a contest took root. The mechanics throughout Hiester Automotive dealerships would form fourteen teams, each with one car to restore. A fan vote would determine the winning vehicle — which car or truck had undergone the most impressive transformation — and that car would be auctioned off with proceeds going to charity. The winning team would get to select which charity to support.
Vehicles in the mix included a '74 Dodge Dart, '88 Dodge Ramcharger, '78 Jeep CJ, '75 Chevy Camaro and many more, each with its own set of challenges and needs.
"It was the most frustrating, yet rewarding experience," says Reilly O'Meara, a technician in Fuquay-Varina. "It was a huge learning experience."
O'Meara, who worked on a '72 Chevy Monte Carlo — "the best one" — says he learned a lot working with the "old-timers" in the service department.
"It was a great opportunity for the young guys to get to have a newfound respect for the older guys in the shop," says Hiester. "They didn't realize how much they knew. It was good from a team-building perspective."
Along the way, one of Hiester's colleagues at Ally Bank heard about the challenge and connected Hiester with celebrity mechanic Danny "Count" Koker for a 21-episode YouTube series highlighting the undertaking.
Koker owns a customization and restoration mechanic shop in Las Vegas and stars in the History Channel series "Counting Cars." His YouTube channel, Count's Kustoms Network, has over 110,000 subscribers and is widely known among classic car enthusiasts.
In the new series, called Count's Kulture, presented by Ally, the local mechanic teams had the chance to ask questions and get advice from Koker, and present the cars for the final reveal before the fan vote. Most episodes acquired thousands, and sometimes millions of views.
"Danny was a really humble, sincere guy," says Hiester. "It was cool to be a part of."
Calvin Moody, a technician who worked on a '70 Chevy C10 truck, said seeing the series and sharing it with friends and family was one of the highlights of the experience.
"I'll watch it over again," says Moody. About halfway through the project, business started to pick up again, and available time to work on the cars took a backseat to customer repairs.
"It was really hard, but the commitment of some of our people — they stayed late, came in after hours — to try and complete the project," says Hiester. "They were completely invested in it."
Through an online vote, viewers and fans selected a '69 Plymouth Roadrunner repaired by a team at John Hiester Chrysler Dodge Jeep Ram of Sanford as the winning vehicle.
"They did a super job. … There were several cars, (the teams) really made a difference on," Hiester says. "(The Roadrunner) was a cool car anyway, but it came in pieces when we bought it. There was a ton of work to do."
During the Roadrunner's final reveal episode, Koker commented, "I love how visually you guys went with a whole factory vibe, but underneath you added a whole bunch more fun to it. … That's a winner right there!"
All of the restored cars were auctioned in February at the Greensboro Auto Auction Classic Cars Auction.
e Roadrunner earned $43,000, to be donated to Fuquay-Varina's Military Missions in Action.
Despite nationwide interest and thousands of viewers, Hiester sees the challenge as "one-and-done."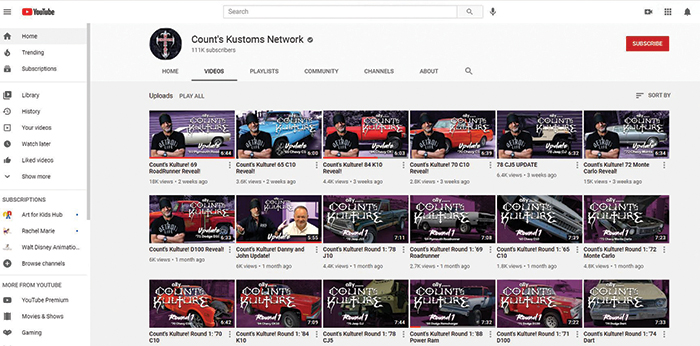 "It was fun, but it's not really our area of expertise. All of our equipment is for newer technology, not for classic cars.
"It did what it was meant to do, it kept everybody working. You could definitely see the lift in the shop when we started doing it. Everybody was downtrodden from watching the news. Then they all got excited and got to be a part of something. It was a great experience."
Catch up on the series on Count's Kustoms Network
www.youtube.com/c/CountsKustomsofficial
Dealership owner John Hiester purchased 14 classic cars to be restored by technicians in his dealerships, spurring a contest, YouTube series and more than $43,000 raised for charity.