Bass Lake Park
A popular spot for hiking and biking, Bass Lake Park also provides a peaceful escape on the water in your choice of a canoe, row boat or Gheenoe boat, available to rent through the boathouse for as little as $5 an hour. Boats are rented daily from Memorial Day through Labor Day, and on weekends into the fall.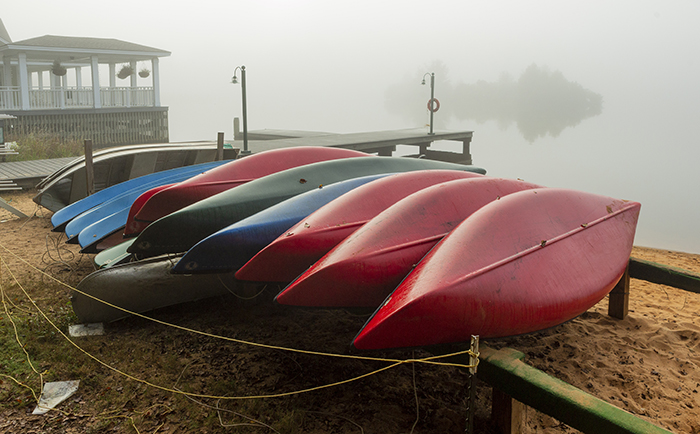 The 54-acre lake is regularly stocked with catfish through the N.C. Community Fishing Lake Program, so licensed fishermen and women are welcome. The facility runs a tackle loaner program for visitors without personal fishing equipment. Bait can be purchased at the concession stand.
Private watercraft is not allowed.
900 Bass Lake Road, Holly Springs
(919) 557-2496
hollyspringsnc.us
Lake Benson Park
A short, but worthwhile, trip east toward Garner brings adventurers to Lake Benson Park, complete with walking trails, playgrounds, a dog park and the Garner Veterans Memorial. Canoes, kayaks and Jon boats can be rented from the Lake Benson Boathouse on weekends from March through October. Covering 650 acres, Lake Benson provides ample space to explore the 10 miles of wooded shoreline. Visitors might glimpse a number of native birds, such as the great blue heron, blue grosbeak or acadian flycatcher.
Fishing in the lake is welcome, but swimming and private watercraft are not allowed.
TIP: For a full day's outing, check out the nearby White Deer Park & Nature Center which connects to Lake Benson Park via a greenway across Buffaloe Road.
Lake Benson Boathouse
975 Buffaloe Road, Garner
(919) 662.5703
garnernc.gov
Try a New Adventure: Sup Yoga
It was natural for Jennifer German to combine two of her passions — yoga and spending time on the water.
"Being out in nature is so relaxing and peaceful," says German, owner of Soul Honey Yoga & SUP, who teaches stand up paddleboard yoga classes on Harris Lake during the summer months.
"It's really nice on the water," says German, who lives in Fuquay-Varina. "The classes are a slow, gentle type of yoga."
German provides the equipment — inflatable boards, paddles, safety gear and anchors — and begins each 90-minute session with basic paddle-boarding instructions.
Then the group, which is intimate, usually 4 or fewer participants, begins to paddle along the lake shoreline to a quiet cove where they anchor and start the yoga practice.
"About half the time is paddling, half is yoga," says German.
There are no headstands or complex yoga poses in German's class. "It can be challenging to stand on the board for a lot of people."
So her classes progress slowly, beginning with breathing and mindfulness and ending with all-important savasana.
Beginners to paddle boarding and yoga are welcome, though a certain level of physical fitness is necessary to balance and stand on the board for an extended period of time.
"I wanted to create something that was accessible to most people," she says.
German cautions: "It's not a matter of if you'll fall in, but when." However, a dip in the cool lake waters isn't entirely unwelcome in the N.C. summer sun.
"Yoga has helped me so much, I wanted to share it with others," German says. "I immediately fell in love with SUP yoga. … It's so much fun."
Visit soulhoneyyoga.com for more information and to sign up for classes.