Locally owned Harvest Moon Bakery-Cafe in Holly Springs is the newest hotspot for breakfast, lunch or … dare we say, brunch.
The cafe offers quality fresh-baked goods, scratch-made meals and exceptional coffee-centric beverages. Everything is served up in a warm, inviting space with a modern, rustic vibe.
"This is a comfortable, down-to-earth hangout to meet, eat and relax," says soft-spoken proprietor Renae Collins, who opened the gathering spot in the summer of 2019.
When it comes to the name of her place, Collins says she has always been interested in celestial subjects, and she also has an affinity for the autumn season.
"My mother told me that I was born under the light of the harvest moon in September, so it's fitting," she adds.
Growing up on a farm in southeastern Virginia, Collins has enjoyed baking since she was a young child. Her longtime love for creating artisan breads and sweets ultimately led her to open Harvest Moon.
Among the tempting treats Collins churns out include muffins like pistachio chocolate chip, cinnamon spice and butterscotch pecan; turtle cheesecake; blueberry scones; Scottish shortbread cookies; and gluten free choices such as chocolate torte and mini coconut pie.
Looking for something a bit lighter? Consider the delicious Amish-style baked oatmeal that's served warm topped with whipped cream and pie spices. Or get a made-to-order fruit-and- yogurt parfait.
Undoubtedly the most distinctive menu item is called a popover, a roll similar in consistency to Yorkshire pudding.
"There are only four ingredients in a popover: egg, milk, salt and flour," Collins reveals. "It contains no leaven, so steam is what causes it to rise."
Collins didn't have to look far to find a capable chef to share the kitchen, hiring her son, Travis Umphlette, who brought more than 20 years of cooking experience to Harvest Moon.
Umphlette's culinary passion is evident, particularly with breakfast selections. The Intrepid Belgian waffle is crowned with sliced granny smith apples, goat cheese, honey and toasted pecans. Hearty eaters will appreciate the Farmhouse Breakfast, which features an omelet with ham, sautéed peppers, onions, tomato and parsley, two pieces of applewood smoked bacon, harvest fries, a petite biscuit and fresh fruit.
"Being consistent with the food is really important," says Umphlette, whose wife, Amanda Krick Umphlette, helps with social media and various logistics. "It's all about attention to detail."
His signature chicken salad is so tasty you may want to order it in bulk. Whether you try it on a popover or in a wrap, you can't go wrong.
"The chicken salad contains 16 ingredients, and the preparation sets it apart," Umphlette says, but he's reluctant to share his secret recipe (can't blame us for trying!). "I pull all the chicken by hand, and I add seasonings and other things like fresh shallots, mustard, mayonnaise and sour cream."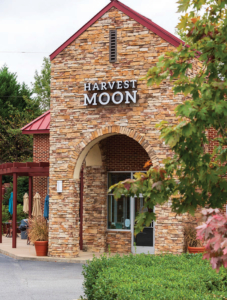 Standout lunchtime options include the Harvest Club with turkey, ham, bacon, lettuce, tomato, cheese, red onion and aioli and the Veggie Patch Wrap with a mixture of fresh garden vegetables with basil pesto and spicy tomato relish.
As for side items, we recommend the southern-style potato salad, roasted sweet potato salad or veggie feta salad.
In the mood for coffee? Harvest Moon sources it's java from Fuquay's Cultivate Coffee. Front-of-house barista extraordinaire Allie Moschella will whip up a bountiful selection of hot or cold drinks.
We suggest you go for either a vanilla-infused iced caramel macchiato or the Snowball, a frozen blended concoction comprising vanilla, hazelnut and espresso then topped with whipped cream and white chocolate drizzle.
"There's also a kid-friendly version of the Snowball without the espresso," says Moschella.
Closed on Mondays, Harvest Moon is open six days a week and is available for private events.
Harvest Moon Bakery-Café
128 Bass Lake Road (Holly Springs Crossing)
Holly Springs
(919) 586-7005