If you want to swing, climb, jump and fly like the competitors on "American Ninja Warrior," the Auer family can relate.
Last September, Ken Auer, along with wife Carol, and sons Caleb and Josh, opened Rock Solid Warrior ninja warrior and rock climbing gym in Fuquay-Varina, a dream nearly two years in the making.
Southern Wake residents can now realize their dreams of summiting a 14-foot warp wall or swinging bar to bar like the "American Ninja Warrior" contestants on NBC's hit show.
With classes and programs for ages 5 to 75, Rock Solid Warrior welcomes participants of all ability levels into the rapidly growing sport of obstacle-based ninja training.
In a 2018 article published in The Guardian, basketball legend Kareem Adbul-Jabbar argued that "ninja warrior is the sport America needs," writing, "American Ninja Warrior … may reflect the American spirit of rugged individualism, bootstrap inspiration, and … equal opportunity more than any other rising sport."
If professional basketball hall-of-famers are discussing ninja training, cleary the Auers are on to something big.
Despite gravity-defying feats and sometimes epic crashes, what really hooked Caleb and Josh Auer was the welcoming community that pervades the sport.
"Everybody in the ninja community is super supportive of each other," says Caleb, general manager and head coach at Rock Solid Warrior. "Even though a lot of us compete against each other, we see it as we're competing together against the course."
It was barely more than two years ago that Caleb and Josh began their ninja training, after watching the namesake television show. The brothers built an obstacle course in the front yard of their Holly Springs home; and both have since competed on television in American Ninja Warrior (Caleb) and American Ninja Warrior Junior (Josh).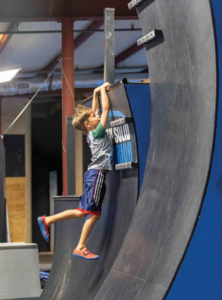 "To be able to compete on the ultimate course — it's a lot of fun," says Caleb. "It was really cool to see everything that goes on behind the scenes and be a part of it."
With the opening of Rock Solid Warrior, the Auers can introduce the sport they love to their hometown community.
The fundamental skills of a good ninja include upper body and grip strength, speed and agility and body control and awareness — knowing how to move your body through space with precision. Quick decision making and mental toughness are vital as well.
"Training is 90% physical, but competing is 80% mental," says Caleb. "A lot of mental preparation goes into it, not just the physical."
Rock Solid Warrior will train budding 5-year-old ninjas up through serious league competitors. Most of their obstacles — things like monkey bars, wooden rings, domino steps and cliff-hanger ledges — are adjustable and can be modified easier or harder as the athletes need.
A signature movement of ninja training, and favorite of Caleb Auer, is the lache, wherein you use your body's momentum to swing and release off an object, and, hopefully, grab onto the next element. Lache alleys feature prominently in Rock Solid Warrior, with an endless variety of grips, lengths and skills required to complete them.
"Even if you think, 'Oh, I'm not to that level yet,' there is something you can come in and try," Caleb says.
Many elements are suspended from the ceiling, with padded mats underneath to cushion the inevitable fall. The facility's rock climbing walls provide additional training opportunities.
"Rock climbing is a great way to start building that strength that you need to start doing advanced ninja warrior obstacles," Caleb says, noting that the climbing walls also have progressing levels of difficulty.
Rock Solid Warrior plans to host ninja warrior competitions and offers track-out camps and birthday parties.
"Come out, and try it," says Caleb. "You may find that you love it. It is a great way to get in shape, because you don't really realize you're working out."
Drop in for a single class, or enroll in a membership; either way, you'll never get bored.
"There's always new challenges that you find, or new obstacles. There are so many ways to push yourself."
Rock Solid Warrior
6109 NC 55, Suite 125, Fuquay-Varina
(919) 307-7448
rocksolidwarrior.com