Is anyone planning to go shopping this month? Just maybe? Well … just in case, make sure to plan a trip to Pass It On in Fuquay-Varina. Pass It On is a thrift store supporting Interact of Wake County. But be assured, "This is not your grandmother's thrift store," says Virginia Schaible, store manager. "We pride ourselves on having current and upscale fashion. We work really hard to pattern the store after an upscale boutique."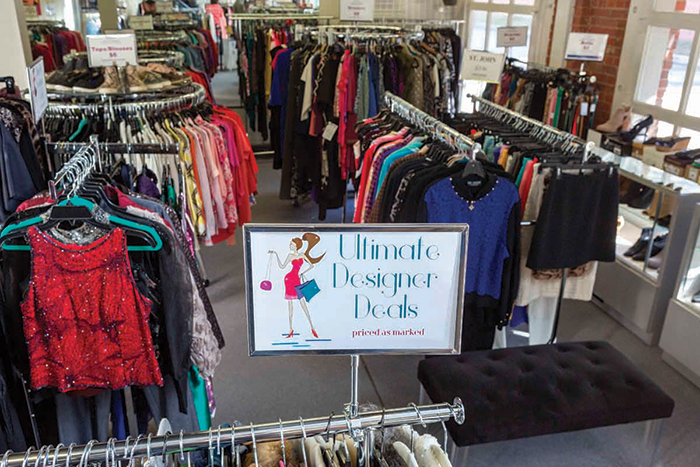 The store operates 100% on donations. A team of volunteers sifts through the apparel, checking for timeliness, quality and condition. Racks are restocked daily, with plenty of high-end brands to be found. Lilly Pulitzer, J. Crew, Michael Kors, Kate Spade and St. John make regular appearances.
Pass It On
Offers boutique apparel at thrift store prices!
$8 dresses
$6 tops & blouses
$5 skirts & pants
$3 jeans

"Everything is categorized and sized," says Schaible. "It really separates us from other thrift stores."
With prices like $3 for accessories, $6 for blouses and $10 for suits, shopping at Pass It On resembles a treasure hunt with endless possibilities.
"For $10, someone can get their foot in the door with a new suit for a job interview," says Schaible. "I'm really excited about that."
Ninety cents of every dollar spent in Pass It On goes directly to Interact's programs, such as crisis intervention services, counseling, education and court advocacy, aiming to end the cycle of domestic and sexual violence in Wake County. Holiday shopping at Pass It On not only saves your budget, but gives back to an important local cause as well. And clients of Interact can shop for free.
"Women can come into the boutique, and they can feel very empowered picking out outfits that are on trend," says Schaible.
"It's empowering for the donor as well. People can see where their money is going. Interact never charges for its services."
In 2018, Interact served
9,600
direct victims of domestic and sexual violence.
63,000
men, women and children total.
Interact's Family Safety & Empowerment Center served 7 families daily in 2009. 23 families daily in 2018.
1 in 3 women living in Wake County will experience domestic violence in her lifetime.

During the holidays, Pass It On also sells a variety of gift items, such as candles, artisan soaps, essential oils and home decor.
Schaible's previous work in retail ignited her passion to transform Interact's charity thrift store into an upscale boutique that is accessible to everyone.
"Everything is beautifully displayed. It's a place women can come in and just be happy. It's so much more fulfilling to work, not for a CEO, but for the clients of Interact."
Location:
Pass It On
309 South Main Street, Fuquay Varina
Monday – Friday 10 A.M. – 5 P.M.
Saturday – 10 A.M. – 4 P.M.
(919) 557-8020
interactofwake.org/pass-it-on-thrift-store
Located in downtown Fuquay, at the corner of S. Main and E. Vance Streets, around the corner from The Mason Jar Tavern. Use the parking lot behind TMJT to enter through the store's front door. This hidden gem is worth the extra effort to find.