It all started with ugly walls downtown.
Well, eliminating ugly walls downtown, that is.
In 2015, Liz Whitmore, a historic preservation planner for the city of Sanford proposed ideas for a series of murals and public art projects that would "polish a lump of coal into a diamond."
The goal was to "recognize historical figures and events that may have been forgotten," Whitmore says, and in the meantime turn those ugly brick walls into a dynamic destination.
The first building-sized mural to be completed highlights the Sanford Spinners, a baseball team in the Tobacco State League, which played during the late 1940s. Pitcher Howard Auman led the Spinners to their first league championship in 1946 and is memorialized on the mural pitching directly at onlookers. Completed in May of 2015 on the edge of downtown Sanford, this mural paved the path for two more to come that same year.
In the next five years, 12 murals would be completed — all, except two, in the downtown area. The remaining are in nearby Jonesboro. More than $300,000 has been raised to fund the project, the majority through private donations and sponsors.
"It's a town of 30,000 people," Whitmore says. "Never did I dream the project would be so well received."
"What sets us apart is all the murals tell the story in some way about the town or county. There is a historical foundation behind all of them," says Kelli Laudate, executive director of Downtown Sanford Inc. "There is a lot of town pride and ownership here."
The murals also serve as an educational opportunity to teach new residents and young people about the area's history in a vibrant way.
North Carolina muralists Chris Dalton and Scott Nurkin have been the artistic drivers of the murals, completing all 12 between the two of them.
"So many people stop and visit while I'm painting. They'll bring me lemonade in the summer," says Dalton. "It's been an honor, honestly, to be a part of it, because everyone has been so supportive."
Many of Dalton's concepts have three-dimensional elements incorporated into the design, like cow heads on the Fairview Dairy mural and a spinning wheel on "Bringing the Arts Together" interactive mural.
"I like it when the kids go crazy," Dalton, a 10-year resident of Sanford, says. "Whatever makes them happy and teaches them about art."
Before painting begins, the artist submits a scale replica to be approved by Sanford's Appearance Commission, of which Whitmore is head. The replicas are then raffled off at the completed mural's dedication ceremony as a keepsake for the community.
"We have special dedication ceremonies," says Whitmore, as one of the ways to boost excitement in the public. "We had vintage planes fly over at the first one. It's really wonderful.
"There is so much more we want to do … rich history that we haven't even tapped," says Whitmore.
Visitors can access a special guided tour of the mural trail by downloading the free app, Otocast, which hosts a GPS-activated audio narration that details each mural's history and contains behind-the-scenes progress photos and directions for locating the art.
The Otocast tour includes all the city's public art, including sculptures and interactive art. Two of the most popular attractions are located on Charlie Watson Lane, a pedestrian alley off of Steele Street. The "Before I Die" wall allows observers to chalk in their goals and dreams. Next to it, the vibrant "Wings" mural contains 15-foot high butterfly wings and three-dimensional mini butterflies, and has become an iconic spot for photos.
Families can also participate in a train scavenger hunt to locate 12 miniature replicas of Sanford's No. 12 Locomotive Engine, which is proudly displayed in Depot Park. Pick up a scavenger-hunt passport at the Visitor's Center (or download a digital version) to record your findings, then turn in for a prize when completed.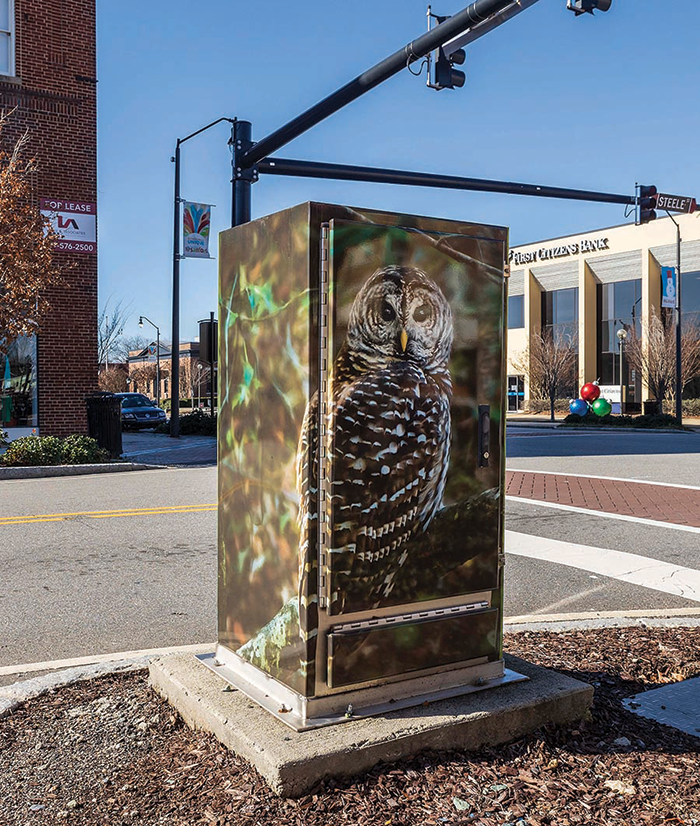 Also in Depot Park is the historic Railroad House Museum, a beautifully-restored building, regarded as the oldest home in Sanford. The museum's collection includes fossils and artifacts spanning millions of years of history.
All of these attractions are located in the downtown district, an easily walkable handful of blocks. As you meander the mural trail, be sure to pop into boutiques and dining destinations.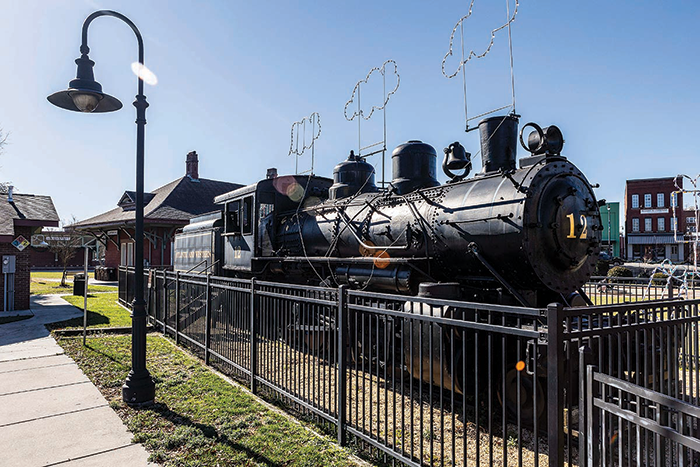 Pizza at La Dolce Vita Pizzeria or barbecue at Smoke & Barrel might precede homemade ice cream at longtime Sanford favorite, Yarbourough's Homemade Ice Cream & Grill.
Or opt for sweets and sips on Wicker Street with donuts at Sandra's Bakery and craft beer at nearby Hugger Mugger Brewing.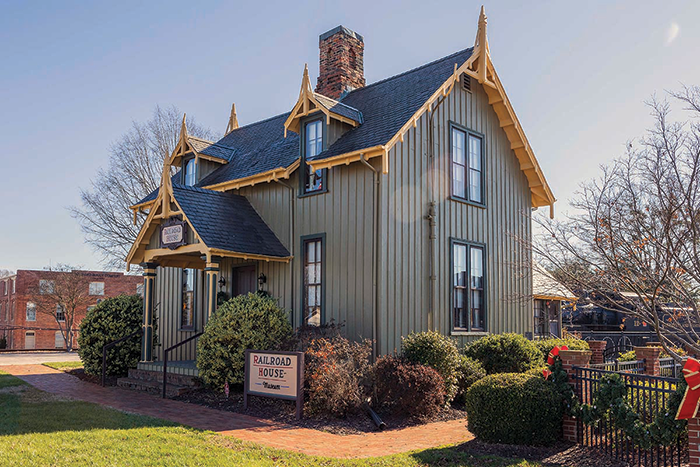 Despite impressive progress, Whitmore isn't yet finished adorning Sanford. Additional murals are planned, as well as more interactive art, namely street pianos painted by local artists for the public to play on.
"I have a list of things we would like to have done. Many of them reflecting history and heritage — who we are and where we are going," says Whitmore.
In addition to the Otocast app tour, a printable map of the mural trail is also available to download from the city's website.
sanfordnc.net
downtownsanford.com
Along the mural trail, consider these additional Sanford stops, all without leaving downtown.
Shop:
Sanford Antique Mall
Shops of Steele Street
Southern Charm
With Love
Purple Poodle
High Cotton Couture
Homestate Made
Dine:
Mrs. Lacy's Magnolia House Smoke & Barrel
La Dolce Vita Pizzeria
Hugger Mugger
Yarborough's Homemade Ice Cream & Grill
Sandra's Bakery
The Chocolate Cellar
Explore:
The Temple Theater
Railroad House Museum
Depot Park
Charlie Watson Lane