"Making is my motivation," says Fuquay-Varina's creative guru Ann Marie Amico.
The process of creating forms the bridge that connects every aspect of Amico's body of work, which includes mixed media artistry, brand design and community leadership.
"I come from makers — everybody in my family got a different degree in college, but they've all come back to art as they've gotten older," she says.
Amico started her professional career as a special education teacher, before going back to school for commercial art and design when her two children were in elementary school.
"As soon as I went, I just knew: Wow, this is for me," she says.
After graduating from Johnston County Community College (Wake Tech didn't have a comparable art program at the time), Amico started her own graphic design business.
While building that business, Amico continued to pursue fine arts education, taking a pivotal class in mixed media collage.
"I moved from realism to abstraction then, and I haven't really looked back."
Mixed media art combines a variety of materials — acrylic paint, paper, pastel, ink, natural stone, vintage objects — to create an image or form.
"I love contrast and color, and I think that's why I like mixed media so much," Amico says. "And my family is my base, so I want to do things that celebrate family and heritage and culture on the wall and on the body as well."
For example, Amico creates abstract portraits using found objects and keepsakes that represent elements from a person's life.
"When I (create a portrait) for the person, they know I've got these elements that are important to them that are worked into the piece."
Amico also crafts mixed media jewelry that pairs natural and semi-precious stones with vintage pieces into one-of-a-kind wearable art.
"As an artist, you are trying to find how I can say this differently."
"Being an abstract expressionist in a really small town, like 1% of the population is gonna find what you do interesting," Amico admits. "It's not unusual for me to feel like I am climbing uphill a little bit."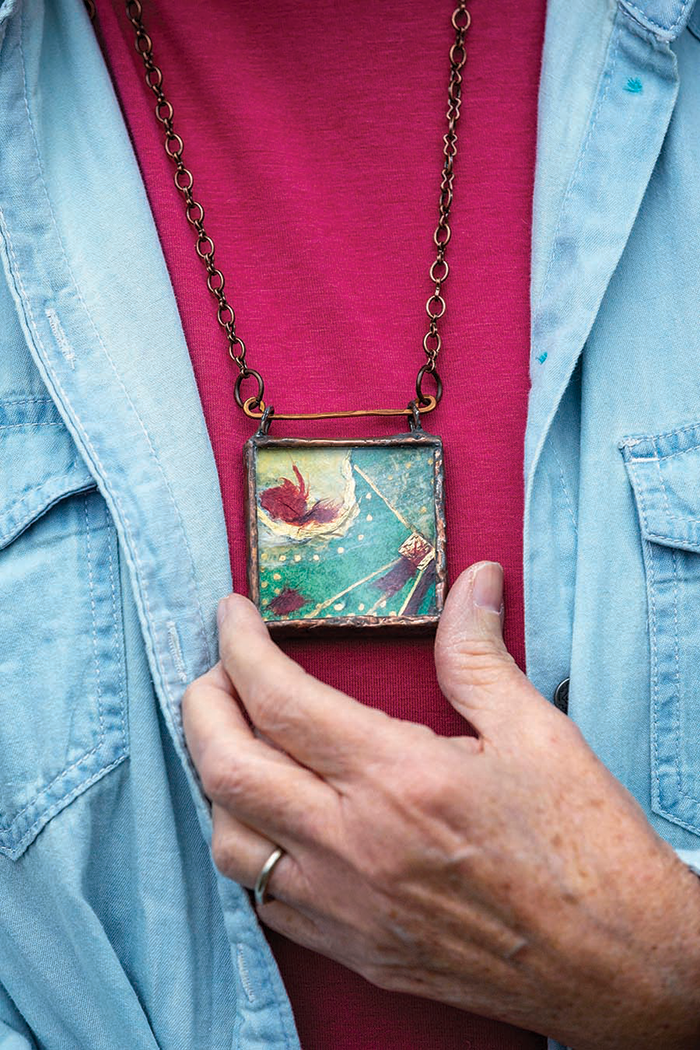 The early days of Amico's design business felt similar.
"I learned everything you shouldn't do," she says. "In a small town, people didn't really know what to do with a graphic designer."
Professional development became vital to growing Amico Brand Design, and joining organizations like the Council for Entrepreneurial Development, the Women Business Owners Network in Cary, the Raleigh Professional Women's Forum and the Fuquay-Varina Chamber of Commerce proved to be hugely valuable.
"I loved my design life, because I met so many different people. No two days were the same."
On the board of the Fuquay-Varina Chamber of Commerce, Amico witnessed the connection between economic development and community building, which propelled her to work as a brand designer with municipal clients such as Angier, Roxboro and Harnett County.
"I have an affinity for small towns and the work ethic in agricultural communities. I like … helping people find their points of connection. I think that helping people talk to each other builds a stronger base that can move the community forward," Amico says.
"The thing that, for me, connects everything that I enjoy is problem solving. If you are a designer, either you're figuring out how to create a symbol that reflects a company's brand, or you are trying to fit 150 words into a three-inch box. You are always trying to figure out how to solve a problem.
"With design of jewelry or art, I'm still trying for that. How I can say something with a clean look, or how I can reflect something of somebody's personality with these stones or this piece of ephemera from their past?"
While Amico's artistic career has ebbed and flowed as her life as a business-owner, wife, mother, and now grandmother, has evolved, the artistic principles learned early on create a connection throughout all of her work.
"In design, line and form are really important, as are rhythm and contrast. All those kinds of things that you learn to be a designer are really important. And they show up in the same way you lead your eye around a painting or the same way you make a rhythm in a necklace, so it all hangs together," she says.
A resident of Fuquay-Varina for 33 years, Amico has experienced the ebbs and flows of the town's growth as well.
"The people that are involved in small town development are really interesting and hard working, so that's where I got hooked on economic development. … We came to Fuquay when it was struggling back in 1987, and to watch all the effort that has been put into helping downtown thrive, and watching what it's done for the whole community — that's why you do it."
Fostering the arts is vital for growing communities, like Fuquay-Varina, Amico says, not merely for the success of creative individuals, but for the health of the town as a whole.
"Communities that support artists are vibrant and sustainable, because they are open to new ideas, and they celebrate people that are diverse. … The arts are a really effective way of having people of different backgrounds communicate with each other and find points of connection.
"If you think of arts as a bigger thing than just music or dance or painting; if you think of it as a community of makers, you've created a place that people want to come and enjoy."