Ben Harris has always gone against the grain.
A sculptor of whimsical metal forms, he is a one-of-a-kind artist, but not by his own admission.
Born and raised on a farm in Fuquay-Varina, Harris remembers even in his elementary years, as a student at the Fuquay-Varina Consolidated School, not being able to keep pace.
"I wasn't a real good student. I wasn't learning fast enough and didn't make the first grade," he says.
Harris fed the farm's chickens and cows as a child and later worked his family's tobacco fields on a mule. He still lives on that Fuquay farmland, now adorned with his large futuristic metal sculptures along the passing Piney Grove-Wilbon Road.
With these rural North Carolina beginnings, Harris never expected to find himself living in Hollywood, selling sculptures to California art dealers.
A job in construction taught a teenage Harris how to weld, and he soon began to fashion life-sized objects out of the metal scraps.
"If I wasn't welding, I was making something. No one identified it as art. The only person to accept what I did was my mother," he says.
Harris moved to California as a young man and worked in a machine shop. During the 1984 Olympics in Los Angeles, Harris's form of art began to take shape.
"There was a contest to do a sculpture about the Olympics. I did a sculpture in the back of the shop where I worked," he says. "All my work was made out of scrap."
A customer came into the shop and bought it immediately.
"He said, 'I'll give you $500.' That's more than I would make in a week," Harris recalls.
After that, Harris caught the eye of an art dealer and started building more pieces to sell.
"I didn't believe I was doing it. I was supposed to be a nobody. I thought creativity came from a university.
"I wanted to get a motorcycle, so I did sculptures to get the ball rolling," he says with a chuckle.
Initially constructing animals, Harris quickly transitioned into human forms.
"I would go out to Venice Beach; there were all kinds of people there. … They had all kinds of expressions. I started to see how people feel and how they act — you can put that in art."
Harris' sculptures can take up to a year to complete.
"I can't see what it is at the beginning. I build it; then it expresses itself," he says. "It's hard to put into words."
Eventually tiring of California culture — "Either I sell my soul to the art dealer or get out of Hollywood" — Harris made his way back to Fuquay-Varina.
The sculptures on display in front of his house initially elicited choruses of, "What in the world is that?"
"People hadn't experienced anything like it," Harris says. "Somebody has to show them."
From a workshop behind his home, Harris combines materials salvaged from nearby junkyards, old machinery and spare parts.
"People come and give me scrap. One guy brought a propane tank and said, 'I bet you can't make anything out of this,'" says Harris.
Harris' most recent work includes a series of figures including a priest (wearing a robe made out of the propane tank), preacher, police officer and an angel, entitled "Let the Metal Do the Talking."
The sculptures have hinged arms and heads that twist, so they can be moved to interact in different ways.
"You don't have to have a lot of materials if you have imagination," he says.
Harris' sculpture, Ghost Farmer, stands within the Fuquay-Varina Museums Complex, paying homage to the area's agricultural past. At the center sits a wheel, salvaged from bygone farm equipment.
"I wish I knew what's going on in his brain as he's creating," says Selina Williams, who claims Harris as her honorary father. The pair met about four years ago and have been close ever since.
"He didn't have any children, and I didn't have a father. I asked if he would be my dad," Williams says.
"I don't know how he does what he does."
Williams is helping Harris brainstorm ways to make his sculptures mobile, and encouraging him to make tabletop versions for smaller collectors.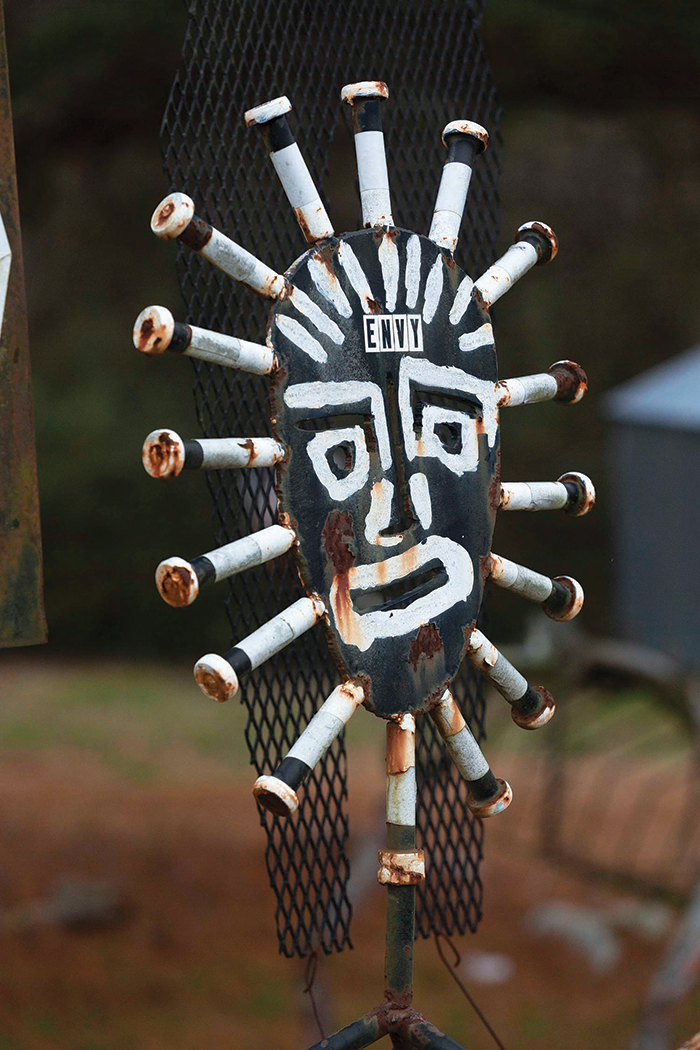 At 75 years strong, Harris is still creating, albeit at a slower pace than in his younger years.
"This is therapy for me," he says. "I can pay for therapy, or I can weld."
"I don't call myself an artist. The art reveals itself to you. The plan don't come from the brain; the brain should follow the plan."
Harris' sculptures can be viewed along Piney Grove-Wilbon Road between Academy Street and Wagstaff Road.