As most of my followers on Facebook and Instagram know, I'm all for pretending that the towns of Apex, Cary, and Morrisville don't exist — unless they do something completely out of pocket that must be announced to my fellow South Wake residents (obviously). This is not because I hate the "CAM" area — believe it or not, I once lived there myself. Years ago, when people didn't have to sell foot pics to pay rent, and you could still turn left in Holly Springs.
Times have changed for us in Southern Wake. We used to have to make the drive into Apex or Cary for literally anything other than beer, yet now we are living in a golden age of fancy movie theaters, Ulta, and Crumbl Cookies. Gone are the days of driving to Crossroads for Old Navy or Apex for Target. These days, Holly Springs is its own strip mall paradise!
Now that we've got everything but Trader Joe's (hint, hint), I tend to stick to what I've coined the "Fuquay Springs" area and avoid the long haul to Beaver Creek, Crossroads, or Park West Village. But since March is Main & Broad's Travel Issue, I thought I'd share some of my favorite haunts in these surrounding towns — because let's face it, none of us can afford to drive further than Morrisville.
Cotton House
(16.1 miles from Fuquay-Varina)
Located in the heart of downtown Cary in the historic Pasmore House, the Cotton House in Downtown Cary is … everything you'd expect to exist in Downtown Cary. We've got a repurposed historic home, fancy couches, thoughtful interior design, outdoor seating, and fancy beer in fancy glasses provided by Triangle Beer Company.
I know what you're thinking — FVM, why would I bother driving to Cary for beer when Southern Wake is a mecca of day drinking? I understand your hesitancy, but this is the perfect place to go if you're looking to ELEVATE your beer drinking experience.
Maybe your mother-in-law is in town. Maybe you have a date night planned and you want to hide the fact that your friends call you the "lord of the onion rings." My point is, open your mind, give it a try, and prepare to put your pinky up.
Scratch Kitchen & Taproom
(6.2 miles from Holly Springs)
Scratch Kitchen & Taproom has been a part of the food scene in downtown Apex since 2018 — a partnership between Jeff and Meredith Kromenhoek and the owners of The Mason Jar Tavern and The Mason Jar Lager Company (that we all know and love). Housed in Apex's historic Tobacco and Mule Exchange Building and part of the town's self-described "Promenade" (yes, you're allowed to roll your eyes), this place is worth the 6.2-mile drive from Holly Springs.
As you can see in the name, all of their dishes are made from scratch — and after every time I've eaten there, I can proudly say that I have not had diarrhea (and that's got to count for something). I recommend this establishment for eating out with coworkers and/or taking out-of-town guests for a meal that's pretty nice but won't require a drive into downtown Raleigh. You're welcome.
Wegmans
(22.4 miles from Fuquay-Varina via 540)
Back when Wegmans opened in Morrisville a few years ago, I cracked my fair share of jokes. All of these Northern transplants were pitching their 8-person tents in the parking lot in preparation of opening day in a fit of Wegmania. Having never been to a Wegmans before, which seemed like nothing more than a pimped-out Publix, I couldn't understand the hype.
It took me over two years to walk into a Wegmans, and I only did it because I got lost on my way to the dentist's office and I had to pee in an actual bathroom before I power washed my vehicle.
As it turns out, I freaking love Wegmans. There, I said it. I wouldn't go more than a few times a year because it's almost in California, but if you haven't been, it's worth it. Prices are much cheaper than I expected, and their bakery and dessert section will give you diabeetus in no time. Highly recommend.
Cary Greenways
(mileage dependent on location)
If you haven't experienced Cary's 80+ miles of greenways (I know, it's so over the top), then you should probably head over there and wear your best sweatpants. During the time I lived in Cary, I have to admit, I did enjoy their safe, beautiful, and well-maintained greenways. Yes, Fuquay-Varina now has Hilltop Needmore Town Park & Preserve, but that thing has more bumps and cracks than your mom James Slaughter Road. There's the "greenway" at South Park, but it's really just a kudzu forest, and nine times out of ten there's a mysterious dog trolling around for a midday snack that might actually be you. For safety's sake, go ahead and take the trip into Cary.
Kildaire Farm Road
(1,908 miles from Canada)
11/10 Canadian geese recommend.
Koka Booth Amphitheatre
(8.1 miles from Holly Springs)
Even though they spell the word amphitheater in a snooty, Cary-esque way, I'm not going to
lie — I like this place. I've had so many good times there over the years, and an outdoor venue of this size is one of the few things that Southern Wake is still missing.
I've been to so many festivals at Koka Booth over the years … the Chinese Lantern Festival, the Tacos 'n Taps Festival, the Wine & Food Festival, the Beer, Bourbon, & BBQ Festival, the Diwali Celebration, a Kings of Leon concert in 2008 when I was trying to pretend I didn't have a baby at home. Ah, good times.
Have I had the Cary Police help me off the ground and tell me it's time to go home at the end of a wine festival? Yes, but I'm from Fuquay, so they expected nothing less. Honestly, you have to represent the town or you'll get your Fuquay card revoked. Heed my words.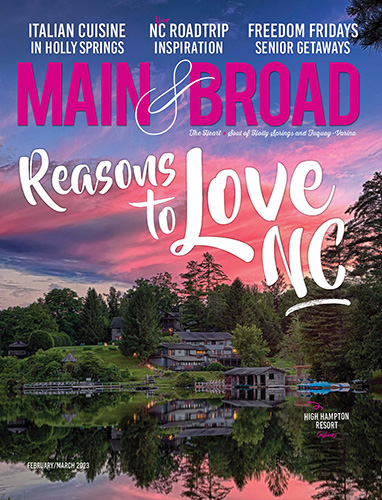 FVM's List of Western Wake's Best Most Tolerable Locations