If Bellini Italian Cuisine in Holly Springs seems familiar, it's because the restaurant originated in 2010 in Fuquay-Varina and then enjoyed a stint in Cary's MacGregor Village. The new location is situated in a strip shopping center beside Walmart.
"Many of our most loyal patrons live in Holly Springs and Fuquay, so we felt it made sense to move back closer to them," says humble chef Abel Atauchi, a native of Ecuador who runs the restaurant along with his brother and business partner, Adan. "This area continues to grow, so we look forward to serving our guests with fresh, homemade Italian food."
With more than 35 years of experience as a chef, Atauchi spent over 20 years cooking in New York restaurant kitchens.
"When I moved to the US in 1985, my first job was working as a dishwasher," Atauchi says. "In time I learned how to make pasta and other Italian dishes."
Ultimately, he moved to North Carolina and opened a family restaurant with Adan. Since day one, the brothers have spent their days and evenings preparing, cooking, and finessing food at Bellini.
The expansive dining space features a balanced mix of tables and banquettes and a centrally positioned bar area. Consider Bellini an affordable eating establishment with a refined-but-unfussy vibe. You'll find cloth napkins on the tables, but it's the kind of place you can visit for a date night or with the entire family.
Friendly, attentive servers are well trained in the nuances of the cuisine and the libations.
Begin your meal with an appetizer such as the golden fried calamari with house-made marinara sauce; the ricotta- and spinach-infused rolled eggplant; or thinly sliced crispy fried zucchini. Cold antipasto with salami, prosciutto, mushrooms, and marinated artichoke hearts makes for the perfect shareable starter.
Among the half dozen available salads, we recommend the gorgonzola-laden red beet served atop mixed greens with balsamic vinaigrette and olive oil.
When it comes to the main course, a plethora of chicken, veal, seafood, and pasta dishes vie for consideration. Portions are always plentiful.
Popular poultry dishes include chicken marsala with brown gravy and mushrooms and Chicken Bellini sauteed in white wine that's served with fresh mozzarella, red roasted peppers, and Kalamata olives.
You can't go wrong with any of the veal entrees, whether you choose parmesan, saltimbocca, piccata, or Genovese. These are served scaloppini style, meaning the meat is thinly sliced, with a side of penne or spaghetti.
The simple penne alla vodka pasta rates as solid as you'll find anywhere.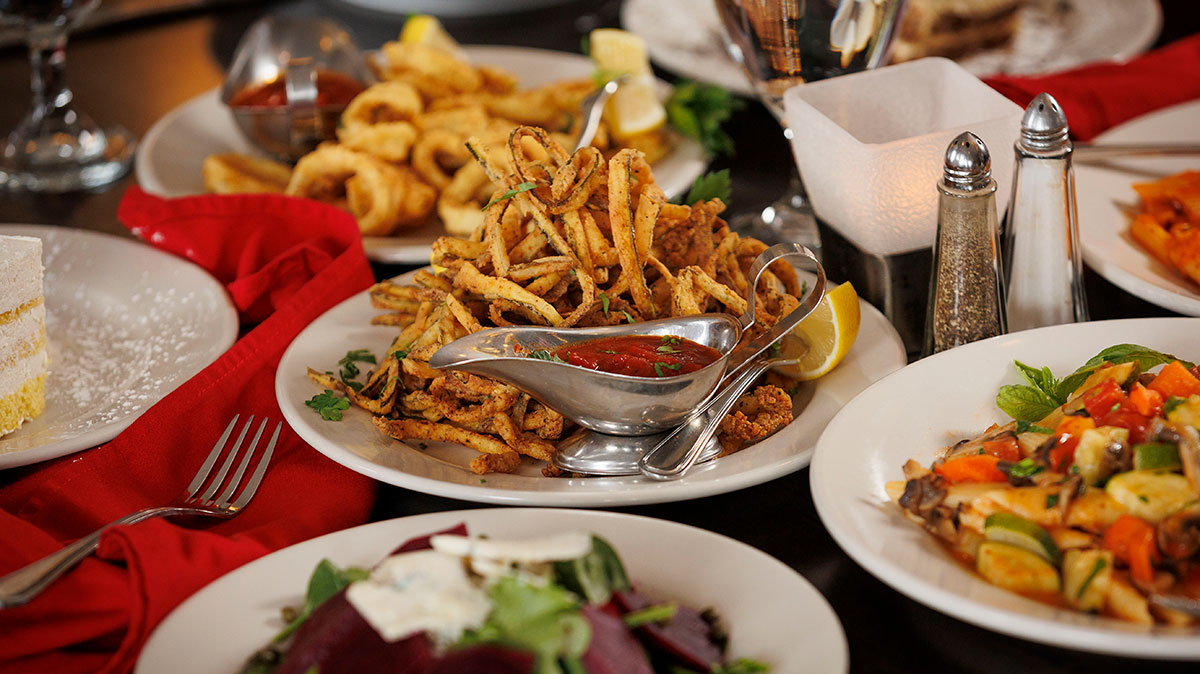 "We make the sauce with Grey Goose vodka, heavy cream, and fresh basil," says Atauchi.
Scratch-made fettuccine with alfredo sauce also hits all the right notes.
The pasta dish that left the biggest impression on us? By far, it's the cheese ravioli with pine nut pesto sauce layered with fresh garlic, basil, and mozzarella.
"It's an absolutely delicious dish that everyone who orders it loves," Atauchi says.
If you're in the mood for seafood, try the fresh clams served atop spaghetti; seafood risotto with shrimp, scallops, and calamari; or the Branzino Filet Milanese Capricciosa, a breaded and fried Mediterranean sea bass served with arugula, onions, tomato, lemon, and olive oil.
Off-menu daily food specials should not be ignored. These range from lobster tail linguine to grilled ribeye with gorgonzola to lamb shank alla Milanese and much more.
If it's available when you visit, order the veal shank ossobuco with onions and carrots. The veal is fork tender and will melt in your mouth.
"It's prepared with red wine, and we cook it in the oven at 500 degrees for three hours," Atauchi says.
Gluten-free menu items include chicken, veal, seafood, and pasta. All Bellini homemade salad dressings also contain no gluten.
Wine is available by the glass and bottle.
"We serve mostly Italian wine in both reds and whites," Atauchi says. "It's good quality wine for an affordable price, and we offer specials."
In addition to wine, you'll find specialty cocktails, cordials, and domestic and Italian beer.
If you manage to save room for any of the 10 tempting desserts like Limoncello cake, crème brulée or chocolate souffle, don't miss the exceptional — and sized to share — tiramisu. The coffee-flavored traditional Italian treat features ladyfingers soaked in Frangelico, Disaronno, Kahlua, and Grand Marnier liqueurs.
"When guests come in, the most important thing is for them to enjoy good food, great service, and nice ambiance," Atauchi says. "We want them to come back again and again."
Bellini is open for lunch and dinner seven days a week with continual service. Reservations are strongly encouraged. A private room accommodates 26-30 people (call in advance to book). If you need to feed a crowd but not at the restaurant, family style meals are available for takeout.
Bellini Italian Cuisine
7256 GB Alford Highway, Holly Springs
(919) 552-0303
belliniitaliancuisinehollysprings.com