There's always comfort to be found in tried-and-true family recipes, especially in those holiday dishes that grace the table year after year. In the following pages, Main & Broad staff members and readers share their family's favorite recipe traditions. Using a combination of store-bought and from-scratch ingredients, these delicious crowd-pleasers won't keep you in the kitchen all day.
"The Best" Chocolate Pie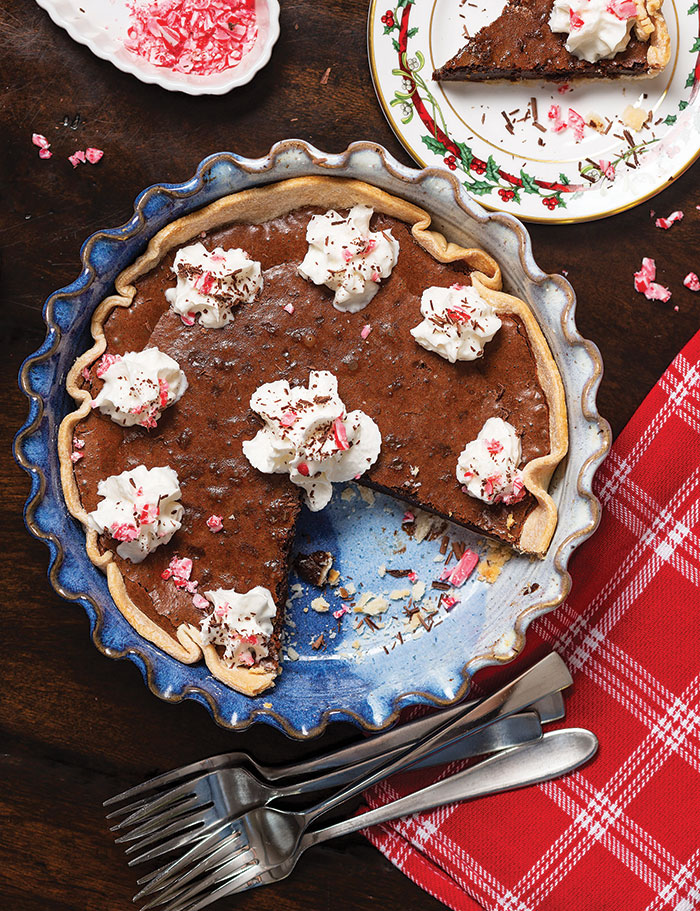 Consider this a richer, smoother cousin of chocolate chess pie. The fudgy filling is the star of this show, so saving time with a store-bought crust is OK by me. My family makes this for our church's annual Advent dinner and pie auction, and the chocoholics rejoice!
Emily Uhland, Senior editor, Main & Broad
Ingredients
1 pre-baked pie crust or graham cracker crust, store bought or homemade
6 ounces semisweet chocolate, chips or bar
1/2 cup unsalted butter
3 eggs
1/8 tsp salt
1/2 cup sugar
Splash of vanilla or cold coffee
1/2 cups heavy cream
3 tbsp powdered sugar
Chocolate shavings or crushed candy canes, optional
Instructions
Preheat oven to 325 F. Use a double-boiler or a heatproof bowl set over a saucepan of water to melt chocolate and butter. Stir until melted. Take off the heat, add in a splash of vanilla or coffee. Set aside to cool slightly.
Separately, beat together the eggs, salt and sugar with an electric mixer until fluffy, about 5 minutes.
Slowly pour chocolate into the egg mixture. Beat together on lowest speed until incorporated. Pour the filling mixture into your pre-baked crust.
Bake pie at 325 degrees for 20-25 minutes, until the filling is puffy and beginning to crack. Cool for 1 hour, then place in the fridge to chill.
For the whipped cream, use an electric mixer to beat 1 1/2 cups of heavy cream with three tablespoons of powdered sugar until fluffy with stiff peaks. Serve pie chilled or at room temperature, topped with whipped cream, chocolate shavings or crushed candy canes.
Creme Brulee French Toast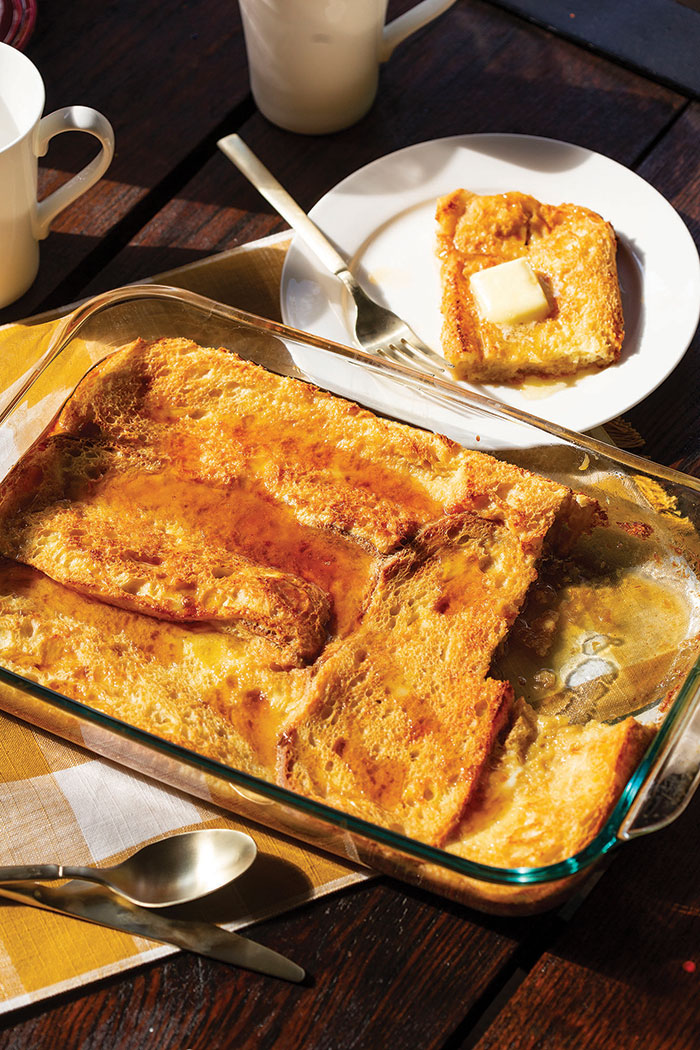 The Madsen family has been making this overnight french toast recipe to have on Christmas morning for over 15 years! It's always a hit. The scent of delicious creme brulee french toast brings everyone downstairs for presents! Sides of bacon, sausage, fruit and coffee are served with it. So very yummy!

I love traditions like this, because it makes it feel like Christmas. When we were younger, my sisters and I would help make it together on Christmas Eve. Now, we make it with our children! We know it's always followed by our annual Christmas morning walk!
Melissa Bamonte, reader, Cary
Ingredients
1 stick (1/2 cup) unsalted butter
1 cup packed brown sugar
2 tbsp corn syrup
1 loaf country-style bread, 8-to 9-inch round
5 large eggs
1 1/2 cups half-and-half
1 tsp vanilla
1 tsp Grand Marnier
1/4 tsp salt
Instructions:
In a small heavy saucepan, melt butter with brown sugar and corn syrup over moderate heat, stirring, until smooth, and pour into a 13- by 9- by 2-inch baking dish. Cut six 1-inch thick slices from the center portion of bread, reserving ends for another use, and trim crusts. Arrange bread slices in one layer in the baking dish, squeezing them slightly to fit.
In a bowl whisk together eggs, half-and-half, vanilla, Grand Marnier and salt until combined well, and pour evenly over bread. Chill bread mixture, covered, at least 8 hours and up to 1 day.
Preheat oven to 350° F, and bring bread to room temperature.
Bake bread mixture, uncovered, in middle of oven until puffed and edges are pale golden, 35 to 40 minutes. Serve hot French toast immediately.
Original recipe credit: epicurious.com.
Cheese Ball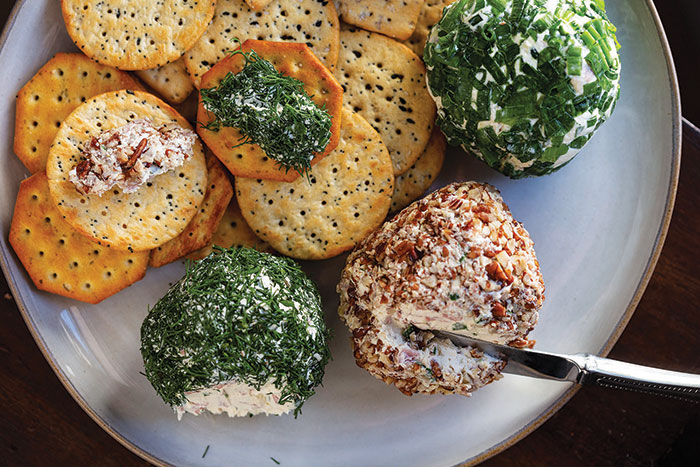 I've been making this cheese ball for years. I never realized how much my family, particularly my son, loved it until one year I didn't make it. Everyone was so disappointed, I felt awful. I'll never not make it again.
Lisa White, Distribution manager, Main & Broad
Ingredients
2 (8 ounce) packages of cream cheese, softened
5 ounces dried beef, chopped
5 green onions
1 Tbsp Worcestershire sauce
½ tsp garlic powder
¼ tsp salt
Instructions:
Mix all ingredients in a large bowl until incorporated. Roll into a ball, and wrap in plastic.
Chill for 1 hour or overnight. Serve with crackers.
Note: Split the cheese mixture into three socially-distant cheese balls to reduce sharing. If desired, chilled cheese balls can be rolled in a variety of coatings, including finely chopped dill, pecans or scallions.
Rye Crostini with Sausage Spread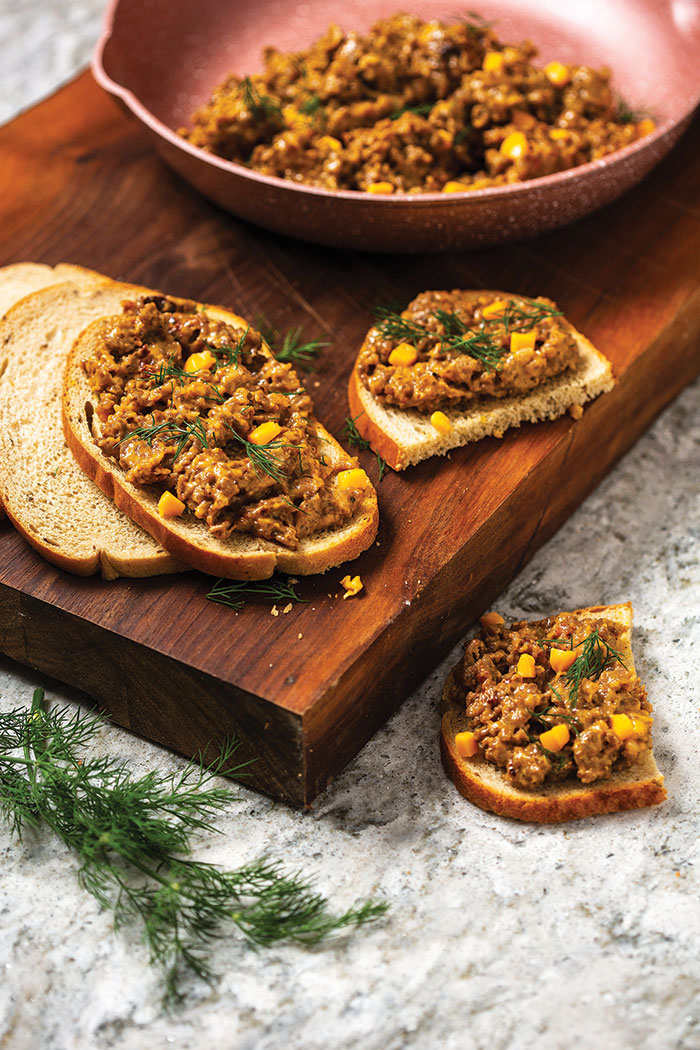 This is the appetizer that starts all Christmas day festivities as the family begins to arrive. It warms up the taste buds and prepares you for the delicious buffet to come.
Michael Colborn, Controller, S&A Cherokee
Ingredients
1 lb ground beef
1 lb hot Jimmy Dean sausage
1 lb Velveeta cheese
2 loaves cocktail rye bread
Instructions
Fry ground beef and sausage together. Drain excess fat.
Melt cheese into meat mixture.
Spread on rye, and toast in the oven under the broiler.
Chicken Casserole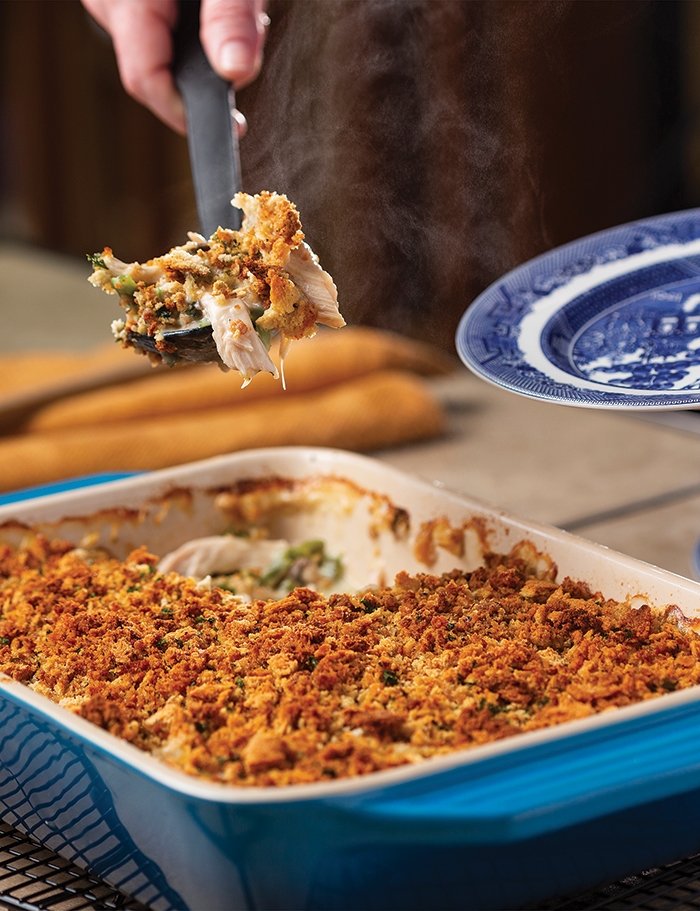 A bubbly casserole, pulled fresh from the oven, is like a big hug for your mouth.​ I've been making this chicken and green bean casserole for two decades, and it's one of my family's favorite meals.
Amber Keister, Senior editor, Cary Magazine
Ingredients
4 1/2 cups cooked chicken, shredded
2 cups frozen, french-cut green beans
1 tablespoon olive oil
8 ounces sliced cremini mushrooms
1/2 cup (one stick) butter, divided
1/4 cup all-purpose flour
1 cup milk
2 cups prepared chicken stock or broth
1/2 teaspoon salt
1/4 teaspoon pepper
3 cups herb-seasoned stuffing mix, such as Pepperidge Farm
Instructions:
Place cooked chicken in a 13 x 9-inch baking dish that has been greased or coated with cooking spray. Scatter frozen green beans over cooked chicken.
Preheat oven to 375 degrees F.
Heat olive oil in a large skillet over medium-high heat. Add mushrooms and saute until just beginning to brown, about 5-6 minutes. Add cooked mushrooms to chicken mixture.
Add 1/4 cup butter to skillet. When butter has melted, stir in flour. When flour is incorporated, add milk slowly, whisking until smooth. Add chicken broth or stock, and, stirring constantly, cook over medium heat 10-12 minutes or until sauce has thickened. Add salt and pepper, and pour over chicken mixture.
Gently stir chicken, green beans and mushrooms to distribute ingredients and gravy evenly.
In a microwave, melt remaining 1/4 cup butter. Pour melted butter over the stuffing mix and stir to combine. Sprinkle stuffing over the chicken.
Cover casserole with foil and bake for 20 minutes. Uncover and bake for an additional 20 minutes, until casserole is brown and bubbly.
Serves 8
Lemon-Berry Trifle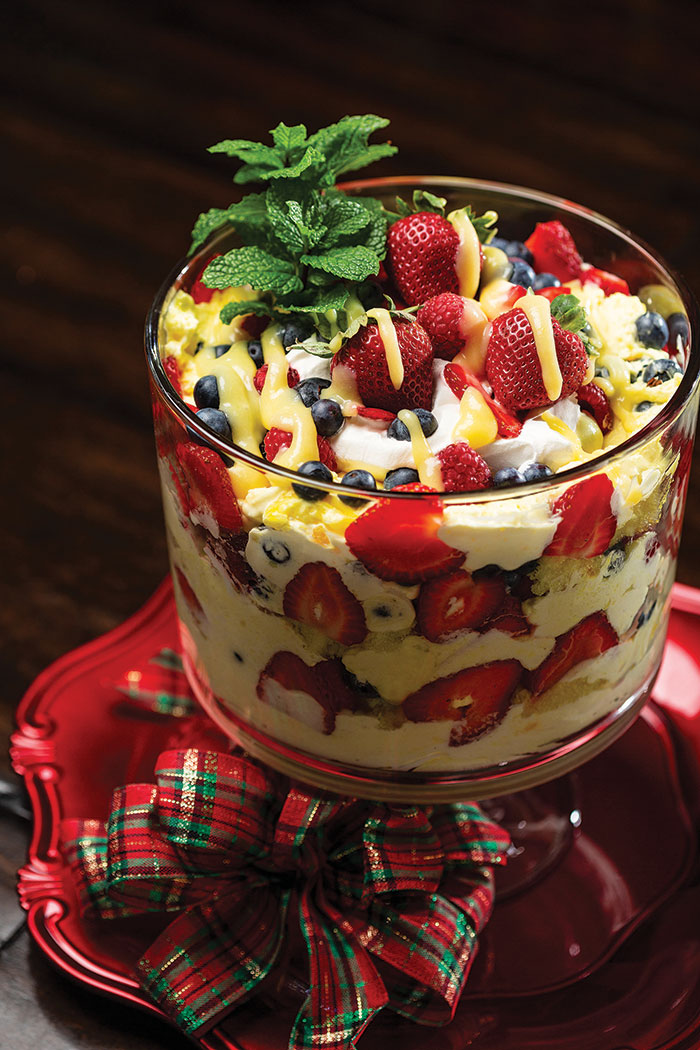 I used a store-prepared lemon pound cake from Fresh Market. You can use any available fresh fruit! My family loves fruit so this is a great year-round recipe!
Sheila Carver, reader, Raleigh
Ingredients:
2 1/2 cups cold milk
2 packages (3.4 oz) lemon flavored instant pudding
2 cups thawed whipped topping, divided
1 pint of fresh strawberries, sliced
1 lemon pound cake, sliced and cubed
Microwave Lemon Curd, recipe below
Instructions:
Slice and cube pound cake and set aside. Slice strawberries, set aside.
Combine the pudding mix and milk in a mixing bowl. Mix until blended, scraping the sides of the bowl several times until thoroughly mixed. Fold in 1 1/2 cups of whipped topping, reserving 1/2 cup.
To assemble the trifle, place cubed pound cake on the bottom of a trifle dish or bowl, add a layer of pudding mix, then a layer of strawberries. If desired, place strawberries with the cut side facing the sides of the bowl for beautiful presentation. Repeat the layers one more time and top with remaining whipped topping.
Drizzle with Microwave Lemon Curd. Store in the refrigerator.
Microwave Lemon Curd
Ingredients:
1 cup sugar
Zest from 2 lemons, finely grated
½ cup lemon juice
2 egg yolks, reserve the whites for another use or discard
3 large eggs
½ cup salted butter, cut into cubes
Instructions:
In a large microwave-safe bowl, whisk together the sugar, eggs, egg yolks, lemon juice and, if using unsalted butter, 1/8 teaspoon salt, until smooth. Add butter cubes. Microwave on high power for 45 seconds. Remove and stir vigorously with a whisk.
Continue to cook 45-second intervals, stirring after each interval. It will take four to seven minutes, depending on the power of your microwave. Lemon curd is done cooking when it coats the back of a metal spoon and reaches 175˚F on an instant thermometer.
Remove from the microwave, and whisk well. Add lemon zest and stir. Allow the curd to cool to room temperature. It will thicken as it cools. Cover and store in the refrigerator.
Mulled Hot Cider
The mulled cider is a Christmas Eve tradition for our family. We normally host a small gathering at our home (perhaps not this year, though), and everyone enjoys it — especially if it's cold outside.
David McCreary, Main & Broad contributor 
Ingredients:
1 gallon apple cider
1 5.65-oz. carton Aspen Mulling brand cider spices
4 cinnamon sticks
2 oranges, thinly sliced
Instructions:
Place all ingredients in a large saucepan and bring to a simmer on a stove burner. Serve hot. Yields 16 8-oz. servings.
Share with us!
What are you cooking this holiday season? Let us know at @mbmagazinenc