Delectable chocolate and other indulgences abound at Fera'wyn's in Holly Springs, a locally owned shop with a story behind its peculiar name.
More than a decade ago, David and Joana Whittingham first encountered each other online while participating in role-playing game Neverwinter Nights. One of the characters in the game was named Fera'wyn, who was known for bringing happiness to everyone she met.
At the time they started conversing, David resided in his native Australia while Joana lived in California. The couple eventually met in person and ultimately married.
It turns out the Whittinghams shared a mutual affinity for chocolate. David graduated from the esteemed Ecole Chocolat Professional School of Chocolate Arts in Canada. Joana is a self-taught artisan.
The couple started Fera'wyn's Artisan Chocolates in 2012 and began selling truffles and confections, winning numerous food industry awards and earning six-star Grand Master Chocolatier designation from TasteTV.
The pair moved to Holly Springs and opened their brick-and-mortar store Fera'wyn's Chocolate Cafe in December 2018. The space features tables fashioned from reclaimed wood, polished cement flooring and locally produced artwork on the walls. Eye-catching glass display cabinets contain abundant sweet treats.
"We chose Holly Springs because the people are friendly, and there's a wonderful sense of community here," David says. "It took us about a year to find the right space for the shop, but we're happy with the location and want to share the joy of chocolate with everyone."
When it comes to chocolate, Fera'wyn's offers a tantalizing selection of truffles, caramels, cordials and bars available in individual pieces or by the box. The limoncello and caramel macchiato truffles received honors from the 2020 Good Food Awards.
"Truffles are definitely our specialty," Joana said.
Enjoy choosing from distinctive flavors like raspberry-lime Chambord, gingerbread, Irish coffee, lavender, masala chai and bourbon.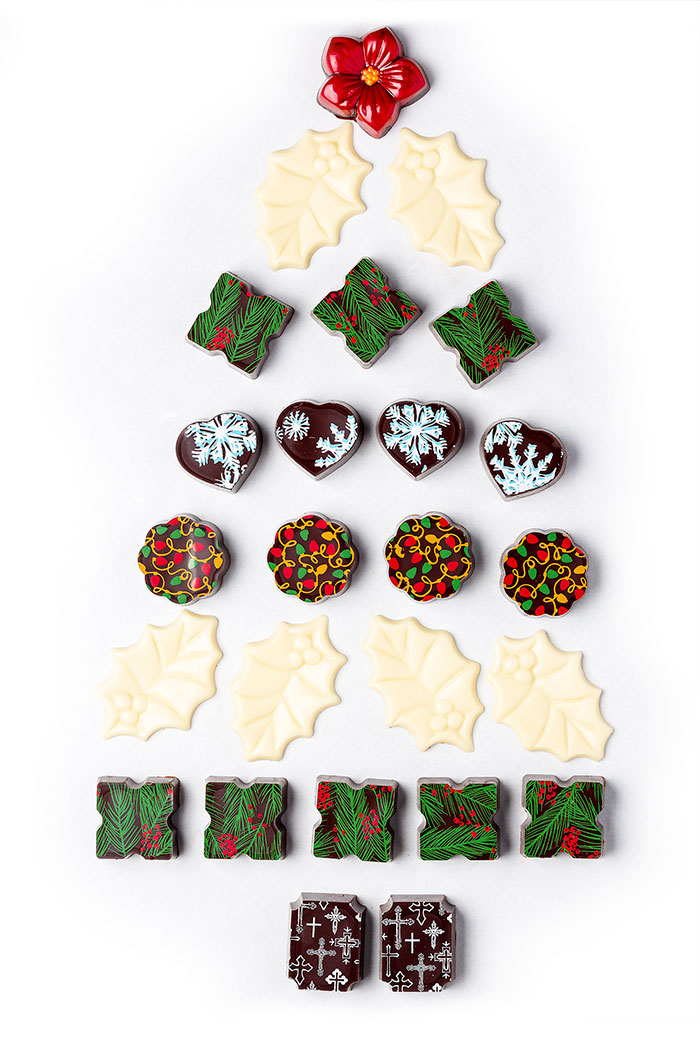 House-made pastries range from cupcakes and muffins to eclairs and zeppoles. Freshly baked classic cinnamon rolls with cream cheese icing are available on Wednesdays and weekends.
Depending on the day or time you come in, you may also find chocolate mousse, brownies, cookie sandwiches, tarts, macarons and cake pops.
Many of the items offered are gluten-free.
"We get a lot of people who come in who are gluten-intolerant or have Type 1 diabetes, and we have plenty of options for them to enjoy," says Joana, who shares that she has lived with Celiac disease for years. "One customer came in and said she had never had a cake pop in her life, and she was so excited that she could have one here."
Vegan, dairy-free and keto-friendly items also are available.
"We are not nut-free, but we are careful when using nuts," Joana adds.
Fera'wyn's also specializes in making imaginative custom cakes. Joana recommends calling several days or even a week in advance to place a special order.
Need individually wrapped items or gift boxes for a special occasion? This is just the right place, and you can even place an order online.
But don't just visit for the edibles. Superb coffee is sourced from Durham's Counter Culture, and tea is also on the menu. Never mind some of the best hot chocolate you'll find anywhere. Bonus tip: Try the iced hot chocolate or the dark chocolate mocha latte.
Follow Fera'wyn's on Facebook (@FerawynsArtisanChocolates) for the latest special offerings and the most up-to-date hours of operation.
Fera'wyn'S Chocolate Cafe
652 Holly Springs Road (Holly Springs Crossing), Holly Springs
(919) 285-2780
ferawyns.com