Derek Fox describes himself as a fitness "outlier."
He's one of those serious (perhaps crazy?) runner types who logs 60 to 100 miles per week — a habit he readily admits isn't for everyone.
In fact, Fox's passion for high-mileage running took off only a handful of years ago, when he made the choice — the commitment — to train consistently.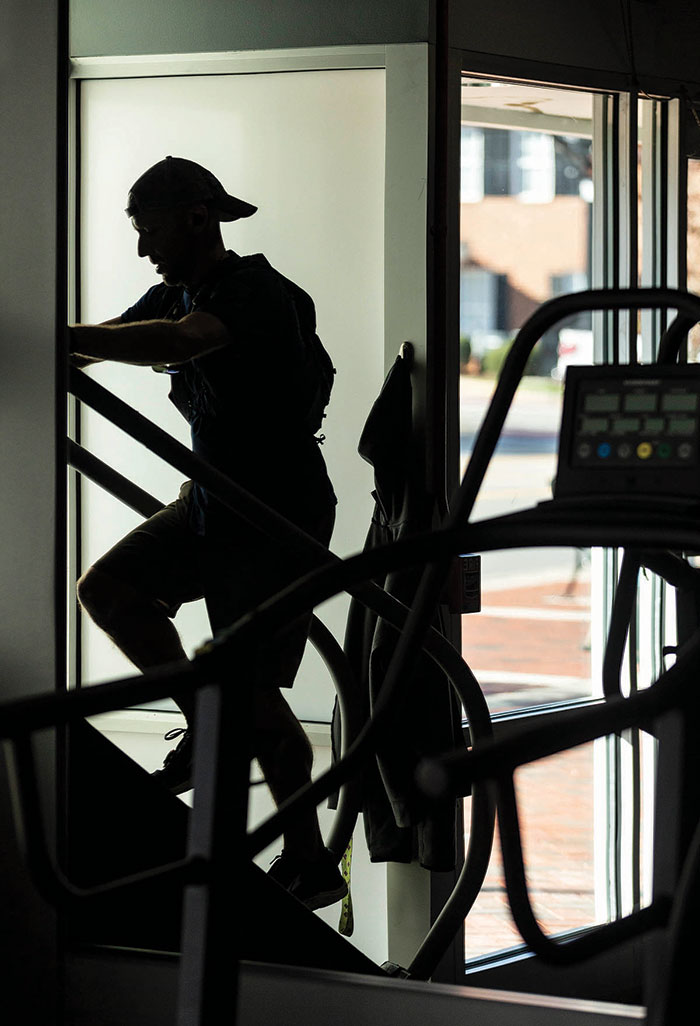 As a husband, father of three and two-time small business owner, Fox faces many external pressures: time management, stress, work and family commitments. Choosing to prioritize fitness has become an integral part of his lifestyle, and he wants to help others do the same.
In September of 2019, Fox opened Body Shop Fitness in Holly Springs' Town Hall Commons, a 24/7, friendly haven for all fitness levels.
"I wanted it to be like a really nice home gym, where you would feel comfortable and have access to the best equipment you can get," says Fox, who is also the owner of 55 Auto Works automotive repair shop.
In other words, privacy, variety and flexibility, without having to pack out your garage with expensive machines.
Fox filled Body Shop Fitness with the best equipment on the market, Peloton bikes and a treadmill, Hydrow rowers and Woodway treadmills to name a few. There's also a TRX Suspension Trainer, free weights and a TV with access to the Peloton app's digital library of workouts.
"It took about 1.5 years from conception to being ready to open the doors," Fox says. "I like the location in this first new downtown center. It's fun to be part of something that's growing."
Under the statewide Safer-at-Home orders last spring, Body Shop Fitness was forced to close, less than seven months after its grand opening.
"I was still growing my members," Fox says. "Trying to figure out how to deal with it, at first, was tough. Honestly, I didn't know what to do."
About half of his members cancelled, but the rest wanted to continue, even though they couldn't use the facility.
"A lot of my clients said, 'Keep charging me. We want to support you.'"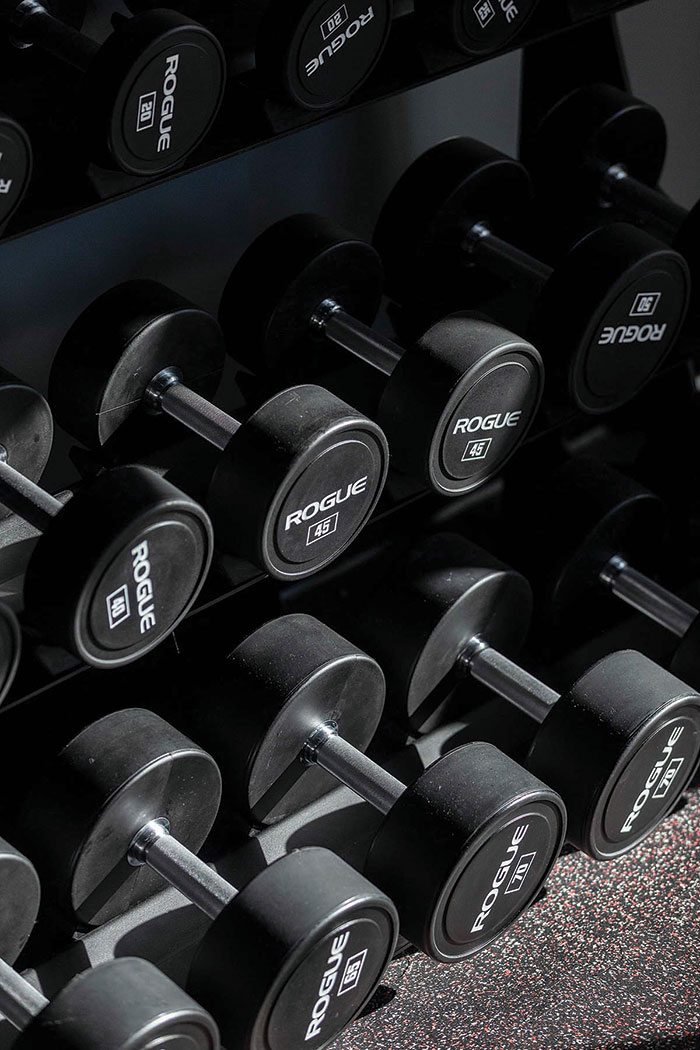 Now that gyms have reopened, Body Shops' intimate set up is a great advantage — members come and go at all hours, and there's never a large group at once.
The facility is locked at all times, and members enter with a keycode. Fox says his clients like the gym's independent, flexible system — there's no staff on site.
"You do what you want, how you want, on your own time," he says.
Many members are attracted to the access to Peloton equipment and programs, since individual cost of Peloton ownership is much higher than Body Shop's membership fees, but the runner in Fox favors the Woodway treadmills.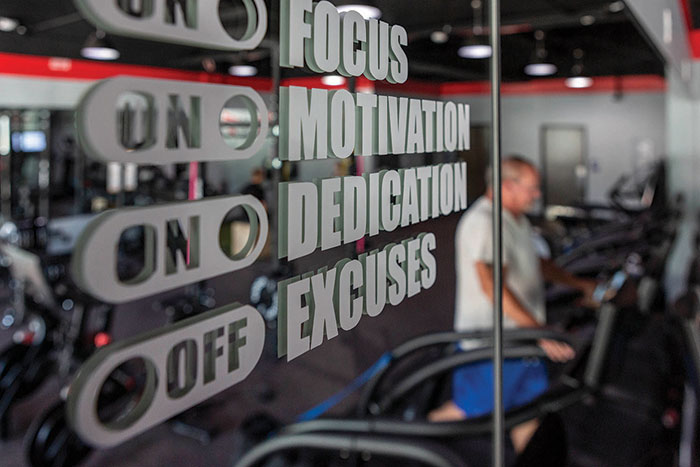 "It's the best treadmill you can buy," he says. "It's pretty forgiving to your body. You can put in a lot of miles on that; get the good workout, but not the beating that you get running outside."
Woodway treadmills utilize shock-absorbing slats instead of the traditional conveyor belt running surface and are the brand favored by top track and field athletes, Fox says.
Regardless of which style of workout you prefer, Fox encourages people to find the one they enjoy, not only for physical benefits, but for mental health as well.
"Running is my time for thinking, being alone and processing or preparing for the day."
7 Tips to start — and stick to — a fitness routine
From Body Shop Fitness owner Derek Fox
Make the choice.
"Turn that switch in your head that changes from noncommitment to considering your future health. We are not meant to be idle people. Getting up and moving. Our bodies are meant to do that."
Acknowledge the sacrifice.
"People think there's no time, but there is. We all have 24 hours. You have to decide what you are going to sacrifice or give up. It takes two to three weeks before something becomes routine. Get through that couple weeks and don't give up."
Do it your way.
"I like when people want to be healthy. No one should be crazy like me, but I don't think everyone should sit on the couch either. You've got to find your own."
Whether you walk the neighborhood with a friend or run 10 miles a day — something is better than nothing.
Variety is key.
"Find creative ways to make exercise part of your routine. Whether it's riding your bike to work or visiting parks. … Having all sorts of (options) is a good way to not get bored."
Make multitasking work for you.
"Media can take your mind off exercise. I love Netflix, Amazon, Hulu — I can get through a few shows with light running on the treadmill. If that's what you love, make it dual purpose." Listening to audiobooks and podcasts are other great options.
Health is mental, too.
"Most importantly, the mental aspect (of exercise) is my personal way of dealing with everything in a healthy way." Relieve stress, work though tension and get those endorphins flowing for an instant brain boost.
Remember the reward.
"No one ever works out then regrets it. We all know it's good; you just have to start."
Body Shop Fitness, LLC
242 S. Main St. Suite 104, Holly Springs
bodyshopfitnessnc.com
@bodyshopfitnessnc