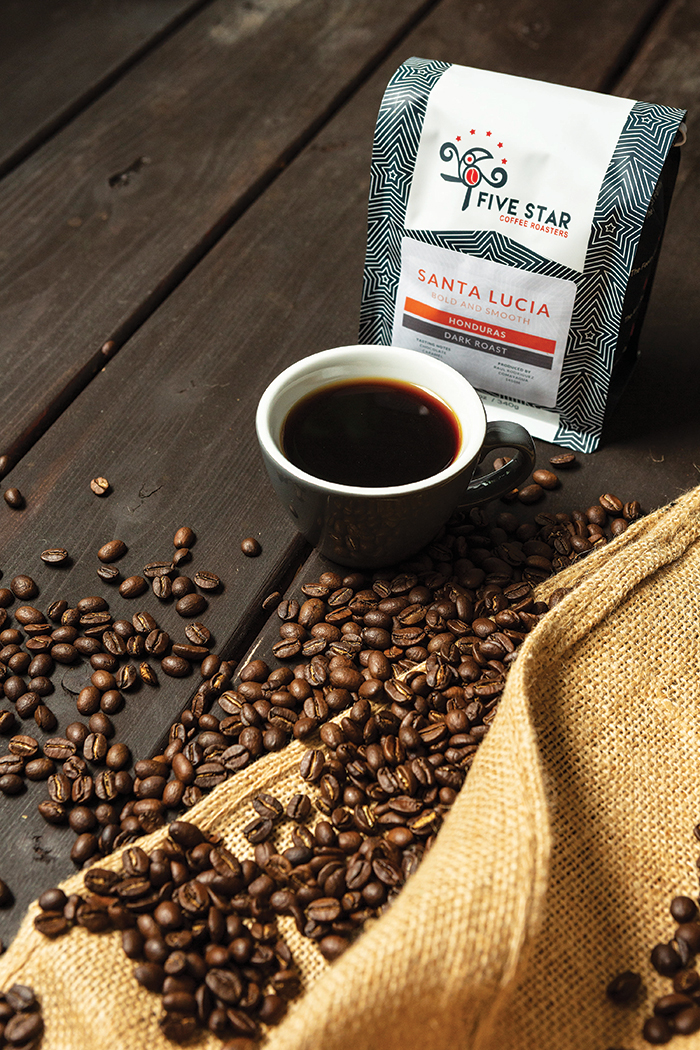 Thanks to farm-to-table dining, supporting small farms and artisan food products is now fairly commonplace. It's not unusual to know where your pork was raised or your asparagus grown before you dive into a fine meal. Five Star Coffee Roasters is making similar strides in the world of coffee, led by founder Nelson Amador's vision to create a connection between his family's coffee farms and Holly Springs.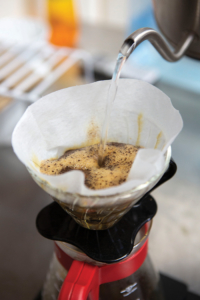 Amador grew up on his grandfather's coffee farm in the mountains of Honduras. The farm, called Santa Lucia, encompasses over 90 acres of verdant forest, boasting rich soil, abundant wildlife and high altitude — in short, ideal conditions for growing coffee.
When Amador came to the U.S. to learn English, he immediately noticed the importance of coffee in American culture, witnessing study sessions at cafes and coffee dates between friends.
"He realized, 'These could be my family's beans,'" says Penny. "He had a vision to connect people with their coffee, and their coffee producers, and where it comes from."
Amador founded partnering businesses De La Finca coffee importers and Five Star Coffee Roasters in Holly Springs. De La Finca imports green coffee directly from producers, including Amador's family's farms, and Five Star roasts and sells the specialty coffees.
"We roast fresh every week," says Penny, operations manager for Five Star and De La Finca. "For the first two weeks after roast, coffee is at its peak of freshness."
Speciality coffees are the highest tier in the industry, and score 80 or above on the Speciality Coffee Association of America scale, judged for qualities such as body, acidity and sweetness.
"We are actually bringing in coffee that the owner's family produces, so we have a hand in every single part of the process," she says.
"One of the big things that we stand behind in both businesses, is that we operate in a direct trade model. We actually work directly with (Amador's) family and other producers, so we are able to pay the farmers directly," she says.
Frequently, coffee farmers will sell their harvest locally at origin, so the coffee switches hands several times before reaching a consumer.
Find
Five Star Coffee Roasters coffee at Lowes Foods grocery stores, online and at area farmer's markets.

"The producer often is left with the smallest amount of margin on their hard work," Penny says.
"We try to get people interested in what they are actually drinking and how buying from ethically-sourced importers and roasters makes a huge difference at origin."
Part of this education strategy comes in the form of cupping events held monthly at Five Star's Roastery on Thomas Mill Road.
Cupping is a method used throughout the coffee supply chain for testing quality and consistency.
The coffee is first roasted, then ground, and the grounds are put into small cups. "The grounds brew right there in the cup, and then you scrape the top layer off," says Penny. Then you get to taste or "slurp" the brew.
"When we do the cuppings for Five Star, it is to acquaint the public with the variety and characteristics that can be found in coffee," Penny says.
Similar to a wine tasting at a vineyard, cuppings can reveal subtle flavors within a coffee. And the more you drink, the deeper your appreciation grows.
"As I drink more coffee, especially black coffee, and I do more cuppings, my palette has matured so much, and I taste so much more than I did at first," says Penny.
"The consistency and attention to detail with Five Star's blends and flavor profiles is awesome," says Vicki Harry, owner of Thanks a Latte Coffee & Gift Boutique, which serves Five Star beans.
Coffee Honey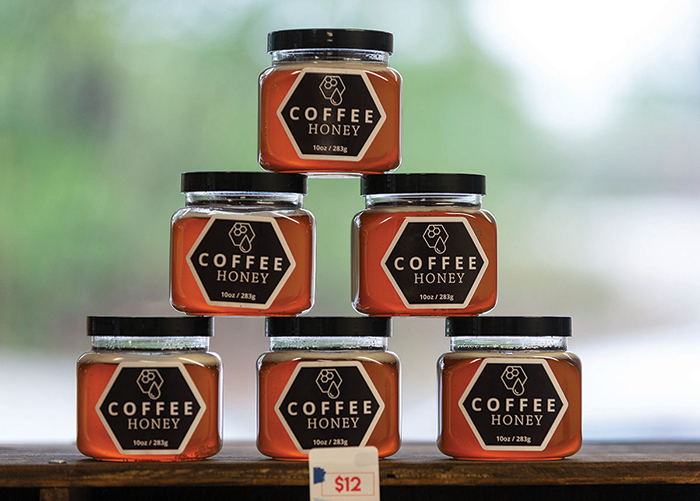 In addition to their fresh roasted coffee, Five Star Coffee Roasters also sells Coffee Honey. No, it isn't laced with caffeine — the honey is produced by the same bees that pollinate the coffee trees on Amador's family's farms.
"It is another nice way for producers and farmers to make another income when conditions are inconsistent in the coffee world," says operations manager Ashley Penny.

"Our customers love their coffee! And I love the relationships that Nelson has formed with the coffee bean farmers. He has brought a few of the farmers … to Thanks A Latte to meet me and see where their coffee beans are being sold."
As a fifth-generation coffee farmer, preserving and growing the Honduran coffee trade is at the forefront of Amador's mission.
"We want to see Honduran coffee become better known for its quality and what it has to offer. A lot of people think of Brazil and Columbia … as the forefront in coffee, but Honduras has so much to offer in the realm of specialty coffee," Penny says.
Five Star Coffee Roasters
108 Thomas Mill Rd, Suite 101, Holly Springs
(919) 671-0645
fivestarroasters.com