Since we spent the spring homeschooling, baking bread and generally not leaving the house (except our essential workers — thank you!), let's spend the summer getting reacquainted with all the charm southern Wake has at hand.
From abstract murals to historic homes, these perfectly-Instagrammable destinations are calling.
Cultivate Coffee Mural
Artist Jason Clark approached the owners of Cultivate Coffee with a unique idea — he would paint a mural free of charge on their brick building, if he could have artistic control to develop the concept and style.
"An artist can't get a better business card than a massive mural on the side of a building," says Clark, a resident of Willow Spring.
"Since Cultivate roasts their own beans, why don't we do the national animal from all the regions where you source your coffee," Clark proposed.
Animals from Mexico, Ethiopia, Rwanda, Zambia, Uganda and Indonesia are depicted in black and white linocut style, created using a combination of brush and spray painting.
"I never really name my murals," says Clark. "When I'm done, they belong to the public after that."
128 S. Fuquay Ave, Fuquay-Varina
#fvdowntown #publicart #localcoffeeshop #cultivatefv
Sweetberry Bowls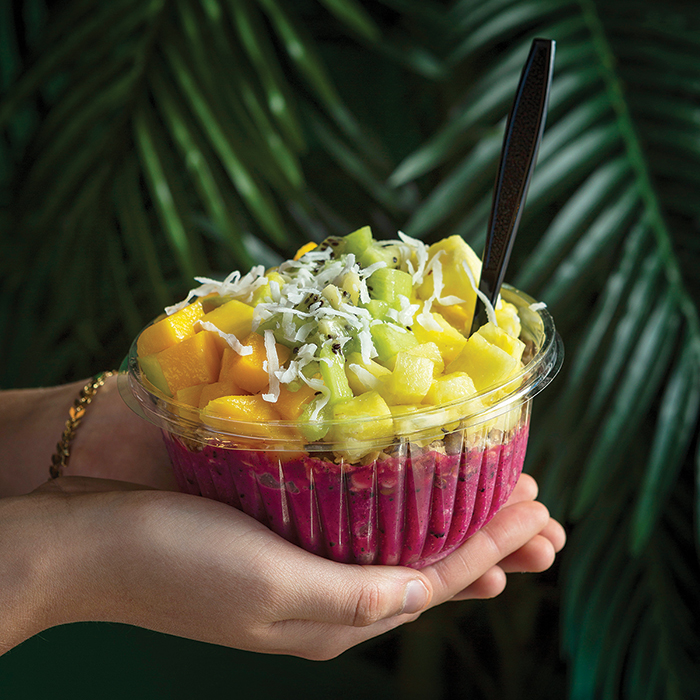 Tucked into the intersection of Holly Springs Road and N Main Street in Holly Springs, Sweetberry Bowls serves up beautiful and delicious food with a focus on nutrition.
Bonus: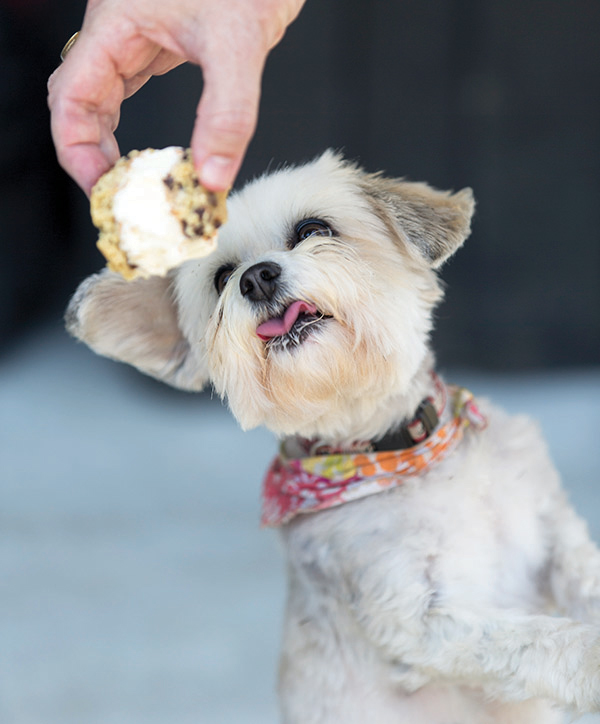 Across the street you'll find local favorite Mama Bird's Ice Cream, scooping specialty handmade frozen delights. Fill a waffle cone with gourmet flavors like Hey Honey, Cotton Candy or Caramel Frappe, and make all your friends jealous.
#aloveworthsharing

The headliners are the acai and pitaya (a.k.a. dragon fruit) bowls — blended, frozen, smoothie-like concoctions that can be topped with additions such as fresh fruit, granola, honey and coconut.
"Ninety percent of our ingredients are absolutely fresh," says owner Troy Lehrer, who opened the shop with his wife last October. "We were really drawn to the super fruits, and fell in love with the healthy, fast casual idea."
The bowls are vibrant as well as tasty, and the store's playful interior with pink walls and textured boxwood creates a cheerful photo studio.
150 West Holly Springs Rd, Holly Springs
#madewithgoodvibes #goodvibesalways #eatlocal
Fuquay-Varina Community Library
Not quite a year ago, Fuquay-Varina debuted a new public library on Bramblehill Drive, boasting 9,800 square feet, 45,000 books and 16 public computers.
Designed by Raleigh-based architecture firm LS3P Associates, the building's towering walls of windows reflect the surrounding sky and trees, and allow ample natural light into the reading rooms. The architects employed unique features like solar shading fins and low-E glazing to help control glare and temperature. A mix of materials — brick, metal panel and curtainwall — define the modern exterior.
"The focus of the design was to create a forward-looking design that provides a community hub. This library is scaled to grow in the future along with the community, and allows visitors to see the activity from outside looking in and inside looking out," says architect Dean Rains.
A 2019 Gallup poll revealed that Americans visit libraries more often than movie theaters. With a library like this, we understand why.
271 Bramblehill Drive, Fuquay-Varina
#fuquayvarina #architecture #publiclibrary #outandabout
Betty Jean's Flower Truck
Owned by Holly Springs residents Tina and Stanley Rimmer, this teal 1966 Ford F100 can be found around downtown Holly Springs spreading love and cheer by way of fresh flowers.
With an eclectic, vintage style, the truck sells premade arrangements and individual stems to build your own bouquet.
"The variety of flowers vary, based on season, but I typically always keep rosemary, lavender, eucalyptus and various other herbs I grow myself," says Tina Rimmer.
Track Betty Jean's Flower Truck on social media to find their next pop-up location, or hire them for a special event or family photo session.
@bettyjeansflowertruck
#theflowertruck #flowersofinstagram #shoplocal #popupshop
Fuquay Mineral Spring Park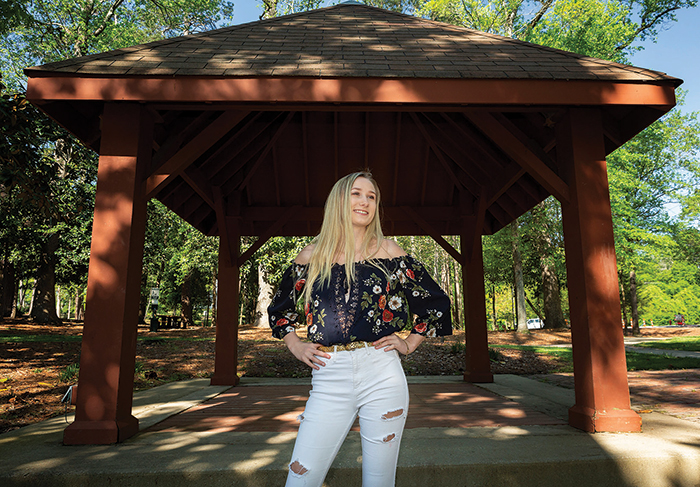 This idyllic park in downtown Fuquay commemorates the healing waters of the original mineral spring, discovered in 1858, that drew visitors to the early town of Fuquay Springs.
Today, the beautiful walking paths, charming springhouse, bridge and picnic tables serve as a peaceful destination for residents and the site of town celebrations, like the annual tree lighting.
105 West Spring Street, Fuquay-Varina
#fuquayvarina #fvdowntown #parksandrec #getoutside #selfieatthesprings
The Leslie-Alford-Mims House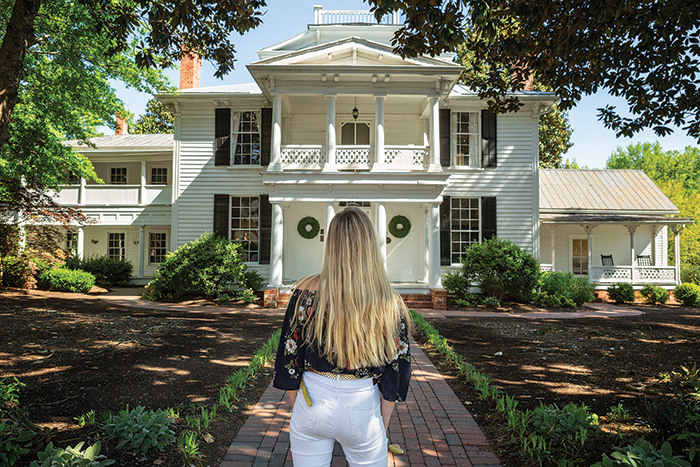 In the heart of Holly Springs' Village District, the historic Leslie-Alford-Mims House waits nestled among the magnolia trees. The impressive white, Greek Revival-style home dates back to 1840, when antebellum socialites Archibald and Isabelle Leslie commissioned an impressive 38-room mansion.
The home was occupied by Major General Jefferson Davis at the end of the Civil War, then purchased by Col. George B. Alford in the 1870s. It remains one of southern Wake's most well-known buildings on the National Registry of Historical Places, and is a popular wedding and special event venue.
100 Avent Ferry Road, Holly Springs
#historic #mimshousenc #villagedistrict #hollysprings
Sugg Farm and Bass Lake Parks
With gorgeous lake views, a clubhouse on the water and mother nature's intrinsic allure, Holly Springs' popular Bass Lake Park is a no brainer.
Year-round fishing, biking and hiking, plus seasonal boat rentals offer plenty of scenic photography options.
The adjacent Jefferson L. Sugg Farm's rustic setting, and frequent special events make it a great spot for memory making, too.
Triangle resident and yoga instructor Brittany Williams, of Britt Does Splits, used Sugg Farm Park's sweeping views to highlight her love of handstands and inversions.
900 Bass Lake Road, Holly Springs
#basslakenc #suggfarmpark #weekendadventures #hollyspringsnc
"I love Fuquay Varina" Mural
In a unique fusion of patriotism and history, artist Sean Kernick created an impressive welcome into downtown Varina on the side of what is now Tsuru Sweets & Coffee. The mural is one of three in Wake County completed in partnership with the The United Arts Council of Raleigh and Wake County.
"We had just completed the mural on the side of the new arts center (which was not yet open!), and had received many responses, so the town decided to take on the project," says Maureen Daly, cultural arts director for the town of Fuquay-Varina.
"Sean Kernick was incredibly enthusiastic about the project," says Daly. "From the moment he was onsite, Sean interacted with the public and his followers on Instagram. The project became very popular and a source of great interest. It was completed in just under two weeks, and continues to be a popular spot."
409 Broad Street, Fuquay-Varina
#murals #fuquayvarinanc #hometown #spraypaint
Where Are Your Prized Insta-Worthy Locations?

Tag @mbmagazinenc to show us your favorite local Insta-destinations. #MainandBroad