When dining out isn't an option, local culinary pros generously offer their time-tested recipes to recreate at home.
Mediterranean Chicken
by Billiam's Cafe and Catering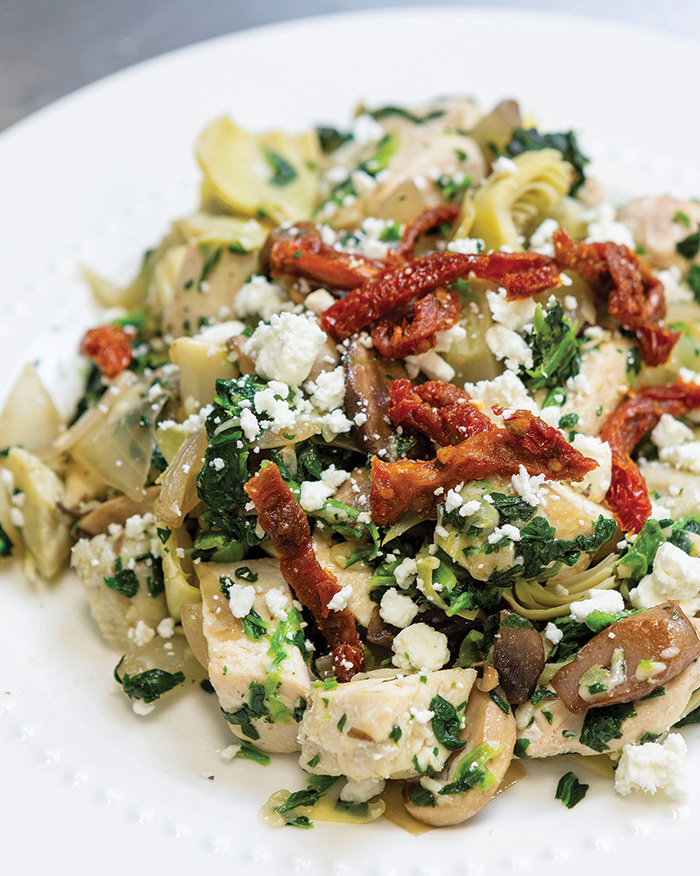 Packed full of savory flavor, thanks to mushrooms, sun-dried tomatoes and artichokes, Mediterranean Chicken, from Billiam's Cafe and Catering, is one of their most popular recipes.
To develop his keto-centric menus, founder Bill Myers uses a mix of original creations, family recipes and inspiration from his wife, Laura.
Ingredients
4 boneless, skinless chicken breasts
2 jars of marinated artichoke hearts, drained
2 cups of frozen chopped spinach, thawed, excess water squeezed out
1 pound of sliced baby Bella mushrooms
1 large yellow or white onion, medium dice
3 ounces of shredded Parmesan cheese
1/2 stick of butter
4 ounces crumbled goat cheese
Julienned sun-dried tomatoes
Instructions
Pan saute seasoned chicken breasts in a lightly oiled pan over medium high heat. Once chicken is cooked, place it to the side, and add butter to the pan.
Add diced onions and baby Bella mushrooms and saute until golden brown. Season with salt and pepper.
After the chicken has rested, chop into one inch cubes. Combine chicken, mushrooms, onions, artichoke hearts, spinach, and Parmesan cheese into a mixing bowl, and mix well by hand. Place mixture into a 13×9 pan, and bake covered at 350 for 30 minutes.
Top with goat cheese then julienned sun-dried tomatoes. Serve immediately and enjoy!
About Billiam's Cafe and Catering
It wasn't 25 years of restaurant experience that convinced Bill Myers to start a catering business.
"I was working with my wife, and she got tired of me. She told me, 'You need to figure out what you want to do that's not working with me everyday.' And so I started this," Myers says with a chuckle.
Myers, a Holly Springs resident, started Billiam's Cafe and Catering four years ago, specializing in corporate catering, meal delivery and ketogenic recipes.
"I make fully prepared meals, dropped off at your home to pop in the oven or microwave to just reheat and eat," says Myers. "I do a whole lot of Keto meals, and almost all of my food is gluten-free."
A year-round vendor at the Holly Springs Farmers Market, Billiam's Cafe regularly sells out of their bi-weekly offerings: homemade chicken salad, Italian chopped salad and turkey and brie croissant sandwiches.
"Food brings people happiness. I like making people happy," Myers says.
(443) 631-6400
billiamscafe.com
@billiamscafe
Honey Dijon Pork Tenderloin
by Old North State Catering
Cover your baking pan witih foil, and cleanup for this one-pan entree is a cinch. Pop veggies, such as asparagus, green beens or potatoes into the oven to roast alongside the pork.
Ingredients
2 pork tenderloins
1/3 cup soy sauce
4 tablespoons honey
4 tablespoons olive oil
3 tablespoons orange juice
3 tablespoons dijon mustard
4 garlic cloves, minced
3 tsp dried rosemary or 1 sprig freshly chopped
fresh ground pepper to taste
Instructions
Preheat oven to 350 degrees.
Whisk together ingredients after pork tenderloins. Cut several slits in tenderloins about halfway through, or use fork to puncture 10-12 times into pork.
Place tenderloins into a foiled rimmed baking sheet or casserole dish, then pour sauce over them.
Bake in oven for 40-45 minutes, making sure to spoon sauce over the top of loins every 10-15 minutes. This will create a glaze over time as the sauce thickens. Pull out of oven when internal temperature reaches 145 degrees.
Allow meat to rest for 10 minutes before spooning sauce over the top and slicing for serving.
Approximately 8 servings
About Old North State Catering
Chef Chris Wrenn attended the famous southern cooking school: mom's kitchen.
"She specialized in southern cooking: homemade biscuits, butter beans just right, all the North Carolina-centric dishes. That's how I grew up," says Wrenn, who owns Old North State Catering with his wife Allison.
"We specialize in North Carolina-rooted dishes and making them new and exciting," says Wrenn. "A twist on something you have grown up with."
Such as jalapeno, pimento cheese and bacon hush puppies with Sriracha cilantro mayo — Old North State's most popular appetizer. Or their new creation: Brisket Bruschetta.
"We country-fied a baguette," Wrenn says.
(919) 622-4792
onscatering.com
@oldnorthstatecatering
Chocolate Chip Cookies
by Baked By Billie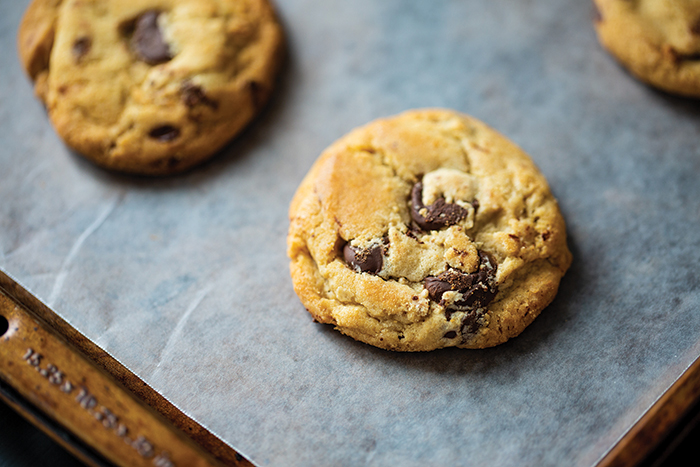 You've never made a chocolate chip cookie quite like this, with melted butter, brown sugar only and even Kahlua — it's no wonder these are a Baked by Billie customer favorite.
"People follow me for my chocolate chip cookies," says baker Billie-Jo Cochran, who developed this no-mixer recipe through lots of experimenting and testing.
"It has come a long way," she says.
Ingredients
1 cup unsalted butter
1 1/2 cup brown sugar (I prefer dark)
2 large eggs, room temperature
1 1/2 tsp pure vanilla extract
2 TSP Kahlua, optional
2 1/3 cups all-purpose flour
1 tsp baking soda
1/2 tsp baking powder
1 tsp salt
1 1/2 cups Ghirardelli 60% cacao chocolate chips
Instructions
In a medium saucepan, melt butter until slightly brown; you will smell a nutty aroma. Let the butter cool for five minutes.
Whisk in brown sugar. Add vanilla and kahlua, and whisk until combined.
Whisk in room temperature eggs one at a time; make sure each one is incorporated.
In a large bowl whisk flour, baking soda, baking powder and salt. Slowly add dry ingredients to wet ingredients, add chocolate chips and mix until combined.
Refrigerate dough for two hours.
Preheat oven 350. Line cookie sheets with parchment paper. Using a small scoop, place cookies two inches apart on a cookie tray, bake for nine-11 minutes.
Place the tray on a cooling rack. Allow the cookies to cool for five minutes before removing from the tray.
Enjoy with a glass of milk or wine.
About Baked By Billie
"I just love to bake," says Billie-Jo Cochran, founder of Baked by Billie custom bakery.
"I have been baking since I was a child. I have memories of standing on a chair and helping my mom bake roll-out sugar cookies, banana bread … I was always in the kitchen with her."
Cochran, a Fuquay-Varina resident, started her special-order bake shop five years ago, whipping up in special event catering, custom cakes, cupcakes and donuts.
"I'm a self taught baker," she says. "I learned to adapt recipes — take family recipes and then make them all my own."
Baked by Billie offers delivery to Fuquay-Varina and Holly Springs.
(732) 688-2842
bakedbybillie.com
@bakedbybillie
Grilled Stone Fruit Bruschetta
by Whisk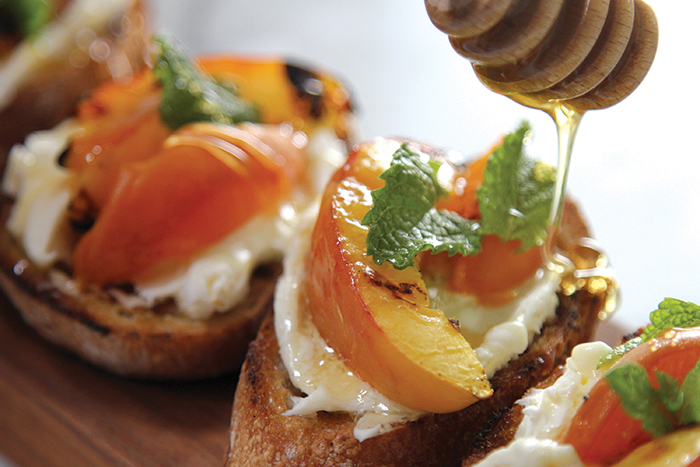 Combining two warm-weather favorites — backyard grilling and stone fruit — produces a perfectly paired, quick appetizer. A handful of mint from your herb garden finishes the dish with flair.
Ingredients
1 baguette, cut into 1/2-inch slices
3 tablespoons olive oil
2 nectarines, cut into quarters
2 apricots, cut into quarters
8 ounces Mascarpone cheese
Handful of fresh mint leaves
Honey for drizzling
Maldon sea salt for finishing
Instructions
Slice the baguette, and brush with olive oil on both sides.
Fire up the grill! Grill the bread until barely charred on both sides. Then, carefully grill the nectarines and apricots.
Assemble the bruschetta by spreading the Mascarpone cheese on the grilled bread, then layer with grilled stone fruit pieces and fresh mint leaves. Drizzle with honey and a sprinkle of finishing sea salt.
About Whisk
Cary residents Dan and Diana Saklad founded Whisk to be a welcoming community for home cooks and professional chefs alike. The Saklads believe the kitchen is always the center of action in a home, and Whisk is stocked with thousands of unique, high-quality kitchenware and entertaining items.
A variety of cooking classes are held every month, suitable for all levels of culinary expertise.
316 Colonades Way, Cary
(919) 322-2458
whiskcarolina.com
Mississippi Mud Bars
by Jo's Sweet Indulgence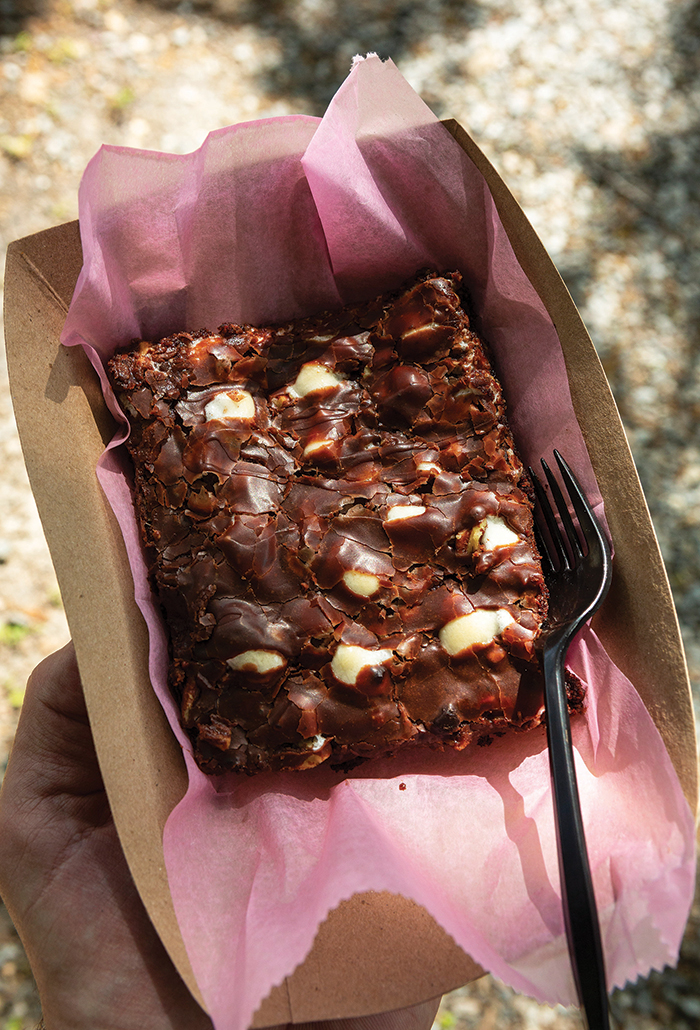 A decadent treat for chocolate lovers, Mississippi Mud Bars are one of baker Jo Pettit's early creations.
Make sure the marshmallows, pecans and frosting are prepped before the bars finish baking, as the final steps come together quickly.
Ingredients
1 1/3 cups all-purpose flour
2 cups sugar
1/2 cup unsweetened cocoa powder
1/2 tsp baking soda
1/2 tsp salt
2 sticks unsalted butter, melted
4 large eggs
1 tsp vanilla extract
10-ounce package mini marshmallows
1 cup chopped, toasted pecans
Frosting, recipe follows
Instructions
Preheat oven to 350 degrees. Lightly grease half sheet pan (12 x 18).
In a large bowl, whisk together the flour, sugar, cocoa, baking soda and salt. Add melted butter, eggs, and vanilla. Mix until evenly combined, making sure not to over mix.
Spread batter evenly in prepared pan. Bake 15-20 minutes until a toothpick in the center comes out clean. Prepare frosting while bars are baking. Watch the cake carefully that you don't over bake. Remove pan from oven, and top with marshmallows and pecans. Bake for 3 to 5 minutes more until marshmallows are softened.
Remove from oven, and pour warm frosting over cake. Spread with a knife if necessary. Cool completely in pan before cutting into squares.
Frosting
1/2 cup butter
1/2 cup milk
1/3 cup unsweetened cocoa powder
1 tsp vanilla
4 1/2 cups powdered sugar
Melt butter in a medium saucepan, over medium heat. Whisk in milk, cocoa and vanilla. Bring to a boil, whisk constantly. Remove from heat. Whisk in powdered sugar until smooth.
About Jo's Sweet Indulgence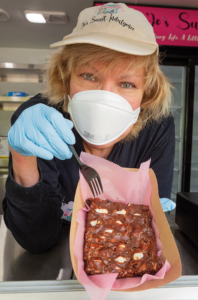 "I absolutely love every time I step on that truck, despite that I get up at 4 a.m. It's the hardest work I will ever love," says Jo Pettit, founder of Jo's Sweet Indulgence bread and pastry truck.
"Brick and mortar was not for me. I like the mobile truck; you can just pick up and go," she says.
Pettit's truck is fully-equipped with a 20-quart mixer, oven, refrigerator, freezer — everything needed to create a tantalizing mix of savory and sweet offerings, such as her everything bagel pretzel sliders with homemade pimento cheese.
"One of the things I really love about bread is it's just water, flour, salt and yeast. So few ingredients, but you can do so much with it," says Pettit, a Holly Springs resident.
Find Jo's Sweet Indulgence at special events and community gatherings, or request a special order.
(984) 297-0202
jossweetindulgence.com
@jossweetindulgence