Holly Springs recently installed a new signpost commemorating a historic elementary school that served the community for more than 50 years.
Scenes from the Dedication Ceremony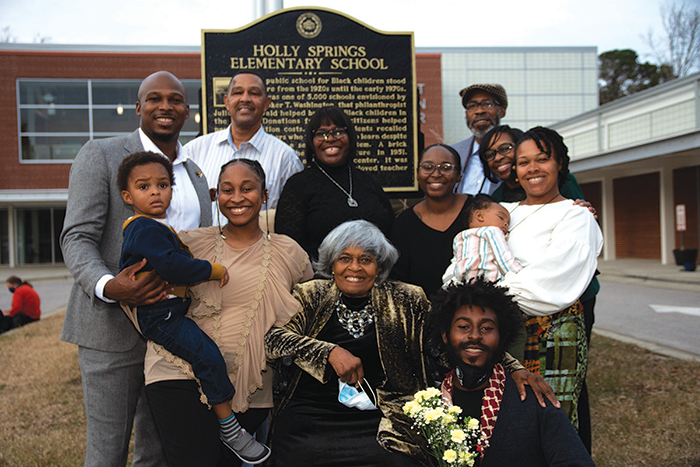 The dedication ceremony for the Holly Springs Elementary School historic marker took place on November 22. Keynote speaker Ann Hunt-Smith, center, is pictured with her family.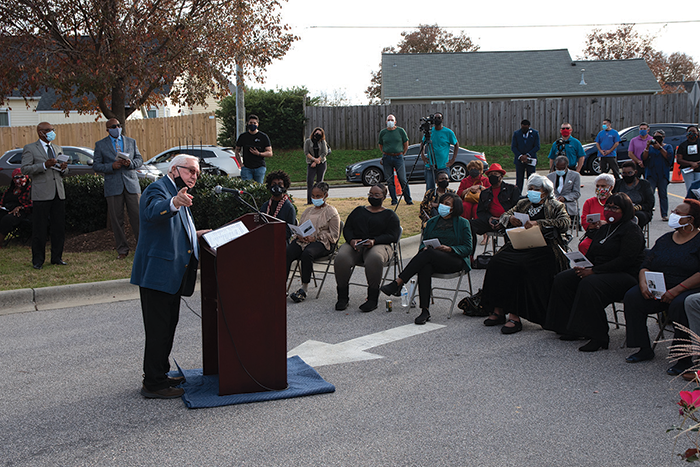 Approximately 100 members of the community, including Mayor Dick Sears, town council members, former students and teachers attended the outdoor gathering.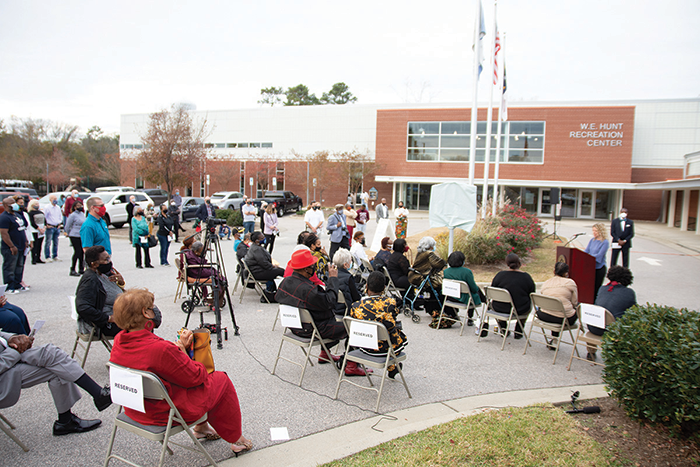 Singer, composer and former student Gerald Hinson performed, below.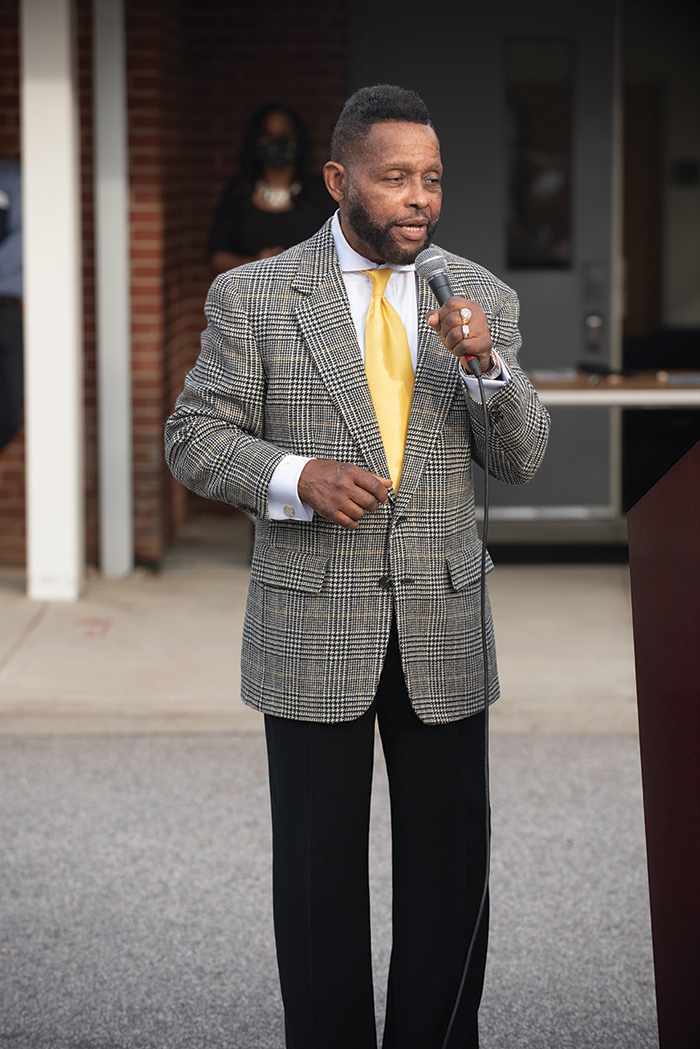 Photos by Willie Miller Photography.

This special event may not have occurred without an accidental mix up between two men named Randy Harrington.
The Holly Springs Rosenwald School, later named Holly Springs Elementary School, stood on the site of the W. E. Hunt Recreation Center from the 1920s to the 1970s. Rosenwald schools were created to combat underfunding in education of African American children, a program developed by Booker T. Washington and philanthropist Julius Rosenwald, resulting in about 5,000 schools in the segregated South.
Originally a wooden plank schoolhouse, the Holly Springs structure was replaced by a brick building around 1950 and renamed Holly Springs Elementary School. Local historian Doris Battle attended the primary school before it closed in 1970, but never knew about the Rosenwald school that came before it.
"I was looking in the book that Barbara Koblich had written ("Images of America: Holly Springs") and oh my goodness, my heart just jumped for joy, because I didn't know that school was in Holly Springs, for one, and sitting on the same property as the elementary school, for two. I thought, 'Why weren't we taught this?" says Battle. "Then I thought it's up to us to teach our own history."
A former teacher turned historian, Battle set out to establish a historic marker that would educate residents and visitors about the bygone school and stand as a testament to the wonderful teachers and school leaders that influenced so many in the community.
This is where the two Randy Harringtons enter the story. Battle thought she was corresponding with Randy Harrington who had attended Apex Consolidated School, another former Rosenwald School, and who serves as president of that school's alumni association. But in reality, she had texted Randy Harrington, town manager of Holly Springs.
"I looked at my phone, and sure enough I was talking to Randy Harrington in Holly Springs. I'm talking to the wrong Randy Harrington," says Battle.
The mistake turned out to be serendipitous, because town manager Harrington connected Battle with the Holly Springs town council, and a committee was formed to plan the historic marker, which culminated last November at the unveiling ceremony.
"It was dear to my heart," says Victoria Judd of the outdoor ceremony that brought together town officials, former students and teachers and local residents. "I love to see the community getting together."
Judd attended the Holly Springs Rosenwald School her first grade year, which was the final year the original plank building was occupied.
The ceremony's keynote speaker was notable playwright and author Ann Hunt Smith, the daughter of William Earl Hunt, who was principal of Holly Springs Elementary School for more than 30 years — the man for which the W. E. Hunt Recreation Center is named.
Learn more: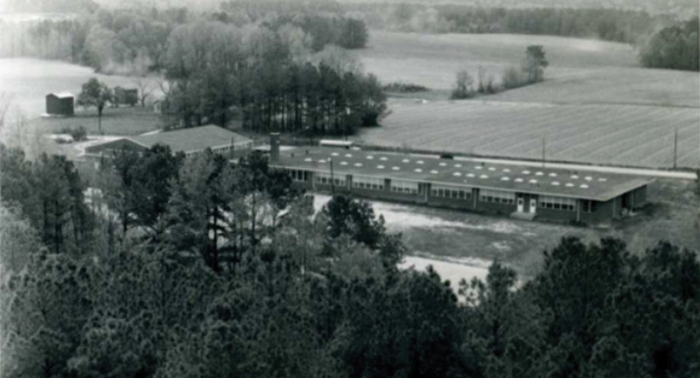 Additional information and photographs of the Holly Springs Rosenwald School can be seen on a website created by Middle Creek High School (MCHS) students, under the guidance of teacher Matt Scialdone.
"I knew we couldn't get everything we wanted on the marker," says Scialdone, an English teacher turned History instructor by sheer demand.
"I taught an African American Literature class and noticed the kids were more interested in the historical context of the texts we were reading," he says. Born from that interest, Scialdone began a course entitled Hard History and Civic Engagement, which started the website project.
The MCHS Social Justice Club continues to add to the digital archive. Students are in the process of interviewing former staff and pupils, and cataloging the interviews for the website and a forthcoming documentary.
Visit the site at: rosenwaldhse.wixsite.com/website

"This man was just remarkable," Battle says. "He lived in Raleigh, but would come to Holly Springs and stay during the week.
"During his beginning years, he would go to the farms and talk to the parents and owners to try to allow the black children to come to school."
"The Holly Springs Elementary School was such a big part of my life, and the people that went to school there," says Battle. "It's 50 years (in 2020) since the school closed down."
Town council member Christine Kelly, a 28-year resident of Holly Springs, served on the committee that coordinated the marker.
"(Holly Springs) was a predominantly black town when I first moved here. Seeing how much the town has changed — we are losing the history and stories of the people who lived here," says Kelly. "This is a great example of the community respecting our past."
Angie Staheli has also been crucial to preserving Holly Springs' stories. Staheli penned the stage production "Finding Patience," about the history of town and plans to debut a historical musical in 2022.
"There are stories that need to be told. I'm thankful for people like Doris who are working to find the heroes and bring them to the forefront," Staheli says.
Battle intends to pursue historical designations at other N.C. Rosenwald Schools. Next up — Fuquay-Varina Consolidated School.
"There were something like 800 Rosenwald schools in North Carolina. North Carolina had the most Rosenwald schools of any other state. Overall, only 12% are left," she says.